Search underway for people who served at air bases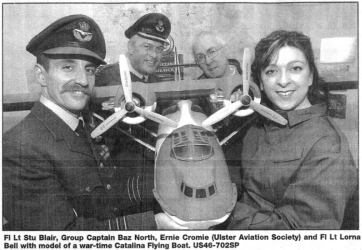 TRUST WANTS TO SPEAK TO THOSE WHO SERVED WITH COASTAL COMMAND
THE Maritime Air Trust is trying to get in touch with people from the Lisburn area who served at local airfields used by Coastal Command during the Second World War.
Bases such as Nutts Corner, Long Kesh and Aldergrove played a vital role in turning the tide against the relentless U boat campaign which at its most intense was sending more than a million tons of merchant shipping to the seabed every month.
Two special events have been organised to mark the 60th anniversary of what has become known as the Battle of the Atlantic.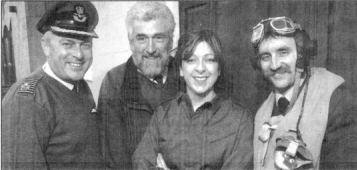 The first of these will be a special reception, dinner and exhibition at Belfast City Hall on Tuesday December 13.
The following day an anniversary concert will take place in the nearby Ulster Hall.
"Already Northern Ireland RAF and Civilian veterans are coming forward," said the Senior RAF Officer Northern Ireland Group Captain Baz North.
They have great stories, memories and memorabilia of Coastal Command.
"We should like to honour their commitment that safeguarded our future at the dinner and exhibition in the City Hall."
The ranks of those that took part are rapidly dwindling and The Maritime Air Trust is looking for people who were involved either in or with the Coastal Command during World War Two.
Air Marshal Cliff Spink of the Maritime Air Trust said: "We want to hear from anyone who served as air or ground crew, worked on the various airfields or in the factories or were with the forces associated with Coastal Command.
"We would like to hear their tales and show our appreciation of their part in the winning of the vital Battle of the Atlantic. Without their help the Battle could have been lost."
During the City Hall dinner a Book of Remembrance will be presented to the Lord Lieutenant of Belfast and a Memorial Plinth to honour the people of NI in support of Coastal Command will be erected some time later.
Anyone wishing to pass on their story should telephone 028 9264 1333, fax 028 9267 1555 or write to The Maritime Air Trust, The Exchange, 1-3 Bachelors Walk, Lisburn BT28 1X1 with details or for further information.
The local air bases were part of a chain of such facilities which stretched right across Northern Ireland from Belfast Lough to Co Fermanagh.
During the conflict 10,875 men and women lost their lives and many thousands were wounded in Coastal Command Operations.
Ulster Star
18/11/2005