LONG SERVING LAURELHILL TEACHER PASSES AWAY
FOLLOWING ILLNESS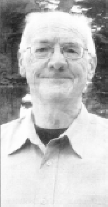 DEREK Ray, one of the longest serving teachers in Laurelhill Community College, has died at the age of 58.
He passed away in hospital on August 10 after a short illness.
Derek was born in Liverpool in 1946 and came to Belfast at the age of 18 to attend Stranmillis College.
He began his teaching career in Orangefield Boys School where he taught English and passed on his passion for football and Everton Football Club in particular.
In the 1970s Derek became involved in Community Education in the Shankill and Rathcoole areas of Belfast. He was a champion of Comprehensive Education and active in the 'Save our Schools' campaign in North Belfast.
Derek was also a gifted writer, actor and radio director. He worked on many productions for Downtown Radio and was awarded a gold medal at the New York Radio awards in 1994 for his work 'Voices from the Somme'.
Many will know Derek as a teacher of English at Laurelhill Community College in Lisburn from 1984 until his death.
His enormous love of language and literature made him an inspiring teacher and his sense of fun ensured that his lessons were never dull. Dennis Totten, a former colleague at Laurelhill, described as "A man who stimulated and challenged and gladdened and shared. A special player on this earthly stage."
To all who knew him and those lucky enough to be taught by him Derek Ray was an inspiration and a delight.
He will be much missed as the new school year begins at Laurelhill.
26/08/2005