WARM TRIBUTES PAID AFTER 33 YEARS OF DEDICATION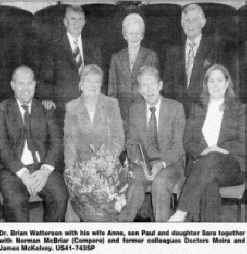 Saintfield bids farewell to local doctor
SAINTFIELD Parish Church Hall was packed to capacity last Friday evening to pay tribute to Doctor Brian Watterson who had retired from practice in the town after 33 years.
It was an evening of mixed emotions for Brian, his wife Anne, son Paul and daughter Sara. It was also an evening of great joy and laughter as Norman McBriar in his own inimitable style acted as compere and local children and adults performed in a superb musical programme.
The Academy Primary School Choir conducted by Jan Kells with Gillian Johnston-Wood on piano led the musical items, which included the Catrina McEvoy Flute Group, an Instrumental Group and concluded with The Lindsay Chorale.
Brian Watterson was born in Belfast and at nine years of age he moved to Singapore for over a year with his family as his father worked for the Admiralty.
On returning to Belfast he passed his Eleven Plus at Elmgrove Primary School and won a scholarship to attend RBAI. In 1963 he went to Queen's University to study medicine.
He returned to Singapore in 1967 where he spent some months doing surgery and ward rounds and as part of his learning experience he spent time in a leper colony and also in an Asian Hospital.
Following his graduation at Queen's University Belfast, he spent his Houseman's year at Belfast City Hospital. He then moved to Ards Hospital as SHO in Psychiatry, Cardiology and general medicine.
From 1971-1972 Brian completed his Registrar Year in Cherryvalley and whilst there, Anne and Brian's son Paul was born.
Also in 1972 he became a member of The Royal College of General Practitioners gaining the highest mark in Northern Ireland. For this he was given a grant to work in practices in England and Scotland for a month.
1972 brought Brian and his family to Saintfield when he joined the local practice and the family was to later increase with the birth of daughter Sara.
In addition to his duties to the local community, he was also hospital practitioner in Geriatrics in Bangor and Crawfordsburn. As Saintfield kept growing, he had to end the hospital work, much as he enjoyed working with the elderly.
Brian's close friend Michael McAtamney told the large gathering: "I first met Brian in 1977 when we became neighbours. From my point of view he was the ideal neighbour but not because he was my GP. "My former next door neighbour was a DIY enthusiast and I used to be waiting for him to come through the dividing wall at the end of a Black and Decker. He was also a very tidy gardener and as a consequence I was often asked why I could not keep my garden in the same state.
"Brian never created any problems in that area. But if he didn't spend time in the garden, he did where it mattered, whether it be the surgery, visiting patients or keeping abreast of developments in medicine.
"A colleague once told me I should always be accessible and ready to listen. I doubt if I ever achieved that, but I know that Brian did. He was a good listener but he could talk a bit too.
"Indeed his friendly manner led one patient to apologise for not having been in the surgery for a long time.
"I am sure all of you will have some personal experience of the care and consideration you received from Brian over the years.
"Brian's retirement following that of Dr. McKelvey and Dr. Hopkins is to some extent the end of an era when Saintfield was a village where everybody knew everyone else.
"The town has grown and as numbers increase, relationships tend to become more impersonal and the computer takes over. For those brought up in a different tradition, it is probably a good time to retire.
"In Brian's case he has fulfilled his duty to the community and I am sure you will join with me in wishing him a happy retirement with his wife Anne, son Paul and daughter Sara."
An emotional Brian thanked everyone for their kindness and generosity and said: "Jimmy asked me to come to Saintfield in 1972 for a three month trial. Being a townie I thought I could never settle in the country.
"Everyone welcomed us from the word go and we have been here ever since. It will be a big change in lifestyle but we have made very good friends over the years who will never be forgotten."
Gavin Campbell of the Saintfield Patients Participation Group, which organised the evening, paid tribute to Brian for the long and dedicated service which he had given to the community.
Norman McBriar presented Brian with a cheque and his wife Anne with flowers and Mrs. Anne Walker presented Brian with a leather bound book containing the names of all those who had donated to his farewell gift.
Following supper Brian and his family spoke individually to all those who had attended and it was a very emotional farewell for many of his patients after 33 years of dedicated service and friendship.
Ulster Star
14/10/2005