GEORGE BEST THE GREATEST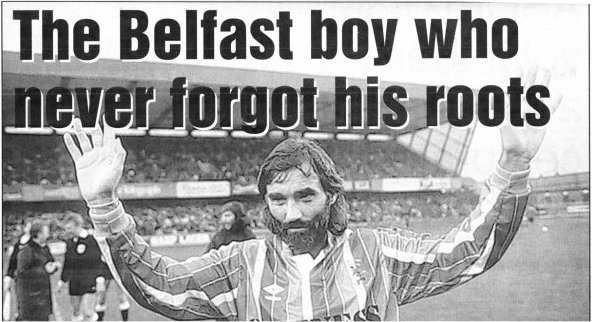 `HE NEVER LET US DOWN' SAID MCKENNA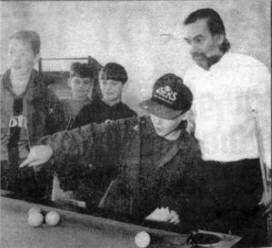 "GEORGE was a genuine fella who cared about people," this is Crewe United Chairman Tom McKenna's opinion of the legendary George Best.
He could be referring to any-one; instead he is talking about a man who has been described as the greatest footballer to ever live.
As the football world mourns the loss of one of its greats, as George Best lost his long battle with illness last weekend, Crewe United Chairman Tom McKenna has been reliving some of his memories of the 'Belfast boy'.
"He never forgot his roots and he never let us down," said Tom.
"I met George on a number of occasions over the years. I first met him back in 1964 in Manchester, through a mutual friend. I was just starting to study in England and George wasn't long in England playing with Manchester United.
"I'll always remember when we invited him over in 1964, I picked him up at the airport and he said to me 'just take me to see my mum and dad first and then I'm yours for the rest of the day'. He was terrific, he was only 1.9 then, but that's what he was like.
"He was a genuine fella, I can't get over people saying 'remember him for the football,' because in humanistic terms George was a nice guy and everyone will remember him for that."
Tom was privileged to have George play twice for Crewe United over the years at charity events.
Tom said: "He played for Crewe twice, first in 1989 in aid of the Lisburn branch of Action Cancer and in 1995 for Down's Syndrome.
"It was a dream come true for him to put on a Crewe shirt and he never let us down, George was full of human decency and thought for others.
"He genuinely cared for people and it is a tragedy that not enough people cared for him.
"I remember in 1989 after he had played for us, sitting in the Europa hotel with George and him saying that that night he could have been in London, Dublin or Manchester. That's how many commitments he had and how in demand he was, that's the problem facing celebrities.
"I also remember Kenny Sansom, the Arsenal and England left back, inviting George to an event at a children's hospital in Islington, London. George was happy to do it but had asked for no press coverage, when he turned up the press were there and he left. There was bad publicity for him, but often other people had created it for him."
Tom cherishes his memories of George, a man he describes as "a great ambassador" for Northern Ireland, and a night he will never forget is the night he watched George help Man Utd claim the European Cup for the first time in 1968 in Wembley, "it was unbelievable," said Tom.
Tributes have poured in for George from some of the world's best footballers since he died last Friday, from Pele to Eusebio and Johan Cruyff, George has been hailed as the greatest to ever grace a football pitch. Tom said: "Everybody associated with football is proud to be associated with George."
I wouldn't let you down for the world said George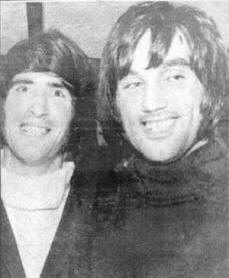 TOP soccer scout Jim Emery has many happy memories of George Best, especially when he brought the soccer ace to the Grove Activity Centre.
Jim, then manager of the centre, had been instrumental in bringing George to Lisburn to be honoured at the Forte Crest Legend in Sport 94 Awards.
"I had been asked to see if George would accept the honour at a special dinner and he was only too pleased to come over," explained Jim.
"I went to see George the night before the dinner and it ended up a very long night and into the small hours."
"I remember George going to bed at 5.30am and I had arranged for him to be at the Grove for 9.00am. Hoards of kids from several local schools were to attend and the then Mayor of Lisburn Seamus Close was to present George with a borough plaque.
"There are many stories of George not turning up for events and I thought this was going to be one of them. I went to his room at 8.00am and reminded him about the Grove.
"I was really in a sweat. I will never forget it, he asked me what time it was and told me to go and have a coffee and he would see me in the lobby in half an hour. I said 'don't let me down George' and he said back: 'Jim I would never for the world let you down' and sure enough he was right on time and came up to the Grove.
"He also ended up playing pool with some of the local boys from the estate which was a real thrill for them. He always had a lot of time for kids all through his career."
Jim first met the United ace soon after breaking in to the first team at Old Trafford.
"One of my earliest memories was the time George met the great Charlie Tully and myself in Belfast. Charlie was a big star for Belfast Celtic, Glasgow Celtic and Northern Ireland.
"George asked him had he any football tips. Charlie's answer was 'George what I would say to you is, never ever let any defender know that you are hurt. They will try and cut you down, but never show it.'
"In those days defenders had a licence to kill and some of the tackles George faced were really brutal, but he was rarely knocked off the ball and often came off matches with his legs black and blue such was the abuse he took yet, he never let them see he was hurt."
Jim has worked with and seen many great players in his time, but none compare with George. "He had everything and he was the first ever soccer superstar a film star of the football world. Apart from his football greatness he was also a lovely, lovely person to know and anyone who came in contact with him will say the same."
Stadium would be fitting memorial to Best says Beare
DROMORE Councillor Norah Beare MLA has paid tribute to George Best and said that the new national stadium should be named as a tribute to him.
"George Best was one of Northern Ireland's greatest exports and despite the turbulence of his private life, his achievements were something of which everyone in Northern Ireland can be proud," said Mrs Beare.
"One has to admire the journey which made a working class lad from Belfast an icon worldwide and it is for that reason that the whole of Northern Ireland feels this loss and sympathises with his family."
She went on to say: Over this week many will share their memories and recollections of George Best and pay their respects ahead of the funeral.
"However, after that Northern Ireland should remember him and celebrate his life in a permanent way. "I have heard from many people that the new National Stadium should be named in honour of George and I think that would be a fitting tribute."
She concluded by saying: "There would be no better way to recognise a Northern Ireland hero than through a facility for all the people of Northern Ireland which would showcase the best of our sport.
"That should give us an added focus and unity to give a rightful memorial to one of Ulster's greatest sons."
LISBURN City Council has opened its Books of Condolence following the announcement of the death of George Best last Friday.
The Books of Condolence are located at Lagan Valley Island, the Irish Linen Centre and Lagan Valley LeisurePlex and are available for the public to sign until the day following George Best's funeral.
The Mayor of Lisburn City Council, Councillor Jonathan Craig said: "On behalf of Lisburn City Council and the citizens of the City of Lisburn, I would like to extend our heartfelt sympathy to the family of George Best.
"George Best was a truly gifted footballer whose skills on the pitch brought much delight and excitement to so many people, particularly to his fans in Northern Ireland. I am deeply saddened at the news of his passing.
"I will be writing to George Best's father Mr. Dickie Best, to convey both my sympathies and the sympathies of the citizens of Lisburn to him and his family. Our thoughts are with them at this time."
02/12/2005