GLORIA COMES HOME TO TELL CARON'S STORY
STAR TO VISIT EASON'S TO SIGN COPIES OF BOOK DEDICATED TO CARON'S MEMORY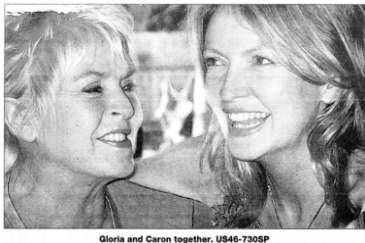 Gloria and Caron together. US46-730SP
TV AND RADIO
TOMORROW (Saturday) will be a difficult day for TV and radio star Gloria Hunniford as she returns to Lisburn, her home for so many years, to sign copies of the book `Next to You' which is dedicated to the memory of her daughter Caron Keating.
Caron whose formative years were spent at Marnabrae off Belsize Road and later at Culcavey Road in Hillsborough succumbed to breast cancer 18 months ago at the age of just 42.
The book, which is subtitled 'Caron's Courage Remembered by her Mother', is Gloria's own tribute to the bravery displayed by her daughter in the face of such great adversity.
Tomorrow's signing at Eason's in Bow Street will begin at 12.30pm and will take place as Gloria, her grandsons and Caron's husband Ross prepare for their second Christmas without the much loved daughter, mother and wife who was snatched so cruelly from them.
Under these circumstances the trip to Lisburn can only be a poignant one for Gloria as she visits the same streets she once walked along with Caron when she was just a toddler.
However, there is no doubt people in the city will turn out to show their support for a mother still struggling to come to terms with the loss of her only daughter.
In 'Next to You' Gloria describes in detail Caron's childhood in Lisburn and teenage years in Hillsborough.
She talks of Caron's relationship with her father Don Keating and the devastation she experienced when he passed away.
She also outlines what happened after Caron discovered the lump in her breast was cancerous.
Gloria's description of the way in which Caron passed away at her home in Kent is extremely moving.
She writes frankly about the intense grief she has experienced since her daughter lost the battle she fought so bravely.
The book is also interspersed with Caron's memories in her own words.
She recalls setting traps for 'the Marnabrae Boys' who lived in the street which ran parallel to her own.
She also recalls singing while travelling to her mother's native Portadown by bus with her grandfather Charlie Hunniford, a former Advertising Manager with the Ulster Star.
Caron touched many lives in Lisburn during her early years and is remembered with fondness by a large number of local people.
Ulster star
02/12/2005