TODDLER PASSES AWAY SURROUNDED BY FAMILY
'She fought and fought and it astounded everyone and impressed us all' - Helen's mum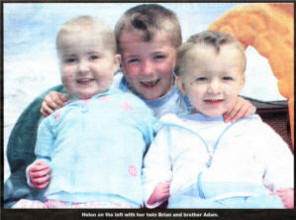 Brave Helen, the little girl who touched hearts everywhere, loses her battle for life
HELEN Kerr, the three-year-old Lisburn toddler whose courageous battle against illness touched hearts across the country, has lost her fight for life.
Helen passed away peacefully last Wednesday at the Blaris home she shared with parents, Gaye and Gerry, her twin Brian and six-year-old brother Adam.
Gaye said that her daughter's eight month battle against a rare blood disorder had impressed everyone.
And she said Helen will be best remembered as a 'brave little fighter who touched the hearts of everyone'.
At just three years of age Helen had already had to fight against a viral form of meningitis in 2003. And then this year she faced an even tougher battle over many months against the blood disorder which affected her bone marrow and which was eventually to claim her life.
In a cruel twist of fate her twin brother Brian suffers from an unconnected blood disorder, a rare form of anaemia called Fanconi which is incurable.
Through the last few months of her life Helen's smiling face and courage had touched thousands of people she had never even met.
Hundreds attended her funeral on Friday at St Patrick's Church at Chapel Hill in Lisburn. Gaye said she was very proud of Helen's brave fight.
"She fought and fought and it astounded every-one and impressed us all," she said.
"We were very proud of the way she handled everything. She was so young but she still fought bravely."
Helen adored her six year old brother Adam, who donated his bone marrow in a last attempt to save her, and was especially inseparable from her twin brother Brian.
When they were born in February 2002 at Lagan Valley Hospital in Lisburn Helen remained with Brian who was too ill to go home.
She was always very close to Brian who adored her and she him," Gaye said. "Doctors said that she gave a real source of comfort to Brian when they were born that would help him recover quicker.
"They were just like Tweedle Dum and Tweedle Dee. You would never see one without the other." It was last October Helen began to suffer from a number of flu like conditions.
Gaye asked Brian's haematologist to give her daughter a blood test which showed that Helen was suffering from a blood condition and she was admitted to hospital.
Her condition became so severe that in February she began an eight week course of chemotherapy. At first the youngster appeared to be in remission, but two weeks later there was a major setback when Helen relapsed and had to undergo further chemotherapy.
She remained at the RVH and was only allowed home for three hours to celebrate her third birth-day with Brian on February 24.
Two weeks later she fell gravely ill again and was sent to Bristol Hospital in March. Her parents were told that if she relapsed again that she would have to undergo a bone marrow transplant as quickly as possible. Unfortunately, Helen relapsed again in May.
Earlier tests had already revealed that Adam and Helen were a perfect bone marrow match. Doctors said there is a 60-40 per cent chance of success so a day before Adam's sixth birthday, on June 24, trans-plant took place.
They removed the bone marrow from Adam and harvested it into Helen.
Her parents, who were holding a round the clock bedside vigil, were told they would be in Bristol for at least three months.
At the beginning Helen's recovery amazed everyone and she was well enough to be allowed out as a day patient only weeks later.
"Everyone was so impressed how well she was doing," said Gaye. "Even the doctors were amazed by her recovery."
But on July 14, two days after she left hospital, Helen fell ill once again and was taken back to hospital. At first it seemed it may be just a temporary setback, but then doctors gave Gaye and her husband the news they had been dreading.
They were told their precious daughter was suffering from an acute form of graphic versus hoste disease. She had jaundice, an enlarged liver and was haemorrhaging badly.
Arrangements were made for Helen to come home to Lisburn by air ambulance accompanied by a nurse and a doctor. Her GP and a Marie Curie nurse were at her Blaris home.
Her last few days were spent at home surrounded by her loving family. Despite her terrible suffering Gaye said Helen was a real inspiration to them all.
"Helen fought all the way and just amazed us all," she said. "We are all very proud of her."
In her final days Helen's stamina to remain alive impressed everyone.
Even when she was gravely ill she still wanted to do some her of favourite things like eat Chinese food, play snap with her brothers and watch her favourite TV programme Ballamory.
"Her body was just fighting it all the way and she was doing remarkably well throughout," said Gaye.
"She had a great sense of fun and still wanted to play her favourite games."
Gaye also said how proud they all were of six year old Adam who helped to give his young sister the chance of life.
Despite all her efforts to survive Helen fell into a coma and passed away last Wednesday.
Gaye would like to thank everyone who fundraised and helped in any way while the family were on holiday.
19/08/2005