SUN SHINES DOWN ON HILLSBOROUGH AS CROWDS GATHER FOR 'HELEN'S DAY'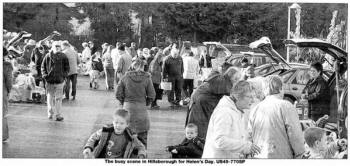 ATLAS RAISE OVER £2,000 AS A SPECIAL LIFE IS CELEBRATED
THE sun was shining brightly in Hillsborough last Saturday as crowds gathered to raise money for charity and celebrate the life of little Helen Kerr, who died recently after a long battle with a rare blood disorder.
The family fun day and car boot sale was organised by Atlas Women's Centre to raise money for FAB, Action Cancer and the Anthony Nolan Trust.
The very successful event raised a fantastic £2,200, with the support of local families and local businesses, which will be split between the three charities.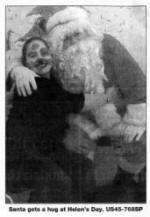 Helen's mother, Gaye Kerr, was delighted at the attendance and thanked Atlas for all their efforts in creating what turned out to be a very emotive day for the Kerr family.
"Adam, our 6-year-old, had written a letter to Helen on the Friday night asking her to ask Jesus for good weather for 'Helen's Day' and on Saturday morning when he got up and the sun was shining he said 'yes mum, she got our letter'," explained Gaye.
Adam also paid a visit to Santa, who made a special appearance at the event. "The first thing he asked," said Gaye, "was if Santa could go to heaven. When Santa said he could, Adam was so pleased that Santa
"Adam has been very distressed by everything that has happened and it gave him so much reassurance. "Thank you to everyone who came along and sup-ported the event and thank you to the whole of Atlas. For them to even consider our family is lovely.
"There was a fantastic turnout and the whole thing was so well organised and well run. I can't thank them enough. The family is still on a high."
Gaye finished by saying: "It is through Helen's memory that other children are going to be helped.
"Helen loved making people happy and hated seeing tears. I know that she would have loved the day and loved to see so much laughter.
"It really was a day for Helen, the whole thing was fantastic."
Iona Scott, Donor Recruitment Manager for the Anthony Nolan Trust, who ran a recruitment drive at the event, said that the charity was pleased with the day.
"It went quite well," said Iona. "We got 19 people signed up to the register and a lot of people went away with information about the Anthony Nolan Trust.
"We raised quite a lot of awareness. We haven't had a high profile presence in Northern Ireland recently so this is a great start."
Dorothy Sherry, Chairperson of Atlas thanked every-one who came along to support the event, which was held in the new Hillsborough Village Hall.
She said: "All the committee were taken aback at the huge number of people who came to see us.
"We are very grateful to them for such wonderful support and generosity."
| | |
| --- | --- |
| | |
| Santa was a very welcome visitor at Helen's Day. US45-767SP | Santa is welcomed to Helen's Day. US45-769SP |