A FAMILY MAN WITH A GREAT SENSE OF HUMOUR
"A FAMILY man with a great sense of humour" is how Greta Black remembers her husband Jim, a well-known business and political figure in Lisburn, who passed away on June 1.
James Downey Black was born in Bessbrook in 1913 into a family of six boys and one girl and joined the police at the age of 19.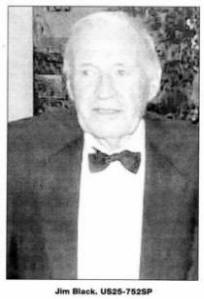 During his time in the RUC he was posted to Lisburn where he met a 17 year-old Greta, whose family were prominent Lisburn shop-owners. The pair married in 1938 and Jim was posted to Larne, where they started married life.
After the tragic death of Greta's only brother during the war, the young couple were transferred back to Lisburn and Jim left the police at the end of the war.
He began work in the New Process Grinding Company, before joining Greta in 1952 in running the well-known Lisburn newsagents, Connolly's in Castle Street, which had been in the family since 1918 and remains a feature in Lisburn City Centre today.
As a prominent local businessman it is fitting that his legacy includes being a founding member of the Rotary Club in Lisburn 50 years ago.
He was elected a Paul Harris Fellow for his services to the Rotary movement.
He was also known as a distinguished sportsman and was the longest serving member of Lisburn Golf Club, which he joined in 1950.
He was a keen and skilful all rounder, who excelled at golf, squash, tennis, table tennis and badminton.
He was President of Alpha Racquets Club and police badminton champion for seven years.
His involvement with, and concern for, leaders of the community led to his work as a councillor for the area, where he topped the polls for the Lisburn North ward.
While he enjoyed politics he did not enjoy the sometimes lengthy meetings which being a councillor entailed.
He was a well-loved member of the business community and was highly respected by everyone who met him. His gentle dignity, love of life and sense of fun and good humour made him a valuable friend to the community.
Jim's wife, Greta, who celebrated her 90th birthday this week, said: "The whole town knew him. He was very popular and we had a wonderful life together."
Mr Black passed away on June 1 at the age of 92 and is survived by his wife Greta, son Clive and twin daughters Joy and Gay.
01/07/2005