SON PAYS WARM TRIBUTE
TO FORMER ASSISTANT DISTRICT COMMISSIONER
Death of scout leader causes great sadness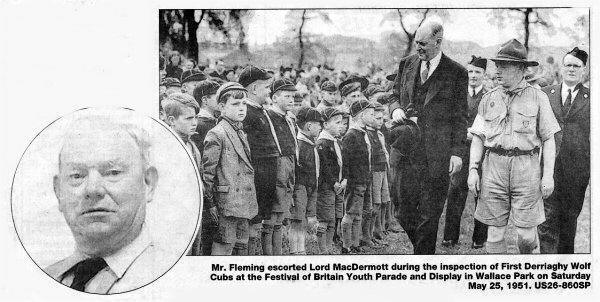 THE recent death of one of the best known members of the scouting movement in Lisburn brought great sadness to the generations of scouts with whom he worked.
Mr. Jim Fleming held the position of Assistant District Commissioner for both cubs and beavers and was also Vice President of Lisburn District.
He was Cub Leader at First Derriaghy for 40 years and was awarded the Medal of Merit (with bar) and the Silver Acorn by the Chief Scout for his outstanding service.
His son Mervyn, who is also involved in scouting, paid tribute to his father.
"Not only did he play an active role in the Scout Association but encouraged the formation of the Fourth Antrim Catholic Boy Scouts of Ireland," he said.
"He was also instrumental in bringing scouting to boys aged six to eight years old with the formation of the Beavers in Lisburn District who are celebrating their 40th anniversary this year.
"Over the years he influenced not only scouts, cubs and beavers but many scouters also."
Mr. Fleming said his father was devoted not only to scouting but to his family - him, his wife Isobel and his grandchildren Paul and Karen.
"He was there for his family as long as his health allowed and continually offered support, encouragement and most of all his optimistic and humorous outlook on life," he continued.
"It was his influence that has made me, Paul and Karen what we are today.
"Indeed, as a grandfather he played a tremendous part in the upbringing of his grandchildren."
Mr. Fleming said his father would live on in the hearts of his family: "They will live their lives to be the family that would make him proud and strive to be the best they can be," he said.
"He was one in a million - a very special man with a big personality and he has left a void in not only his family's lives but in the lives of all those who knew him."
Mervyn Fleming explained his father passed away peacefully in Lagan Valley Hospital on June 7.
"He suffered a long deterioration in his health due to Alzheimer's Disease and was latterly a resident of Rosevale Lodge Nursing
Home where he was treated with dignity by all the nursing staff," he concluded.
Mr. Fleming's funeral service took place at the Church of St. John the Baptist, Suffolk (Upper Falls Parish) on June 9.
Following this he was laid to rest at Derriaghy Parish Churchyard.
01/07/2005