Hillsborough finally claims boxing great Jimmy
BOROUGH BORN BOXER JIMMY McLARNIN WAS ONE OF BEST OF ALL TIME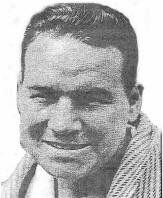 AS the official residence of the Royal Family in Northern Ireland, Hillsborough has seen more than its fair share of world famous visitors over the years.
But how many people are aware the picturesque village near Lisburn was also the birthplace of the one of the best pound for pound boxers of all time?
Jimmy McLarnin's name might not roll off the tongue like boxing greats of the late 20th century like Muhammad Ali, George Foreman and Joe Frazer, but back in the early part of the last century he was one of the most famous names in the sport.
For many years Jimmy was reported to have been born elsewhere in Co. Down, but recently the record books were put right and it was finally confirmed he was born in Hillsborough on December 19, 1907, one of 12 children and the first three years of his life were spent in the Lisburn borough.
He then moved with his family to Vancouver, Canada and began to box when he was just ten.
Talent
It wasn't long before McLarnin's raw boxing talent began to emerge. He might only have been just 5ft 6, but at welterweight, McLarnin was soon a handful for the very best fighters in the world.
His first fight took place in 1923 and based in the United States, for the next 13 years he fought the best in the world and consistently was a match for everyone.
Before he eventually hung up his gloves in 1936, Jimmy faced world champions from seven different weight classes.
Known as 'Babyface', he took part in 77 career bouts, faced 15 fellow world champions and five boxers who like him, were eventually inducted into the sport's hallowed hall of fame.
In those 77 bouts, Jimmy was successful no fewer than 62 times. He suffered just 11 defeats and recorded three draws. Twenty of his victories came courtesy of knock out. He was inducted into boxing's official Hall of Fame in 1991.
McLarnin was World Welterweight champion between 1933 and 1935, during which he took part in three legendary contests with Barney Ross in New York.
In their first bout McLarnin lost the world title he had clinched by beating Young Corbett, but in the first re-match McLarnin then overturned the odds by beating Ross. In their third and final meeting in front of 40,000 fans, McLarnin lost controversially on points as Ross took back the title.
In 1936 McLarnin retired at the age of 29 but it wasn't as if his powers were on the wane. He defeated Tony Canzoneri and Lou Ambers, both world respected fighters, and then hung up his gloves.
Even today he is still rated by Ring Magazine as the fifth best welterweight of all time.
McLarnin died in October last year at the age of 97 but in an interview in his later years, he looked back on his fighting career with fondness.
"Boxing's a very hazardous business and I'd always felt anybody that goes into it for fun has to be out of their entire mind," he said.
"But then I started to make money. When I was 19 1 had $100,000 in the bank - so all of a sudden I realised boxing is for me and I put my entire mind into it. "There was no romance in it. It was a tough, tough ordeal, but as the years went by and I got to know boxing, it wasn't as hard as I thought it would be, although it isn't the easiest game in the world."
In retirement Jimmy opened a machine shop and later tried his hand at acting, golfing and even lectured at universities across the United State.
He married Lillian and the couple had a son and three daughters.
26/02/2005