HILLSBOROUGH FARMER TOOK PART IN FIRST MATCH IN 1955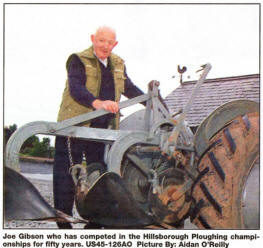 Ploughing keeps Joe on the straight and narrow
SATURDAY will see retired Hillsborough farmer Joe Gibson fulfill a dearly held ambition as he takes part in the village's annual ploughing match for the 50th consecutive time.
Joe has been a familiar figure at similar events all over Ireland as well as England for many years.
He has even taken part in the Canadian Championships at Oshawa, Ontario.
But tomorrow he will return to his roots when he takes part in the same match at which he first competed in 1955.
He can clearly remember his debut in the field of competitive ploughing: "I ploughed with a TE20 Ferguson tractor and Ferguson plough which had been bought new in 1952," he said.
"This really was a standard tractor and plough. We used the same plough on the farm as we did for competitions. But now there are spring releases, reversibles, rams, winders and hydraulic top links to name just a few."
At the age of 70 Joe can also clearly remember how his appetite for this particular hobby about which he is so passionate was whetted for the first time. "I was only eight when my father who was also called Joe first sat me on the tractor and taught me to drive it," he explained.
"You couldn't do that in 2005 but in those days people were driving tractors on farms from a very young age."
Joe's interest in ploughing really took off when he became a member of Hillsborough Young Farmers Club.
The then secretary Norma Dunlop who now lives in Australia encouraged him in his hobby and eventually persuaded him to enter his first competition. Since then he has used a variety of equipment as he explained.
"As far as tractors are concerned I began with a TE 20 Ferguson, moving on to Major, Nuffields, Leyland's and Fords before going back to 'Fergies'," he said.
"I've also used a variety of ploughs starting with Ferguson before moving on to Ransome, Kverneland, Pierce and Overam. All of these ploughs are pulled by tractor."
Joe and his wife Valerie are well known in ploughing circles all over Ireland and further afield.
He has represented Northern Ireland at the National Championships in England and has taken part in the All-Ireland Ploughing Championships.
Indeed, one of his latest trophies is a magnificent cup he brought home from Cork along with 180 Euros.
As previously mentioned he has competed in Canada and has attended ploughing matches in other parts of Europe as a spectator.
He has also taken part in a variety of different categories including 10 inch, Whole Work (Young Farmers), Furrow, World Style, High Cut, Vintage and Reversible.
He was one of the first competitors in Northern Ireland to take part in the Reversible Class. This happened at a ploughing match in Portaferry. "No two styles of ploughing are the same," explained Joe.
"For example in high cut the ridges have to stand up and you have to use a special boat attachment on the plough."
There is one type of ploughing, however, Joe has yet to experience.
"I would really like to have a try at horse ploughing," he said.
"In fact I've got an offer and I'd really be keen to give it a go."
18/11/2005