BRAVERY OF THOSE WHO LIVED THROUGH WAR
REMEMBERED AT SERVICE
Wartime, courage is recalled at Knockmore Primary School
NEIL GREENLEES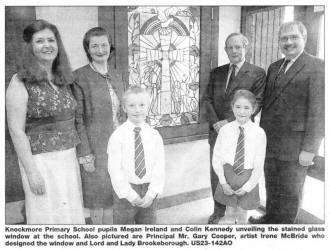 A BEAUTIFUL new stained glass memorial panel commemorating the bravery of those who lived through the Second World War has been unveiled at Knockmore Primary School.
The unveiling was carried out by Lord Brookeborough, grandson of Northern Ireland's wartime Prime Minister Sir Basil Brooke, at a special service in the school this week.
The panel, designed by Comber based artist Irene McBride, depicts an old soldier looking from the past to the future towards two Knockmore pupils.
Each is basking in the rays emanating from the cross, above which are a rainbow and a dove of peace. Invited guests at the service included local NIP Jeffery Donaldson, Jackie Fitzsimmons, Chief Executive of the South Eastern Education and Library Board, Lisburn's Deputy Mayor Councillor Trevor Lunn and PSNI Chief Superintendent Ken Henning.
They were welcomed to the service by the school's Principal Mr Gary Cooper.
The choir and other senior pupils who gave readings were joined by members of the clergy from the school's Board of Governors in providing a programme that was both reflective and inspiring.
Those present included friends and members of families connected with the school together with Second World War veterans, some of whom had already been in the classrooms over the last few weeks talking about their wartime experiences to the pupils.
Rev Canon Dr Kenneth Cochrane dedicated the memorial panel before handing over to Lord Brookeborough for the unveiling ceremony.
Lord Brookeborough, who was accompanied by his wife Janet, addressed the congregation, recalling how his interest in the history of recent warfare stemmed from his Godmother, the late Princess Alice who encouraged him to become involved in the Somme Association of which she had been Patron.
At the end of the service members of the congregation were invited to remain and to view the exhibition of children's work that had been completed in relation to the Second World War.
The exhibition runs until the end of the term and everyone is welcome to view it.
Ulster star
10/06/2005