Designer Waiting For Confirmation Of New Us Tv Series
BY JOANNE FLEMING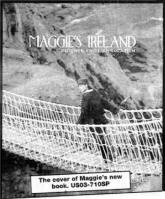 Knitters all over the globe eagerly await Maggie's new book.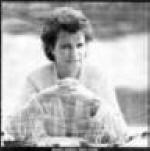 MAGGIE Jackson is possibly the closest Moira has ever come to producing a home-grown US celebrity.
The award-winning international knitwear designer has a huge following in the States and is currently waiting confirmation of a new TV series that she is set to host.
However, it's the publication of her new book 'Maggie's Ireland' that she counts as the highlight of her impressive career so far. Now available in local bookstores it is already up for a National Award in the States.
Photographed in Northern Ireland by top American photographer Alexis Xenakis, it's a personal journey that combines over 40 different knit projects with scenic shots, and recipes from local chef Stephen McAteer.
"I've wanted to do a book for many years that was very different to anything else out there," explained Maggie.
"Travelling all over the US for so long, I really wanted to show them my homeland. People's perceptions of Northern Ireland are based on the Troubles and so many choose to visit the South and not venture up North. I wanted to show off the scenery here - it's easy to forget what a beautiful country this is."
Maggie, who describes her style as 'raw and refined', is also celebrating 25 years of her Maggiknits business.
She spends time at home outside Moira designing but is mainly in America promoting her own labelled yarn line, which is produced in the UK, Italy, Spain and Peru, along with her other pattern books.
Her travels include book signings, exhibitions and teaching workshops in the Maggiknits style, as recently featured in the New York Times.
It's all a far cry from Maggie's young days growing up in her farm outside Lisburn, when she was called the 'wee granny knitting in the corner' and didn't like being seen in public with her knitting needles.
"It's very exciting to get picked up from airports and be looked after in millionaire's homes! But it's also nice to get back home to my family and get my feet kept on the ground," laughs Maggie, a former pupil of Wallace High School.
Inspired by watching her mother knit, she started at the young age of six.
"When I started there were so many holes in my work I don't think my mother ever imagined where I have ended up! In fact my parents wanted me to go into teaching - they thought it would have more prospects than fashion designing!"
Her parents' fears proved to be unfounded, however, as she went on to study fashion at The College of Art and Design. Her post-graduate diploma in Fashion Knitwear was awarded the highest marks in the history of the college and setting up her own Design Studio on leaving College seemed a natural progression.
A string of design awards followed, and Maggie's entrepreneurial skills won her the title of Northern Ireland Young Business and Professional Woman of the Year in 1989.
President of Northern Ireland Fashion Designers Association and Director and Executive Director on the Board of the Northern Ireland Fashion Design Centre are only a few of the posts she has held over the years.
"I'm not as well-known over here so it's two very contrasting lives. I think knitting is definitely losing the 'Granny' image, though I think it will be a while before knitting takes off over here in the way it has in the USA and Canada. America has always been very craft orientated."
According to Maggie, due to film stars like Julia Roberts, Daryl Hannah and top models like Sterna Tennant, knitting is now officially 'trendy'.
"It is so huge that Italy cannot cope with the production of hand knitting yarns with distributors and stores waiting sometimes months on supplies. Students have set up Knit Clubs in universities and it is the 'in thing' to knit their boyfriend a scarf!" says Maggie.
"Even men like Courtney Cox's husband, Russell Crowe, Robert de Niro and many other male stars have needles and yarn always on hand.
In fact at New York Fashion week, a tent was set up for such stars to do their knitting and even Keith Richards and his wife were seen to have knitting needles in their hands!"
Although she doesn't rule out moving to America at some point in the future, Maggie is close to her family and three children who still live locally. As a single mother of three, Simon (25), Kerrie (22) and Jodie (20), Maggie is particularly proud of her latest achievement and some of the family were even roped into helping with the book.
Stephen McAteer, from Kilrea, the chef featured, is also her daughter's partner.
"The traditional cuisine dishes were complimented with knitted tablemats, but Stevie also gave an insight into the old traditional Irish techniques used and the history of the ingredients.
"Stevie had hoped his work would be a shot in the kitchen but has many a story to tell about displaying food on the Giant's Causeway and Cushendun Beach on windy days!
"However, he put this to the back of his memory when he asked to go to San Francisco to do a pre-launch and book signing with me, my (laughter Kerrie and son Jake, also in the book. Jake then 16 months did his first modelling job on a stage wearing designs from the book where he stole the show!"
And what did photographer Alexis Xenakis and the team make of the shoot?
"They loved it - the scenery and the people. It really gave me a great renewed faith in my country."
Due to interest in the book there is now a knitting trip of 45 American knitters to Northern Ireland in May 2005 retracing the route of 'Maggie's Ireland'. Each are paying $6000 to do so and knitting a Maggiknits project on the way!
The ex-Wallace High pupil is also wondering what her former classmates will think of it all when they have a reunion as they are all celebrating their 50th birthdays this year.
"There's a group of us who still meet up two or three times a year but I'm quite excited at meeting up with the rest of my year."
Other highlights for 2005 include a tour to Canada, book signing and teaching work shops in Hawaii, a ski-knitting camp in North Dakota and a knitters luxury cruise from Florida to Mexico.
Due to the book's success in America, Maggie is already looking ahead to 'Maggie's Ireland 2'. The knitting needles are clicking away to keep an old craft alive with a modern and innovative influence in the Maggiknits style.
In the meantime, if you were in Maggie's year and are interested in meeting up at the school reunion the organisers would love to hear from you. Liz Rogers (nee Donnegan) and Lorraine Eastwood (nee Neill) can be contacted on the following numbers on 92663670192621304.
Maggies website Please click here
Ulster star
28/01/2005