LOCAL NURSE RECOGNISED FOR HER DEDICATED WORK
Caring Angela is the Marie Curie Nurse of the Year,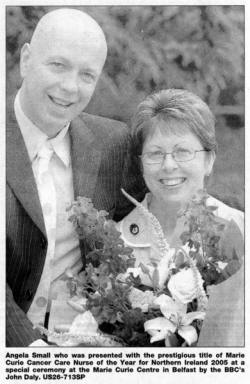 A LISBURN nurse who aims to enter the home of seriously ill patients as a nurse but leave as a friend has named Marie Curie Cancer Care Nurse of the Year for Northern Ireland 2005. Angela Small was recognised for her dedicated service at the special ceremony in in Belfast.
She joined Marie Curie Cancer Care two years ago and has been working in the community ever since, caring for patients in their own homes.
"I am absolutely thrilled and privileged to have been chosen," said Angela.
"I feel extremely gratified to be able to provide expert cancer care to people in their own homes and while I enter the home as a Marie Curie Nurse, I always leave as a family friend.
"Thanks to Marie Curie Cancer Care, many patients throughout Northern Ireland are able to fulfil their wish of being cared for at home.
'The Marie Curie Nurse of the Year title will enable me to act as an ambassador for the charity to raise the profile of our services.
"I also want to recognise all of my Marie Curie nursing colleagues who deserve to be recognised for their hard work and dedicated caring of patients who show so much bravery dealing with their illness. "Special thanks must go to last year's Nurse of the Year, Ruth Pearson, for doing such a great job in raising the profile of the charity."
Marie Curie Nurse's care for patients in their home for a full working day or night shift, allowing patients to remain at home when they might otherwise have gone into a hospital or hospice.
The shifts worked give both patient and family the chance to discuss their worries with a sympathetic professional who has time to listen.
The patient's regular carers are also given the opportunity to take a break to rest, go shoping, keep in touch with the outside world or simply get a good night's sleep.
This award is organised by Marie Curie Cancer Care with the aim of raising the profile of the charity's work and Angela hopes to be able to spend her time as Nurse of the Year working as an ambassador for all her Marie Curie Nursing colleagues in the province.
She also hopes to spend the twelve months promoting the work of the charity, raising awareness of Marie Curie's work and supporting the 'Choice to Die at Home' campaign.
01/07/2005