JONATHAN CRAIG ELECTED FIRST CITIZEN
OF LISBURN AT COUNCIL AGM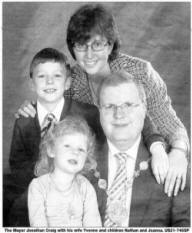 Youngest Mayor is determined to leave city a lasting legacy
LISBURN'S new and youngest ever Mayor, Councillor Jonathan has been enjoying his first week in office and is determined to leave a lasting legacy at the council.
Jonathan took up his position after being elected at the Council's AGM last week and he confesses this came as a great shock to him.
"I was genuinely shocked because it hadn't been talked about until five days before the meeting and I don't know who was more shocked - me or my boss. Shorts have been extremely good and have allowed me to go part-time so that I can fulfil my duties.
"It has been a very, very busy week. We have a large number of planned events every day which we know about. On a daily basis the phone never stops ringing but I am really enjoying meeting people."
The new Mayoress, Yvonne Craig, a paramedic in Belfast, is also adjusting to her role in public life and admits that it is taking some getting used to.
"It is strange being treated as though you are somebody. I am just a normal person and it is strange being treated like a VIP.
"I haven't even told that many people about it. I told my line manager and my crew mate but I am quite shy about it.
"I wouldn't be in this position if it wasn't for Jonathan. I am very proud of him. He has worked very hard over the past four years and I know he has enjoyed it.
"We are actually getting to spend more time together now, in fact we even had lunch together three times this week.
"Our son Nathan is absolutely delighted and has been boasting about it in school. Joanna is too young to really understand and just takes it all in her stride. She has been enjoying having tea parties with the Mayor's driver, George, and secretary, Rhonda!"
The first official engagement for the entire family was the world premiere of 'The Little Mermaid' at the Lisburn Leisureplex, which the entire family thoroughly enjoyed. Looking forward to his year as Lisburn's first citizen, Mr Craig said he was determined to get local people from the community more involved with the council.
"I am looking forward to the year ahead and I have enjoyed the challenge so far. The challenge now will be to give drive and direction to my year in office.
"I want to involve those within the community in the office of the mayor, whether that's through direct involvement or through educational visits to the Island Centre itself."
The Mayor is enthusiastic about introducing schoolchildren to local government, and has already begun work on introducing educational visits.
"I have already spoken to the Marketing Department about getting educational visits organised in
the next year," he explained.
"We would invite senior classes from schools throughout the city area and entertain them, educating them about local government, and possibly running a competition with prizes at the end of it.
"The main objective is to bring the local communities on board with the council. For the past four years as a councillor I have witnessed the fact that the community feels, and to a large extent is, alienated from the council.
"There seems to be a hands off approach, which is incredible considering it is the community that funds this body.
"I intend to break those barriers down and that is what I want to be remembered for - as the man who brought the people back into the council."
Mr Craig said he was also determined to let the people of Lisburn have their say over the contentious water rates issue.
"One thing I have already triggered off and that I am very serious about is the water rates proposals.
"There was a decision taken last year to organise a petition against the water rates but for some reason this wasn't pushed ahead.
"I want to get 20,000 signatures opposed to the charges before we go to see the Minister. We want to make the opinions of the people of Lisburn heard.
"We will have a stand at the Countrysports Fair in Moira, which 20,000 people attended last year, and we will be looking for signatures against the charges."
Mr Craig concluded: "That will be the first of a number of initiatives which I will be pushing forward in the year ahead."
The Ulster Star
May 27, 2005