Melvyn Thompson Doherty Dies Suddenly At Home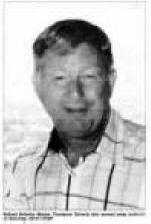 Church packed for well known solicitor's funeral
MOURNERS packed St. Matthews Church at Broomhedge on Wednesday afternoon for the funeral of one of Lisburn's best known legal figures, local solicitor Melvyn Doherty.
Mr. Doherty, who retired from his Bow Street legal practice five years ago, died suddenly at the Halfpenny Gate Road home he loved at lunchtime on Saturday.
A highly respected and popular member of the Lisburn community he was born and bred in the Maze area.
Indeed, the house in which he died so unexpectedly is just 100 yards from the farm on which he was brought up by his parents David and Margaret.
Mr. Doherty was educated at Broomhedge Primary and Lisnagarvey High Schools.
He met his wife Mavis, who also came from Broomhedge, when he was 18 and the couple were married at St. Matthew's Church 37 years ago.
He qualified as a solicitor at W.G. Maginness and Sons of Market Place at the age of 23 under the expert tutelage of Mr. Oliver Greer.
He continued to work for the firm for a further eight years.
On February 1 1977 he set up his own practice at 39, Bow Street where he remained until his retirement.
For the past 10 years Mr. Doherty was also a Director of Toland House Properties Ltd. His great friend Mr. Victor Toland explained this allowed him to put his love of conveyancing and property law to good use. He also described his friend's other great passions in life: "He was mad about cars. He really was a car fanatic. He knew everything about them," he said.
"He was very interested in history and was a keen member of Lisburn Historical Society. He attended their meetings regularly.
"He also attended ploughing competitions throughout Europe with his brother in law Mr. Raymond McKee."
Mr. Toland said Mr. Doherty had shown no signs of ill health prior to Saturday.
"It was a dreadful shock for his family. There was absolutely no warning anything was wrong," he added.
"Indeed, he was enjoying life to the full and taking a number of holidays."
Mr. Doherty is survived by his wife Mavis and children Janis, Denise and David.
He will also be sadly missed by his only sister Sandra Smith, brother in law Jim, son in law Paul, grandson Harry and David's partner Fiona
22/04/2005