135 YEARS OF HISTORY COME TO AN END
The girls from Newport Primary School
in 1923. US21-764SP
A comfortable classroom
in the care of Mr Chasty. US21-765SP
The final bell rings out at Newport
THE final bell of the term at Newport Primary will mark the end of a 135 year era as the school closes and pupils move to their new place of learning in Hillsborough Village.
Newport Public Elementary School was built in 1870 at the junction of the Halftown Road and the Lagan Canal.
The building still exists as a nursery school and was very typical of its time.
It was under the control of the Church of Ireland and Mr J. J. Victor Boyd the first Principal of the school, served for 36 years. Indeed such was the extent of his importance to the area a memorial in All Saints' Church at Eglantine commemorates his contribution to local education and musical life.
During the Second World War the numbers at the school increased as evacuees were housed in the area and it became a second home to servicemen who used the school for training in the evenings.
After the war, numbers continued to increase and the need arose for a new school to be built.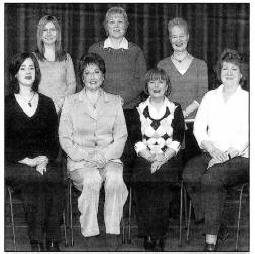 The current staff at Newport Primary School. Pictured front row, I-r, are Miss Julia McKibbin, Principal Mrs Barbara Lewers, Miss Janet McGowan and Mrs Ruth Bennett. Back Row,
I-r, Mrs Michelle Watton, Mrs Pat Park and Mrs Helen McKendrey. US21-743SP
This took place in 1967 and the first Vice Principal, Mrs F. E. Brown, was appointed. One former Newport student from the 1920's has
very fond memories of his days at school.
"Together with Mr Boyd, Miss Baird and Miss Beattie were responsible for our education.
Miss Baird taught the infants and was a kind, genteel lady. She wore her fine white hair in a bun at the back of her head.
"Miss Beattie, who was in charge of juniors, rode to school on her bicycle and was always well dressed. When it came to discipline, she was more firm than Miss Baird - now that I am older I can understand why.
"You normally carried in your bag, a reader, a copy book, an exercise book, a jotter and a wooden pencil case containing a ruler, ink pen, a pencil and a rubber.
"Before 9.30am the Master rang the bell - we ceased playing games and lined up in three rows to enter and take our places at the desk.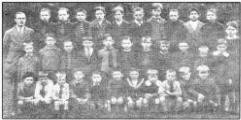 The boys of Newport Primary School and the Principal, Mr JJV Boyd in 1923. From left to right, back row: S Acheson, J Mercer, J Brooks, L McQuiggan, S Alexander, J McFarlane, S Hewitt, J Palmer, T Finlay, T Kane, C Donaldson. Middle Row: J Hewitt, T Mercer, A Acheson, A Murphy, H Mercer, G McCord, T Castles, T Morgan, J Sinnerton, E Kane, Bobby Walker. Front Row: W Hall, R Doherty, N Doherty, J Chapman, D Chapman, C Freel, R McCandless, B McCarthy, S Castles, H McCarthy, W McCarthy. US21763SP
"There was no running water but we were never thirsty - an enamel bucket full of cold spring water was placed on a bench in the cloakroom. A pint tin was beside it - you dipped it into the water, quenched your thirst, the remainder was thrown down the drain and you replaced the tin.
"The subjects taught were arithmetic, geography, drawing, history, singing, cookery, gardening and physical education. The boys did gardening while the girls learned cooking.
"Lunchtime was 12.30pm - 1pm. There was no canteen, so you carried a 'piece', which was a sandwich of sliced batch loaf with jam, cheese or a slice of meat as a filling.
"The noise we made at playtime could be heard in Culcavey. We played all of those games that need a lot of energy.
"We were generally drilled in good manners and behaviour. You respected your elders and spoke when you were spoken to.
"At this school we had kind teachers and pleasant surroundings, among companions. What better education could you give a child than the one we received there? With happy memories we were well prepared to journey the pathway of life." The pupils who are now leaving
Newport Primary will have very different memories but one thing is certain - they will carry the happy memories of the school with them for the rest of their lives.