History of Quilly Temperance Flute Band, Dromore, 1957 – 1978
By: John A. Kelly
| | |
| --- | --- |
| | |
| The late George McCandless pictured with his son Ivor. | Quilly Orange Hall |
Flute band replaces fife and drums at Quilly
As a very young boy, I can well remember the deafening sound of the Lambeg drums that led Quilly lodges in the early 1950's accompanied by the shrill sound of a solitary fife that played (by comparison) almost inaudible between the intermittent rattle of the drums. The fife and drums of the early fifties were replaced in September 1957 by the more melodious sound of a flute band reformed by the late Mr. George McCandless from Barban Heights, Dromore.
George McCandless seemed to work tirelessly to get the band going and even though there had been a band on and off at Quilly for several years, he must have had an uphill battle to raise the much-needed money for flutes, drums and other instruments.
After less than a year's tuition from Mr. Stanley McDowell, the newly formed 'Quilly Temperance Flute Band, Dromore' first took to the streets on 5th July 1958 at the Opening of the Arch parade in Dromore, followed by the 'Twelfth' Demonstration in Dromore a few days later. The treasurer's records show that the weekly dues, first collected on 19th September 1957 were one shilling for adults and six pence for younger members. The band members during that inaugural year were: George McCandless's sons - Ronnie McCandless and Ivor McCandless, Robert Skelton, Kenny Martin, Bobby McKitterick, Bobby Hull, Andy Kelly, George Kelly, John Kelly, Harold Harvey, Day Kerr, John Poots, Ted Lyle, Drew Bingham, William Clegg, Tom Clegg, Jim Shanks, Hugh McCready, William Gibson, Desmond Newell, Roy Newell, Ernest Johnston, William McCrum, Johnny McCrum, Allister Gregg, Gordon Gregg, Bertie McCandless, Harold Hamilton, Wilfred Topping, Hubert McClune, Bobby Thompson, W. Forsythe and J. McMurray.
George McCandless's main ambition at Quilly was to have a fully uniformed part playing flute band and must have felt a great sense of pride and achievement when the band first appeared in new uniforms on Friday 6th June 1969 at a Presentation and Dedication held in Quilly Orange Hall. They donned the uniforms the following day at Dromore Children's Sports Day on Saturday 7th June.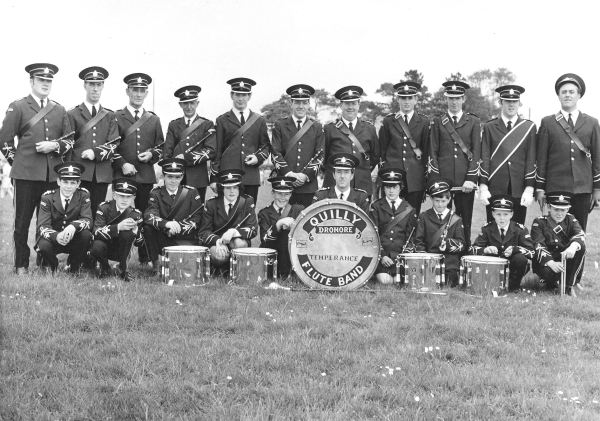 Quilly Temperance Flute Band pictured in June 1969 wearing new uniforms, the introduction of which could be attributed to the late Mr. George McCandless. L to R: (back row) Bobby Hull, Bobby Skelton - Bandmaster, Jack Wilson (decd), Geordie Clydesdale (decd), Raymond McKnight, Ronnie McCandless, Kenny Martin, Tom Davidson, Bobby McKitterick (decd), Alan Clydesdale (decd) and Hector McCauley. (front row) Norman McCauley, John Hill, Artie Beattie, Elizabeth Knox, Jim Hamilton, Ivor McCandless, Elizabeth McCauley, Jim McCauley, Trevor Hamilton and Stephen Sands.
To the best of our knowledge, the late Geordie Clydesdale (4th from left) was the fife player at Quilly in the pre-band days (early 1950's).)
Mr. David Wethers (brother of Mr. Samuel Wethers, organist of First Dromore Church) succeeded Stanley McDowell as Band Tutor and was tasked with introducing flute parts. I can recall Mr. Wethers trying to teach us a very difficult tune and Harold Harvey (now Dr. Harvey, a lecturer at The University of Ulster at Jordanstown) played the note 'C' natural instead of 'C' sharp. That's a 'C sharp', Mr. Wethers bellowed, after which Harold calmly touched the note (written on the piece of music) with his finger then, quickly pulling his finger away said, 'Ouch, it is sharp.' All the young trainee flute players found this very amusing, but the Tutor Mr. Wethers was not at all impressed with young Harold Harvey's antics.
When David Wethers retired Mr. Bobby Campbell replaced him as Band Tutor and in addition to teaching flute parts, he also introduced drum music. As one of his first (young) trainees I can remember finding this particularly difficult.
But alas, even with expert tuition from these instructors, George McCandless's goal of a 'part playing' flute band at Quilly Orange Hall was not to be. But nevertheless, the band flourished regardless.
Mr. Robert Skelton (2nd from left in photo) succeeded Bobby Campbell as Band Tutor, adding to his existing duties of Treasurer and Bandmaster. Better known to everyone as Bobby, he was a well-known figure in the Ashfield area. Bobby called the band to order and decided what tunes to play, and where and when to play them.
One of the highlights for me at Quilly was the practice parade 'round the mile' a few weeks prior to the 'Twelfth'. The annual march took us up past my Aunt Minnie's house, to Tullymacarette School, round the corner at Joe Poot's farm, up over the small hill and down to the Post Office, turn right at the crossroads, up past the row of houses and Bobby Skelton's house, and back to the hall. Perhaps the cows appreciated our music as much as the local residents, because I can remember them coming down the field and poking their heads over the hedge as we paraded past playing such familiar tunes as, 'The Billy Boys' which for us Quilly band members was aptly renamed 'The Quilly Boys'
For me, the most memorable part of every 'Twelfth' and 'Last Saturday Parade' was the sit-down salad served in Dromore Non-subscribing Church's big tent in the field. The spread prepared by the church members was second to none, with a seemingly endless supply of lovely soda and wheaten bread from Graham's Home Bakery, Dromore. After a long tiresome walk, it was just wonderful to slip off your shoes, rest your weary legs and enjoy an appetising salad and chat with other members of the band.
On 13th July 1965 the band were invited to lead a newly formed Ballynagarrick R.B.P. Lodge (near Gilford) on their first outing to the Sham Fight at Scarva. The invitation was repeated until 1969 and all band members will clearly remember the scrumptious sit-down dinner served in the hall afterwards.
Weather permitting, at the end of each 'Twelfth' and 'Last Saturday Parade', the band got off the bus at the end of Brown's Lane and walked the short distance back to the hall. After standing to attention and playing the 'Queen', it was a case of: - get the banner rolled up, get you band equipment safely stored away, then taking your seat on one of the long uncomfortable forms for some minerals and buns. After these much needed refreshments, the late Bobby Hill got up and thanked the band and lodge members for their attendance at the parade. Bobby was a very popular member of Quilly Lodge and as a member of Banbridge Council for many years, he was well known to everybody around the country. He tried his best (sometimes without success) to kick off the end of parade entertainment by calling on both lodge and band members saying, 'Anyone for your pleasure' (or in other words, to sing a song). As a young tenor with a yet unbroken voice, perhaps I should have plucked up the courage and sang because as young lads we were fairly unimpressed with the choice of songs from older members that included the likes of - 'I will take you home again Kathleen.' But, the fun was great and the various items of singing provided a social way to end an enjoyable day out.
Bobby Skelton retired from Quilly band in 1977 and performed his last two duties as Bandmaster at a 'Mini-twelfth' parade in Dromore on 1st July followed by the 12th July Demonstration in Banbridge. Bobby had worked extremely hard to hold the band together for twenty years and his retirement put extra pressure on George McCandless to keep the band going.
Tommy Wilson succeeded Bobby Skelton as Tutor and Bandmaster. During that year (1977) some of the younger members wanted to form a livelier type of flute band similar to those that had become very popular then. However, some members did not want the band format to change and the lodge supported them wholeheartedly. This and other difficulties led to the closure of the band the following year, and it would appear that Quilly band's last outing was the 'Twelfth' Demonstration in Waringstown in 1978.
George McCandless died in February 1993, but his memory lives on at Quilly with a framed photograph that hangs in the Lodge Room showing the band members in June 1969 proudly wearing new uniforms, the introduction of which can be attributed to his 21 years of loyal service to Quilly Temperance Flute Band, Dromore.
Quilly True Blues L.O.L. 442 pictured at the Twelfth of July demonstration in Loughbrickland - 2005. L to R: (front row) Neil McMullan, Dennis Forsythe, Brian Roulston, Paul Roulston, Alan Roulston - Treasurer, Stuart McMurran and Philip Beggs. (back row) Alan Pepper, Robert Beggs, Wilson Beggs - Worshipful Master, Walter Erwin - Secretary, Jim McCoosh, Neil Pepper, Mark Pepper, Aaron McMullan, Samuel Beggs, Gareth Lough - Deputy Master and Will Lough - Worshipful District Master, Lower Iveagh District No. 1.
Missing from the photograph is Eric Jess - Deputy District Master and Lodge Chaplain

Wilson Beggs - Worshipful Master (left) and Walter Erwin - Secretary (right) pictured leading Quilly True Blues L.O.L. 442 into the demonstration field in Loughbrickland on 12th July 2005
14/10/2005