CEREMONY TO BE PERFORMED BY BISHOP WALSH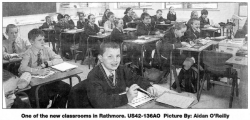 A £12M building at Rathmore Grammar School in Finaghy will be officially opened today (Friday) by.
Work on the new building began two years ago and included a total refurbishment of the old 1870 convent as well as the construction of the Bishop of Down and Connor Patrick Walsh number of new buildings.
Rathmore which now takes in 1,265 pupils was set up by an order called the Religious Order of the Sacred Heart of Mary, a congregation first founded in Bezier in the south of France in 1848.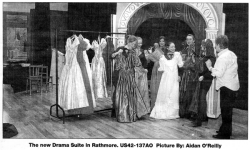 The group of sisters who were very poor arrived in Lisburn in 1870 where the order established its first foundation outside France.
Two schools were opened in Lisburn. A grammar school which was located in Castle Gardens and St Joseph's Primary which still operates today.
When the orders founder Father Gailhac visited Lisburn he preached at a mission which was attended by many people from different denominations. Rathmore's original building remained in Lisburn until 1953 when it moved to its present site at Kingsway. Its prep school was established in 1949. Due to the number of pupils wishing to attend, a new school was constructed in 1973.
In 1974 the school became co-educational and numbers continued to grow.
Children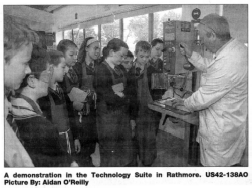 The numbers of children attending the school grew during the 1990's when it became apparent that a new school would be needed to cope with both numbers and the changing curriculum particularly in the field of Information Technology.
The old school buildings have been demolished completely and replaced with a totally new structure.
The new classrooms will include up to date technology including an interactive whiteboard for each room and computer access.
The original Rathmore convent which was the home of the Belfast ironfounder William Coates was built in 1874.
The building has been restored to its Victorian splendour and will now house the History and Religion departments.
All the original features including the ornate plasterwork and the grand fireplaces have been carefully restored.
This building at the heart of the school contains the chapel with its beautiful stained glass windows installed by the well known firm of Clokeys.
School spokesperson Gerry Devenney said the opening also marked the beginning of a new healthy era for the school.
Children will be offered healthy low fat options such as water, fruit, juice and yogurts during meal times.
21/10/2005