Young Woman Widowed Before Birth Of Child By 1944 Tragedy
Local man helps American family find war grave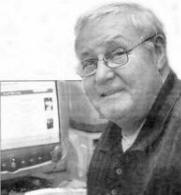 A LISBURN man has helped an American family find closure on a wartime tragedy which made a young woman a widow before the birth of her first child.
Jim Collins, the former owner of the Niagara Fish and Chip shop whose website www.lisburn.com attracts hits from across the world, located the Glenavy grave of Sergeant Jack Lloyd Snider, a Second World War member of the Royal Canadian Air Force.
The officer was buried in the cemetery attached to St. Joseph's Catholic Church along with a number of his comrades after they died in an air crash close to Shane's Castle on the shores of Lough Neagh.
Mr. Collins was initially contacted about the matter by Sergeant Snider's grandson Mr. Joel Frisch after he read an article on the history of Glenavy posted on the website.
He went to St. Joseph's Graveyard and located the grave with the help of the caretaker.
He then took photographs of the brave flyer's last resting place and posted them on his website.
Stunned
In reply Mr. Frisch said he was 'literally stunned by the information Mr. Collins had provided.
"I simply cannot thank you enough for your help in this matter. My family and I are so grateful for your efforts. Thank you," he continued.
He also outlined further details of his family's history, which changed so drastically following the sad ceremony in St. Joseph's Graveyard almost 61 years ago.
Moved
"My grandfather was married just months before his death - he was only 19 years old - and my mother never knew him," he explained.
"While she was still a young child my grandmother remarried and moved to the USA from Canada.
"It wasn't until my grandmother's recent passing that my mother and I became more interested in Sergeant Snider's story."
Mr. Frisch explained no-one from his family had ever visited the grave but explained his mother was planning to do so later this year.
He added he had been very concerned she would not be able to find it or discover it had been unattended during the ensuing decades.
Complete
"I cannot begin to tell you how happy we are his grave has been tended to and is complete with a stone memorial," he added.
22/04/2005