WELL KNOWN EQUINE VET PASSES AWAY
THOMAS STEELE FIRST PRACTICED IN BRIDGE STREET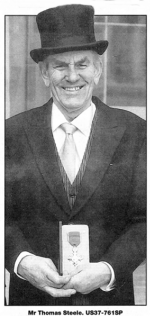 ONE of the equine world's best known vets, who lived at Pot Hole Lane off Ballynahinch Road, passed away earlier this month.
Mr. Thomas Steele (86), formerly of Beechfield, Moira Road died on September 2.
He was buried at Blaris Cemetery after a service in First Lisburn Presbyterian Church and is survived by his sons Bruce, Robert, Thomas and Michael, his daughter Ann, his son in law Nicholas and daughters in law Beverley, Ann, Sylvia and Gillian.
He is also survived by his grandchildren Patrick, Andrew, Karen, Alan, Felicity, Jonathan and Alice. Mr. Steele was born in the Dunmore area outside Ballynahinch in 1919.
He spent his formative years on a farm and attended the local primary school, eventually travelling to the Veterinary College in Dublin to study his chosen vocation.
He qualified in 1943 and met his wife Helen the following year.
She was an arts student at Trinity College and went on to become a teacher.
Once married, the couple spent several years in England where Mr. Steele worked as an assistant vet.
They then came back to Northern Ireland and he started a practice of his own in Bridge Street. Initially, he operated this himself but the practice grew quickly, first becoming Steele and Simms, then Steele, Simms and Baird and eventually Steele, Simms, Baird and Davidson.
His son Bruce explained as the years progressed Mr. Steele found himself working more and more with horses.
"Eventually, in 1971 he left general practice to concentrate purely on equine care," he added. "He ran this practice from Beechfield which became the family home when I was just six or seven years of age."
Tragedy
Sadly, tragedy struck the family when Bruce's elder brother Donald died suddenly at the age of 17.
"He had already obtained a scholarship for veterinary studies before he died so I followed in his footsteps as did my brother Robert," he explained.
"I qualified as a vet from Trinity College in 1972 and Robert qualified from Bristol in 1975."
Mr. Steele's work with horses provided him with an international reputation which was second to none.
He was a former President of the North of Ireland Veterinary Association and in 1988 he was presented with a Distinguished Service Medal by the then Irish President Doctor Hillary. In 1993 he received the MBE.
Mr. Steele was the longest serving member of the Veterinary Panel at Tattersall's, the famous auction house dealing exclusively with horses. He was also a long serving member of the panel at the Royal Ulster Agricultural Society and the Royal Dublin Society.
He rode with the County Down Stag Hounds an thoroughly enjoyed both point to point and racing.
He owned a total of eight horses which will now be looked after by members of his family.
16/09/2005