ROY HERO OF KILLER WAVE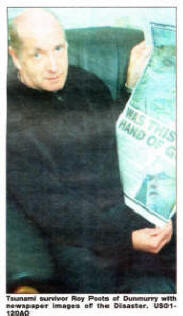 A SEYMOUR Hill man has been revealed as one of the heroes of the Boxing Day tsunami disaster after he helped a woman and her three children escape the giant 40 foot wave as it bore down at terrifying speed on the holiday island of Phuket.
Roy Poots, who lives at Elm Corner in the estate, spent much of December at the luxurious five star Holiday Inn Resort right beside the world famous Patong Beach.
On Boxing Day morning he got up around 7.30am and went to the hotel's Sea Breeze Cafe for breakfast.
He had already felt the tremor from the undersea earthquake which triggered the tsunami. However, as he began to cat his breakfast there was no indication of the horror to come.
Roy was at a table on the restaurant's poolside terrace which allowed him to look out to sea. And it was as he was sitting he caught sight of the first wave racing at breakneck speed towards the beach and the hotel.
As soon as he saw the huge wall of water he grabbed one of three children belonging to a woman sitting at an adjoining table.
"I yelled at her to grab the other two and we ran into the lobby and up the stairs. We certainly didn't wait for the lift," he added.
All around the hotel people were running and screaming as they attempted to get away from the wave.
"Everybody just scattered. They ran as fast as they could," Roy continued. "We managed to climb to about the third floor before the water hit the hotel.
"It came right up to the second floor but fortunately we were above that."
One of the clearest and most horrific memories Roy has of those first terrifying minutes is of two jet skiers caught at sea with the huge wave bearing down on them.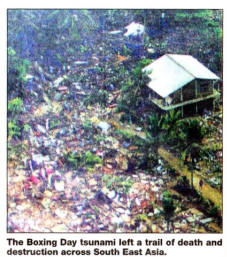 "They were desperately trying to outrun it," he explained. "But they were both killed. One of them ended up on the third storey of the hotel.
The other one was found in the bar."
Roy said the emergency services were unable to get to the hotel immediately because they knew a second wave was coming.
"If they had come straight away they could have been injured or killed as well," he said.
"The second wave arrived about half an hour later and was half the size of the first.
"However, it was crashing into a building where people may already have been trapped by the first tsunami."
Roy knew straight away that at least two guests at the Holiday Inn had perished in the disaster.
However, his balcony overlooked a pagoda building which was used as an emergency facility.
"After the water went down bodies just kept turning up - I could see them being taken into the pagoda," he explained. "There were a lot of injured people taken there initially as well."
In the immediate aftermath of the disaster the Dunmurry man saw many sights which he simply can't talk about.
But he did experience the joy of seeing the woman and her three children he had helped reunited with her husband who had been at the breakfast bar when the first monster wave struck the hotel.
"I think they came from Thailand or Malaysia and they were obviously well to do people," he explained. "The father wanted to give me a massive amount of US dollars but I wouldn't take them.
"I said the best reward I could get was to see his children smiling up at me.
"However, his wife did give me a shark's tooth to remember them by."

GreatKindness of local people despite their own loss.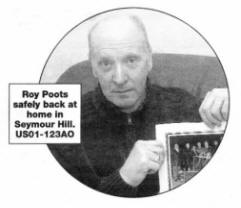 ROY Poots said the people of Phuket did everything they could to help tourists in the - aftermath of the tsunami - despite the fact so many of their loved ones had been lost and their homes and businesses wrecked.
He explained guests at the Holiday Inn were told to stay in their rooms and couldn't get food, although bottled water was supplied.
"The local people brought us fruit to keep us going. They even brought boiled rice up to our rooms. They were really brilliant," he said. Roy and the other holidaymakers had to remain in their rooms until Monday.
They were then taken to the back of the hotel where they boarded military lorries. These took them to Phuket Airport where they had to register as standby passengers. "We had to register every time an aircraft came in," he explained.
"I had to wait there from 10am until 6.30pm when I finally got a standby seat on a flight leaving for Bangkok at 2am.
"We landed at Bangkok about an hour later and my luggage had been lost.
"I wasn't able to get on a flight back to London until 2pm and when I arrived there at lam I was running round the terminal in flip flops and a white tee-shirt.
"I then went back to my nephew's house and finally came back to Northern Ireland yesterday (Tuesday)."
At the airport in Phuket Roy met an English family who had lost absolutely everything and were wearing only white bedsheets.
"I had a grip bag full of new clothes which I had been able to buy cheaply in Thailand, so I gave them to them" he said. At a time like that you want to do anything you can to help."
Roy is particularly concerned about the fate of two English men he became friends with during his time in Thailand.
"We actually celebrated together on Christmas Day and went out to an Irish pub called Molly Malone's on Christmas Night," he said.
"They were staying in another hotel right on the seafront which was only two storeys high. "I've tried to contact them and one of their girlfriends who worked in a local bar but so far I have heard nothing.
"They were due to travel on to another part of Thailand so I just hope they made it."
Trip to Thailand was a complete surprise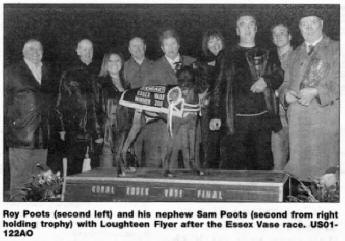 ROY'S trip to Thailand came as a complete surprise and followed a more than successful outing to the races by an English based greyhound in which he has an interest.
The Seymour Hill man travelled to London in early December to visit his nephew Sam Poets and watch 'Loughteen Flyer' compete in the famous 'Essex Vase' race in Romford.
The dog's efforts resulted in a significant win for the two men. However, Roy had no idea what was coming next. "My nephew was flying out to Jamaica for a holiday on the Tuesday morning," he explained.
"But when I came downstairs on Monday he had my tickets booked and ready for me to go to Thailand.
"He had just gone out and bought them for me and said 'if I'm going to Jamaica then you're going to Thailand'.
"I had been to Thailand before and really liked it so I was very pleased.
"I flew from Heathrow to Bangkok and then from Bangkok to Phuket.
"The resort hotel right on the beachfront was fantastic and I can honestly say the holiday was wonderful right up until Boxing Day."
He also said in the immediate aftermath of the disaster he and the other hotel guests had no idea the catastrophe was on such a massive scale.
"We honestly thought the tsunami had only affected the area we were staying in," he said.
"We couldn't get any news or information and we had no idea so many people had been killed or that almost every coastline on the Indian Ocean had been hit."
07/01/2005