THE KEIGHTLEY FAMILY - FORT HOUSE, LISBURN
AND DRUM HOUSE, DRUMBEG
Among the guns - intimate letters from Ypres and the Somme
| | | |
| --- | --- | --- |
| | | |
| Captain Philip Russell Keightley Royal Garrison Artillery | Marble Tablet in Railway Street Presbyterian Church erected in honour and grateful recognition of the heroism and self-sacrifice of 134 men from this congregation who went out from us to help in the Great War, 1914 to 1919. | Close-up of the names of 134 men from this congregation who went out to help in the Great War. It includes the names of Cpt. P. C. R. Keightly and Lieut. M. F. Keightly (both names incorrectly spelt). |
A Select Vestry meeting in Magheragall Parish Church in late 2005 investigating the safety of gravestones uncovered an interesting history connection with Sir Samuel Robert Keightley and his son, Captain Philip Russell Keightley. The research work was compiled by the Rector, the Rev Nicholas Dark, who made contact with Maureen Rosenfield, (granddaughter of Sir Samuel Keightley) and her son Charlie who live in America.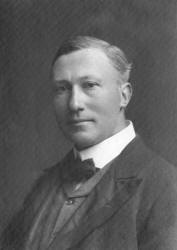 Sir Samuel Keightley, LL.D.
Samuel Robert Keightley was the elder son of Samuel Keightley and was born in Belfast on 13th January 1859. After attending a private school he went to Queen's College, Belfast, and read classics and law; and was later a member of the first senate of Queen's University. He had already published a volume of poems entitled 'A King's Daughter' before he was called to the Irish Bar in 1883. Though at one time he had a considerable practice, he continued his literary work and before the turn of the century had published a number of novels with a background of Irish history. He entered the political arena as an Independent Unionist and contested South Antrim in 1903 but was not successful. In 1910 he contested South Derry in the Liberal interest but again failed and thereafter returned to his legal and academic work. He was knighted in 1912.
The history of 'Lisburn Golf Club 1905 - 2005', records that he was an office-bearer of the club in 1905-1906 and as Vice President he attended the Inaugural General Meeting, which was held on 1st May 1905, in the Temperance Institute.
He married in 1892 Gertrude Emily, the youngest daughter of the late Henry Smith and resided at Fort House, Lisburn where he also had his barrister's practice; and acquired Drum House, Drumbeg in June 1918. Lady Keightley died in 1929 aged 65 having borne him two sons and two daughters. In 1930, he married Anne, widow of Colonel Vowell and died at Stradbally, County Leix, Eire, at the age of 90.
Captain Philip Keightley
Sir Samuel and Lady Keighley's oldest son, Captain Philip Russell Keightley was born in Lisburn on 24th January 1895. He served with the Royal Garrison Artillery - 262nd Siege Battery for 3 years in France, and died from pneumonia (possibly as a result of exposure to poisonous gas) at Drum House, Drumbeg on 2nd March 1919 aged 24 and is buried with his mother in grave 314, St. Patrick's Church of Ireland graveyard, Drumbeg. Lady Keightley was chairman of the Lisburn Board of Guardians and laid the foundation stone for Brownlee Primary School in 1913.
Their youngest son, Lieutenant Maurice F. Keightley passed the qualifying exam for the Indian army and on 27th June 1916 left for Quetta in India for six months preliminary training as a cadet before being commissioned. He survived the war.
Sir Samuel and Lady Keighley's two daughters were called Katherine and Patricia. Katherine was married in Malone Parish Church on 12th September 1922 and moved to England. Her house in London was destroyed in 1945 so what family heirlooms she had, were mostly lost. Katherine died in 1985 and her daughter Maureen Rosenfield and Maureen's son Charlie, who live in the USA, supplied much of the Keightley family research. The only source material they have now is Sir Samuel's photo album and a few old documents dating back to the time of his father (also called Samuel) who earlier in his life spelt his name Keatly. Patricia married Brigadier Norman Douglas Wingrove of 10th Ghurkha Rifles. She died on 25th July 1992 and is buried with her mother Lady Keightley and her brother Captain Philip Keightley.
War Memorials - Railway Street Presbyterian Church
Captain Philip Charles Russell Keightley and Lieutenant Maurice F. Keightley, were two of the 134 men of Railway Street congregation who served in the Great War. A memorial tablet in Railway Street Presbyterian Church lists their names as: Cpt. P. C. R. Keightly and Lieut. M. F. Keightly (both names incorrectly spelt). A memorial window to twenty-one men from Railway Street congregation, who fell in the Great War, lists Philip R. Keightley (correctly spelt).
The inscription at the bottom of the window is:
'Be thou faithful unto death and I will give thee a Crown of Life.'
TO THE GLORY OF GOD AND IN GRATEFUL MEMORY OF THOSE FROM
THIS CONGREGATION WHO LAID DOWN THEIR LIVES IN THE GREAT WAR
Among the Guns
In 1920 Sir Samuel Keightley published, 'Among the Guns, Intimate Letters from Ypres and the Somme' written by his son Captain Philip Keightley. In the introduction the writer explains that, 'The fragmentary transcripts of a short yet crowded life contained in this book were not meant for publication. They were intended only for one beloved and cherished correspondent. Written at odd moments and under the most unfavourable conditions - in the trenches - in midnight watches - in hospital - in the mess-room they reflect the mind of the writer at the moment.' He continues, 'It contains all that made the war glorious and heroic - the spring and source of our victories and final triumph. The daily life in the firing line - the patient endurance of our young men; their unconscious heroism, their instinctive devotion to duty, their cheerful, indomitable gaiety, and always their splendid courage in the shadow of suffering, disaster, and death - this seems to me almost the most wonderful thing in the mighty epic of the war. On that life of patient work, suffering and endurance is built the story, which will go down to future generations - the grim stand at Ypres and the victorious onrush at the Somme. It is a glimpse of that life which is revealed in these pages'.
The large War Memorial window at the front left hand side of Railway Street Presbyterian Church, which shows the names of twenty-one men from this congregation who laid down their lives in the Great War.
Closeup of the large Memorial Window in Railway Street Presbyterian Church showing the names of twenty-one men from this congregation who laid down their lives in the Great War, including that of Philip R. Keightley (correctly spelt).
Grave 314, St. Patrick's Church of Ireland (beside Drum House) - the burial place of Captain Philip Russell Keightley R. G. A. who died on 2nd March 1919.
Captain Keighley's book online
Captain Philip Russell Keighley's book and some family photographs have been scanned by Jim Collins and can be seen online at the 'Books Section' of www.lisburn.com.
This article was compiled by John Kelly with the assistance of: The Rev Nicholas Dark - Rector of Magheragall Parish Church; Pat Geary - History Department, Friends' School, Lisburn (information from an article entitled Lisburn's dead from the Great War 1914-1919 on the Friends' School Website); James Victor Hamilton - a retired solicitor and grandson of the late Very Rev Dr R W Hamilton, minister of Railway Street Presbyterian Church, 1885-1935; Hugh Crookshanks - Sexton of St. Patricks Church, Drumbeg; and Jim Collins - webmaster and owner of www.lisburn.com.
Hi Jim
Recently I heard from Anne in South Africa. She was following up on the Keightley story. She sent me a notice from the News Letter from August 1900, it was about the death of Samuel Keightley Senior. He was father of Sir Samuel of Fort Hill.

She found the site very helpful and she thinks that the Keightley's in her family tree must be related to the Keightley's on Lisburn dot com or why else would they have a 100 year old death notice of Samuel. So she going to try and establish a link. I was able to put her in touch with the American side of the family who gave us so much information.

Again thank you for such a very helpful site for so many people

Nicholas Dark, Minister Magheragall Parish Church
---
Belfast Newsletter 13th August 1900
Death of Mr Samuel Keightley, J.P.
Our obituary column contains this morning the announcement of the death of this esteemed citizen, which occurred on Saturday last at his residence, Friedlands, Fortwilliam Park. Mr Keightley had attained the ripe age of 74 years, but in spite of this fact he was able until recently to attend to his accustomed duties. The deceased gentleman was formerly a member of the Belfast Corporation and he was also for some years member of the Belfast City and District Water Commissioners in both of which capacities he served the ratepayers faithfully and well. Latterly, however, he had retired from public life, and had contended himself with the conduct of his business as a merchant, which he carried on at his offices at Elwood Avenue. He was a justice of the peace for the city. Mr Keightley was for many years a prominent member of St James Church, and he was a staunch conservative, though he did not take any active part in politics. He was a man of kindly and genially disposition, and enjoyed the esteem of a wide circle of friends and acquaintances who will sincerely regret his death. He leaves a widow and family to mourn his loss. He leaves a widow and family to mourn his loss. One of his sons Mr S. R. Keighley LL.D. who lives at the Fort Lisburn is well known as a barrister and as a novelist. The funeral we understand will be strictly private.