WELL KNOWN SHOP TO CLOSE FOR THE LAST TIME
By JULIE-ANN SPENCE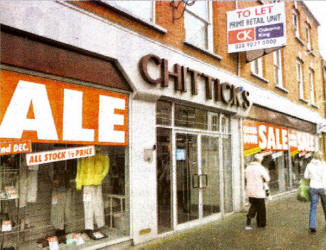 ONE of Lisburn's best known shops is to close its doors for the last time next Saturday (December 2).
Chittick's has been a landmark in Lisburn's main shopping street for 75 years and now that legacy is coming to an end as William Chittick prepares to close the doors of the fashion retailers for the last rime.
The Lisburn retailers began life in 1931 when the father of the current owner, William Chittick, began trading in the then market town.
Since then Lisburn has rapidly expanded to city status and Chitticks has expanded and developed as well, becoming a well-known and much-loved feature in Bow Street. William Chittick took over the business in 1969 and now, 37 years later, he has decided the time is right to retire from the business.
Staff at Chitticks, many of whom have worked for the company for many years, are saddened at the closure but will treasure their years in the Lisburn shop.
"I have always found it extremely good, I have been very happy here," said Elma Walker, the manageress of the ladies department.
"It has been a very good company to work for. It is really an extended family, everyone gets on well and it is a really nice atmosphere to work in. I have thoroughly enjoyed working here and working for Mr Chittick. This really is the end of an era," she added.
Stephen Macfarlane, the ground floor supervisor, has been working at Chitticks for over twenty years. "It has been a pleasure working here, I have enjoyed every moment of it," he said. "Mr Chittick has been a very good boss to me, on a business and a personal level. He is a very astute businessman.
"I am genuinely going to miss working here, as will everyone else," he added.
Local Councillor, Andrew Ewing, who has worked in Chitticks for the last eight years commented: "Chitticks has been part of Lisburn for such a long time it is hard to imagine the city centre without it.
"I have enjoyed my time working there and I will miss all the friendly faces I have come to know over the years. Mr Chittick was extremely fair to work for and an excellent employer."
"It is truly the end of an era and I wish Mr Chittick and all my other colleagues well for the future."
"I would like to thank all the customers over the years for making the company a success," said Mr Chittick. "I would also like to thank the staff who have worked for me over the years. Some of the staff have been here for over forty years.
"It is with some sadness that I am closing the business but I am looking forward to the future," he concluded.