CLOSE CALLS IT A DAY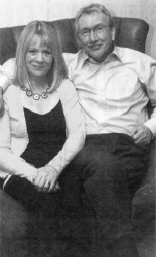 Retiring MLA Seamus Close OBE and his wife Deirdre relax at home after he announced his decision to retire from politics. US46-550C0
One of Lisburn's best known representatives announces plans to hang up his political gloves
ONE of Lisburn's longest serving and best known public representatives, Alderman Seamus Close, has announced his intention to retire at the end of his current term.
Mr Close was first elected to the council in 1973 and has fought 20 elections over the years.
As well as serving on Lisburn City Council, he is an Member of the Assembly for Lagan Valley and a prominent member of the Alliance Party.
Mr Close has been one of the most senior figures in Northern Ireland politics for many years, having served as Alliance Chairman from 1981 until 1982 and as Party Deputy Leader for ten years from 1991 until 2001.
He was often a member of the key Alliance delegations in successive talks about the future of Northern Ireland, culminating in the Belfast Agreement in 1998.
In 1997 he was awarded the OBE, in 1993 he served as Lisburn's Mayor and in 2001 he was nominated as Parliamentarian of the Year. Announcing his retirement from the political arena, Mr Close took the opportunity to voice his concerns about the future of the Assembly.
"It's not sustainable and the people of Northern Ireland are going to once more be put through the mill," he warned.
"In my heart I know that this is not going to work - it's Alice in Wonderland politics - a lot of fudging to produce what?"
He also criticised the creation of seven super-councils to replace the current 26 local authorities.
"I remember how it was in 1982 with South Antrim and it did not have a local feel with the extremes of the constituency," he said.
Mr Close said being Mayor of Lisburn was one of his career highlights, while not being elected party leader in 1986 was one of the low spots.
While he will serve out his present mandates both in the Assembly and the Council, he will not contest any more elections.
With the announcement expected soon of an assembly election in March, he believes now is the right time to indicate his intentions.
Having first been elected in 1973 and having fought numerous elections, he considers it the right time to hang up his political boxing gloves.
"Over 33 years as an elected representative is a long time," said Mr Close, "and now I want to live the rest of my life freed from the daily pressures and demands of elected politics."
'We need more people like Seamus'
MR Close's party colleague, the current Mayor Trevor Lunn, said his retirement would be a great loss to Northern Ireland politics.
"Locally, Lisburn is losing one of its most effective advocates" he said.
"We need more people in politics with his passion and ability to represent the views of the population and express them with such conviction.
Frustrating
"The last few years have been a frustrating time for those of us who represent the middle ground of politics in this country and Seamus, after over 30 years of trying to bring people together, felt this more keenly than most.
"We should thank him for his half a lifetime of genuine public service."
Mr Lunn also thanked Mr Close on behalf of the local Alliance Party for his work on their behalf down the years.
MP pays tribute to MLA
LAGAN Valley MP Jeffrey Donaldson paid a warm tribute to Mr Close, after he announced his intention to retire from politics.
"I was surprised to learn of Seamus Close's decision to retire from active politics," said Mr Donaldson.
"Seamus has made a major contribution to civic life in the city of Lisburn throughout his political career and has stood out as someone who worked very hard to make Lisburn a city for everyone."
Mr Donaldson went on to say: "He has also made a substantial contribution to wider political developments in Northern Ireland through his position in the Assembly. "It has been a pleasure to work alongside Seamus on a number of issues in the Lagan Valley constituency and latterly on Lisburn Council. "I look forward to continuing that work whilst he remains in office, both in Stormont and in Lisburn." Mr Donaldson concluded: "I would wish Seamus, Deirdre and their family every blessing in the future."
17/11/2006