MEMORIES OF HAPPY TIMES SPENT ON THE TOWPATH
OF THE RIVER LAGAN
By former Belfast man - Pat Rooney, now living in Perth, Australia.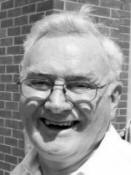 Born in 1932 in the markets area of Belfast, Pat Rooney went to school at Christian Bros. in Oxford Street, Belfast. He was evacuated to Lurgan for a number of years during the war and after finishing primary schooling in Oxford Street, got a scholarship to St. Mary's Christian Brother's School in Barrack Street. He served his apprenticeship as a Sheet Metal Worker from 1947 - 1952 having worked at car repairs and at air conditioning of ships in the Shipyard.
On completion of his apprenticeship Pat got married in 1952 and in 1956 they went to Canada for two years and on their return, built a house on the Springfield Road, Belfast. His wife wasn't enjoying good health during the winters so in 1968 they went to Perth W.A. just in time to evade the troubles. They have two daughters and a son and have enjoyed life out there. He retired in 1992 and has 'futtered around ever since.' He used to play golf three times a week but that's now down to once a week with much of his time now spent trying to keep the garden tidy.
Pat writes a few articles for a free Australian magazine called 'The Irish Scene' and likes to include a song or a bit of poetry about where he is writing about. The article about his memories of happy times spent on the towpath of the River Lagan included the words of Noel McMaster's (Bakerloo Junction) well-known song 'My Lagan Softly Flowing' with the lovely chorus:
My Lagan she flows softly from Slieve Croob down to the sea,
Through Dromore and Dromara, then close to Aghalee.
From Lisburn down to Hilden, Lambeg and then Shaw's Bridge,
To Belfast's salty waters where her lonesome journey ends.
Pat says that he is not particularly interested in any one type of music but loves nearly all types except Classical; he loves to sing and enjoys nothing better than a good love song.
Referring to Noel McMaster's song writing, Pat says, "a prophet isn't recognised in his own town and Noel certainly has written some lovely songs, and if this article can revive interest in them then well and good - we've done a good thing."
Pat's story in Australia's 'The Irish Scene' magazine is as follows:
Going back, oh between 50 and 60 years, in my memory, I have very fond memories of walking the towpath from Belfast to Lisburn and also of playing around the river on the outskirts of Belfast. A walk up the Stranmillis Road brought you on to the tow path and away you'd go; no cars, buses or trams just the gentle movement of the river and the occasional barge, mostly being pulled by a large carthorse but occasionally being moved by an engine. My Father and one or two of his mates used to walk every Sunday afternoon for about four hours, and in different directions each week. 'Many a happy time I spent with them on the towpath of the Lagan', Pat recalls.
We only walked the whole way to Lisburn about twice that I can remember, but countless times up to Shaw's Bridge and Lambeg - the scenery is so beautiful and peaceful that time almost stood still. One of the places we played at was on the opposite side of the river from the tow path called Beaver Wall where a large wall which enclosed an estate ran right down to the river, and a magnificent large tree grew on the bank and a rope tied to a lower branch gave myriads of boys the chance to act Tarzan and swing and plunge into the water. We fished, caught spricks, lit fires, roasted spuds, and had a wonderful time.
And so, through the lovely wee village of Lambeg and on to Lisburn. Here we had the centre of the linen industry in Northern Ireland, and a busy market town, which also house's a large Army Barracks. This was always a very busy town and its town square was always humming with life. Lisburn has spread it wings and become a City in its own right and has built a large Cultural Centre, a magnificent Leisure Pool with the fastest water ride in Ireland and the Shopping centre at Sprucefield is second to none. My Memories of Lisburn have been lost in the vale of time. Nowadays you can enjoy a cruise along the Lagan on a narrow boat called the 'Lagan Belle. The trips allow you to glimpse a unique view of Lisburn and the adjoining countryside while enjoying a range of music tailored to suit individual tastes. I wonder, is Noel McMaster's 'My Lagan Softly Flowing' one of the tunes played?