OUR STREET
One ordinary street in Lisburn, but so many remarkable people lived there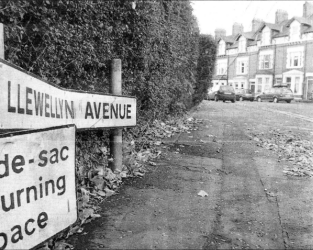 IN many ways there is nothing unusual about Llewellyn Avenue in Lisburn.
Yet 50 years of the life and accomplishment of the residents and former residents of the street reveals many extraordinary stories and people.
According to Bill Lowry, a resident of Number 12 for 10 years from 1953-1963, it's a rememorable record and he has drawn up this list before the memories fade and are lost.
And he has invited other streets to stake their claims to match the achievements of those who lived in Llewellyn Avenue.
W.J. (Willie) WARING. Former Principal of the Lisburn Technical College, and long serving official scorer with the Lisburn Cricket Club's 1st XI. It was Mr. Waring who told of the unusual and difficult spelling of the street home - "Well backwords, and front ways and YN."
JIM WARING. Son of W. J. was a talented rugby footballer with Lisburn Academicals (Accies) Rugby Club, and a good player with Lisburn Cricket Club. Jim lectured at Lisburn Technical College and became Further Education Adviser with Belfast Education and Library Board and finally vice principal of Belfast Technical College.
ROSEMARY WARING. Sister of Jim, was an SRN.
BILLY CAVES. A keen and able lawn bowler with the Hilden Club, right at the bottom of the avenue.
W.J (Jim) CAVES. Son of Billy, a teacher who later became Chief Executive of the Northern Ireland Examinations Council. For many years Jim was the organist of Lisburn Methodist Church in nearby Seymour Street.
ARTHUR (Rusty) GILMORE. 1st formed with Lisburn Academicals Rugby Club and became Managing Director with the Eagle Star Insurance Company.
ADA GILMORE. Sister of Arthur, was a primary school teacher.
GORDON BRADSHAW. a senior salesman and has held all senior offices in the Masonic Order, currently the lead authority in County Antrim.
WILL HILLAND. A senior official of the Automobile Association in HQ, Belfast.
EVE HILLAND. Sister of Will and is a part-time lecturer in Lisburn College.
MATT CROTHERS. A local plumber and well known Irish League soccer player. Played left-back for Glentoran for many years and represented the Irish League XI on many occasions.
FRED KEE. For many years the senior engineer with Lisburn Town Council.
CYRIL REYNOLDS was a senior league hockey umpire for many years.
JOHNNY WARING. A brother of W. J and also lectured in the Lisburn Technical college in Maths and Physics. A keen photographer of the Lisburn Camera Club and a talented musician in the Lisnagarvey Orchestra.
JOHN WARING Son of Johnny, and teacher in Finaghy Primary School for many year before before becoming headmaster al Friends Preparatory School. He has been E great figure in Ulster Hockey for many year and also played junior cricket at Lisburn Cricket Club. He played for Lisnagarvey Hockey Club junior teams and represented Ulster. He served as Garvey Treasurer for over twenty years. Now retired John is still very involved in Ulster schools as a hockey administrator.
ELLA WARING Sister of John, is a full time lecturer in Coleraine Technical College.
HEATHER JOHNSTON Niece of Bill Lowry is a Physical Education teacher and competed for Northern Ireland in Orienteering. A regular senior player in badminton and tennis at Lisburn Racquets Club, Heather has been on round the world yacht races and Tall Ships festivials.
SANDRA JOHNSTON Sister of Heather played badminton at junior and senior level with Lisburn Raquets Club.
GEORGE STEPHENS Played badminton at Lisburn Racquets Club and was Ulster and Ireland singles champion on many occasions and represented Ireland at senior level.
NORMAN STEPHENS Brother of George was a talented photographer with the Ulster Star.
RIKKI KEAG Like his other neighbours played senior badminton at the Lisburn Racquets Club. He represented Ulster and Ireland at every level from Friends school to many international caps and titles.
NINA KEAG Sister of Rikki, played doubles for Lisburn, Ulster and Ireland at badminton. She is a physical Education teacher at Friends School.
JOHN BROWN Was a hardware shop owner at Finaghy and part time lecturer on woodwork at Lisburn Technical College. John was the captain of Broomhedge BB company for many years before his early untimely death.
RAYMOND BROWN Son of John followed his fathers footsteps and became captain of the Lisburn Methodist Boys Brigade company.
BRIAN STEVENSON was a talented cricketer at Lisburn Cricket Club and a clever 1st XV player with Lisburn Rugby Club.
BILLY LOWRY played for Lisnagarvey Hockey Club for many years at all levels and represented Ulster Juniors, as well as former club secretary. Bill was an art teacher, 1st XI hockey and 1st XI cricket coach at Wallace HS before moving to Lisburn Technical College, Castlereagh College and finally principal of Armagh College of Further Education. He also played cricket at Lisburn and golf at Lisburn and Armagh.
ALAN HARRISON represented Ireland schools at hockey and had a promising playing career ahead but decided to emigrate to the USA after leaving school.
TOMMY ALLEN local auto repairer who played football for Portadown in the Irish League and golf at Lisburn.
JOHN MC CRACKEN Wing forward with the Lisburn Academicals Rugby Club. Taught in Brownlee Primary School before becoming headmaster at Ballymacash Primary school.
MARGARET AND MAY MCCRACKEN Sisters of John. Both teachers - one in Primary and the other Physical Education at secondary level.
Ulster Star
10/11/2006