REMEMBERING LISBURN IN THE `HUNGRY THIRTIES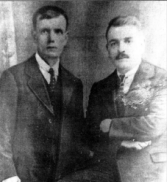 A MAN who grew up in the Dog Kennel Lane area off Antrim Road during the era known as `the hungry thirties' has been recalling his experiences.
Mr. Stanley Knox, a frequent contributor to the Ulster Star's letters page, is a member of the Friday Club at Lisburn Downtown Centre.
He has put his memories into writing with the help of its staff and he paid a warm tribute to the encouragement they have given him.
Mr. Knox explained his family home was a small three bedroom house in which he lived for the first 20 years of his life.
The house had a kitchen, scullery and an outside toilet: "A river ran at the back garden," he recalled.
Bridge
I had to walk over a bridge in the grounds of the house to get to the dry toilet.
"There was also a little lane at the back called 'lovers lane'. There were not many cars in those days but people always seemed to head there."
Mr. Knox said in his childhood days his family may not 'have had as much as they would have liked' but stressed he was "happy and contented.
"People had it very tight in those days and had a lot less to live on, he continued. "But my mother always made a good Sunday dinner and we had a hot plate to keep the food warm.
Manage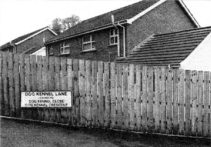 "We always seemed to manage and get through and survived. Lots of other people were in exactly the same position as we were."
Mr. Knox's parents were William and Jane (nee McKee). He was the youngest member of his family with four elder siblings - two brothers and two sisters.
"One of my brothers was an electrician. The other brother was a labourer," he said.
Worked
"My two sisters worked in Hilden Mill in the Neting Department. One married a soldier."
He also spoke of his own work experiences: "I have had a good life and have had a variety of jobs.
"I worked on the guillotine at Castlereagh Sheet Metal Works. I was also in Bible College for one year at Drupestown House in Co. Meath. From there I went to Liverpool to study a course in Personal Evangelism."
Mr. Knox said he became Christian in 1950: "I can honestly say the Lord has been with me and faithful," he added.
"The Lord is my light and my salvation - of whom shall I be afraid?"
He also encouraged everyone to seek divine wisdom: "In my life I have learned many things but one important thing I would tell people is to use wisdom in what they say, do and act," he continued.
Wisdom
"Ask God for wisdom so you do not cause an offence.
"Many people will try and get your mind and your attention but seek Godly wisdom and he will guide you in the way you should go about doing and saying things."
Ulster Star
24/11/2006