Lisburn link to the River Kwai Railway marked on memorial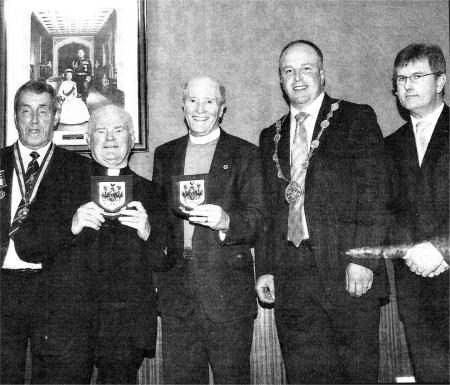 Lisburn City Council Mayor,Councillor James Tinsley presents Rev Canon Alex Cheevers and Father Gerard McGreevy with a token of appreciation for their role in Sunday's Rededication of the War Memorial. Looking on are Chairperson of the Royal British Legion, Mr Maurice Leathem and Lagan Valley MP Jeffrey Donaldson.
ON July 1 Lisburn's newly renovated war memorial was unveiled.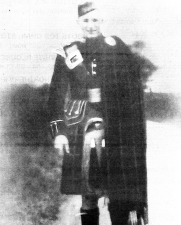 For the first time the list of the World War II fallen includes Private Samuel Higgins of Clogher, Lisburn who died a prisoner of war after being put to work on the infamous River Kwai Railway.
He lies buried in Thanbyuzavat Allied Cemetery in Myanmar, formerly Burma.
Samuel was born in 1918, the second youngest of six children, to Samuel and Suzanna Higgins, on his grandfather's farm in the townland of West Formil, Castleblaney, County Monaghan. During unsettled times around the partitioning of Ireland his parents chose to move north, settling at Clogher.
Samuel attended School and Sunday school at nearby Legacurry but the best loved surviving family photograph shows him as a young man in the uniform of the Legacurry Pipe Band. In the late 1930's, with work hard to find at home, Samuel moved to England taking a job as an agricultural worker in Hertfordshire.
When war came he willingly volunteered. joining the then local Bedfordshire and Hertfordshire Regiment.
| | | |
| --- | --- | --- |
| | | |
| Lisburn Mayor Councillor James Tinsley unveiling the newly restored War Memorial. | Oldest ex-serviceman on parade, Billy Moore, who read 'In Flanders' Fields'. | Lisburn Young Defenders on parade |
In late 1941 Samuel and his colleagues were sent off on a three month journey by sea to Singapore with the 5th Battalion. Shortly after their deployment the entire Allied Garrison surrendered in what became known as the Fall of Singapore, with some 30,000 troops being taken POW by the Imperial Japanese army on February 15, 1942.
Samuel and around 1500 of his colleagues were shipped north along the coast of Thailand and Burma, then force marched into the Burmese jungle to commence building the railway to link with the section already underway in Thailand.
Following a well documented ordeal amounting to slave labour, official records state that Samuel died aged 25 on September 22, 1943 from 'Berg Beni and Tropical Ulcers'.
It was not until after the war, in October 1945, that the family back home received official confirmation of his fate.
In 1962 the Commonwealth War Graves Commission established Thanbvuzayat as one of a number of Allied cemeteries along the route of the River Kwai Railway.
All those who had died along the course of the railway, or in prison camp field hospitals, were removed and re-interned in peaceful surroundings with all of the dignity denied them during captivity.
During their lifetimes, Samuel's brother and sisters remained tight-lipped about the fate that befell their young brother and it was not until 1995, after the passing of his closest sister Suzanna Violet, that some of the official records were uncovered.
Samuel's family was represented at the unveiling of the Lisburn Memorial by his niece Margaret Blair and great nephew Jonathan McCambley
He is survived by this niece and his nephews Robert Totten, and John and Brian Nettleship of greater Lisburn and Maurice McCambley of Boonsboro. Maryland, USA and their extended families.
Anyone interested in seeking further information can contact Maurice McCambley by email at Ulstermaninusa@vahoo.com.
It remains his personal crusade, as yet unfulfilled, to visit Samuel's final resting place in the Far East where this young man from Lisburn. best known for his cycling and musical interests, had travelled to serve his country during World War II.
Ulster Star
06/07/2007