Heading
The Maghaberry war effort
by the Rev. Canon Alex Cheevers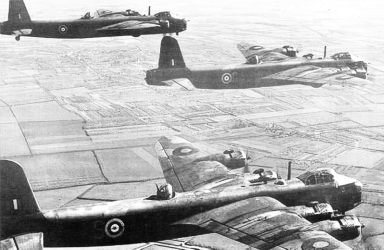 TODAY it is known as H. M. Prison, Maghaberry. But during the Second World War the skies over what is now the prison reverberated with the sounds of all kinds of war-planes.
Planes were constantly coming and going, day and night. They were noisy. And the noise scared the wits out of at least one little girl.
A lady I spoke to this week told me that in her childhood days her family had lived on the perimeter of the airfield. "I was scared to death when the first planes landed," she said. "The noise of them. And the size of them. I had never heard anything like it in my life. We had hardly ever seen a plane, never mind have planes come roaring in low over our house.
"I was only about ten or twelve at the time. Ever time they flew over our house I thought the wings of the planes were going to hit our house. I couldn't sleep at nights with the noise. Our place had been so lonely and quiet, and then suddenly there was so much noise and activity. I was a nervous wreck."
When war broke out in 1939 a local farmer had owned the 300 acres of land that the War Ministry was soon to take over. The airfield itself - built to be a satellite of Long Kesh airfield - was begun in 1940 and was operational by 1942 in the hands of the Royal Air Force.
Over the years the airfield was to have a number of roles, but one of its main functions was to be an assembly and take-off point for the Stirling Bombers which were being built for the war effort at Short Brothers & Harland's factory in Belfast. The Stirling was the first four-engined bomber of the Second World War. The already-built fuselages and wings were transported by road from Belfast to Maghaberry. The roads were closed when the fuselages were arriving, and they had a police escort with them.
The Stirlings were assembled at Maghaberry by Short's workers, who travelled from Belfast every day in special buses. The assembly work was done in two massive hangers on the Hallstown Road, on the edge of the airfield.
Those two hangers are still there today, and just this week they are being re-clad by today's owners to keep them serviceable for another generation.
Ulster Star
02/03/2007