FORMER SPITFIRE ENGINE FITTER ROBERT CUMINS
RECALLS LIFE AT HIS FATHER'S BUTCHER'S SHOPS
IN BOW STREET, LISBURN
Ulster Star article by John Kelly - Friday 23rd February 2007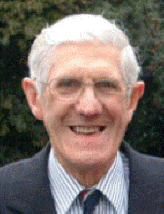 Many older readers of the Ulster Star will have very clear memories of Cumins' butcher's shops in Lisburn. They had shops in Bow Street and Seymour Street and for many years John Macbeth Cumins was one of the town's best-known businessmen. But few will know that his youngest son Robert, now a sprightly 86-year-old, has enjoyed a remarkable and varied life.
John Kelly first met Robert at the 2006 Remembrance Day Service in Eglantine Parish Church, where Robert has been a lifelong member. John later visited Robert at the family home at Carnbane on Thursday morning 15th February and over a cup of tea listened intently as the former Spitfire Engine Fitter recalled life at his father's butcher's shops and his wartime experiences in the RAF.
John Macbeth Cumins, was born in 1878 and gained his knowledge of the cattle trade by travelling to cattle fairs with his uncle in the West of Ireland. They shipped cattle to England and John told the story that in 1894, at just 16 years of age, while delivering cattle to Birkenhead; he stood on an orange box to see Queen Victoria open the Manchester Ship Canal. John Macbeth Cumins went into the butchery business and had his first butcher's shop on the Albertbridge Road, Belfast. He married Matilda Jane Stewart in July 1909 and had five children - Mona, Henrietta, John, Oliver and Robert. In October 1920 they purchased the family home, Carnbane House, Lisburn, and around the same period purchased property at 41 and 43 Bow Street and converted No 43 (now a popular restaurant) into a butcher's shop with an abattoir, byres and yard at the rear of the shop in Haslem's Lane. Robert can recall his mother telling him that the shop was previously a shoe factory. The business was so successful that they were appointed to supply meat to the Duke of Abercorn, the first Governor of Northern Ireland, and continued to do this while there was a Governor in residence at Hillsborough. In the 1930s the family took over an already established butcher's shop at 45 Seymour Street. While Robert's father continued to buy cattle, the shop and abattoir were mainly the responsibilities of Robert's oldest brother John Shaw Cumins.
| | | |
| --- | --- | --- |
| | | |
| The late John Macbeth and Matilda Jane Cumins pictured on their Golden Wedding anniversary in July 1959. | The late John Shaw Cumins (circa) early 1940s | Robert Cumins's fiance Olive Martin pictured after their engagement in July 1943. Olive posted this photograph to Robert while he was serving in North Africa. |
Robert Cumins was born on 3rd January 1921. After leaving the Royal Belfast Academical Institution he worked on his father's farm and also spent much of his time at the butcher's shops where he helped with boning out and deliveries. Robert and the late Vicky Lynas (4th from left in picture) drove around the country to check the cattle at various grazing lands including Moira and Holywood. Following the outbreak of the Second World War and the introduction of rationing, butchers were no longer allowed to kill their own cattle and beef cattle were then bought by the Government and distributed to retailers. With work at the butcher's shops greatly diminished and the German army expected to invade England, Robert, like many other young men in those days, decided to join the armed forces. He joined the RAF in June 1940 and trained as a Flight Mechanic at Halton, Buckinghamshire, and later as an Engine Fitter at Cosford, near Wolverhampton. After this training, he was stationed in Church Fenton, Yorkshire, and then at Sydenham, Maghaberry, Long Kesh and Nutts Corner. Robert, who admits to being a 'bit of a hoarder', still has the exercise book he compiled during this training, showing his detailed drawings and technical notes on aircraft engines. After two weeks leave, in July 1943, he was posted to Morecambe in preparation for a summer voyage to an unknown destination which turned out to be North Africa where he was involved in the repair of Spitfires at Blida, Algeria. Shortly before going to North Africa he got engaged to Olive Martin. A lovely picture of her, taken at that time, was posted to Robert in Algeria. As Robert was unable to purchase a frame for the picture, he made one out of Perspex from the canopy of a damaged Hurricane fighter and backed it with aluminium from a damaged Spitfire. Obviously this picture and handmade frame, which take pride of place in the family home, hold many treasured memories of his sadly now departed, wife. Robert took very ill in March 1944 and was taken to Military Hospital in Algiers, where he was diagnosed as having pleurisy. He was put on the next hospital ship to England and spent six months in St Martin's Hospital, Bath. After being pronounced unfit for further service he was discharged in November 1944 and after his recovery worked on his father's farm.
| | | |
| --- | --- | --- |
| | | |
| J M Cummins' butcher's shop at 43 Bow Street circa early 1950s. John Macbeth Cumins also owned the property on the left of the picture. (Photo courtesy of the Irish Linen Centre & Lisburn Museum). | A fresh-faced 18-year-old Robert Cumins pictured in 1939 standing beside one of the delivery vans at J M Cumins' butcher's shop in Bow Street. | J M Cumins' staff pictured at the Bow Street butcher's shop in 1939. L to R: Jimmy Little, Bob Ingram, Fred Gordon (van Driver), Vicky Lynas and Tommy McMillan (sausage maker). |
Robert's brother Oliver was born in April 1916 and in January 1941, he too joined the RAF. He became a leading aircraftman but tragically lost his life in an aeroplane crash just over two miles away from the RAF base at Pwlleli, North Wales. Oliver, who was training to be an observer, had been an official of the Ulster Bank and had been a member of both the Head Office and Enniskillen Branch staff. Like Robert, he too was educated at the Royal Belfast Academical Institution. Oliver is buried in Lisburn Cemetery.
When the beef trade returned to butchers and cattle markets re-opened, Robert got involved in buying cattle for the family shops. On average, 10-15 cattle and 20-30 lambs were killed for sale in their shops each week. He and Olive were married in April 1945 and had five children, Ann, Barbara, Jennifer, Roberta and Edgar. Sadly, Olive to whom he was devoted, passed away in June 1994 at 71 years of age.
| | | |
| --- | --- | --- |
| | | |
| Robert and Olive Cumins pictured at their wedding in April 1945. | Robert and Olive Cumins pictured at their wedding in April 1945. | The Cumins' family butcher's AEC cattle truck (circa 1960). |
In the early 1960s they provided a slaughter, chilling and loading service for a dealer who wanted to sell lambs in London. After being killed, the lambs were refrigerated and each carcass was covered with a stocking like muslin material and early the next Saturday they were loaded into special railway containers. There were no refrigerated containers in those days, so before the doors were closed and sealed, carbon dioxide (dry ice) was hung from the roof of the container and this kept the temperature cool enough so that when it arrived in time for the early morning Smithfield Meat Market in London, they were in good condition. In one year in the early 1960s, about a quarter of all the lambs shipped from Northern Ireland to England, passed through the Bow Street abattoir.
It was about this same time (early 1960s) that the Livestock Department of the Ministry of Agriculture approached them and asked if they would purchase the cattle that were participating in progeny test feeding trials at Loughgall Livestock Husbandry Farm. They agreed to this request and every fortnight Robert went to Loughgall and in conjunction with the Ministry vet, selected suitable cattle for slaughter for the following two weeks. In December 1971, Robert received a letter from the Minister of Agriculture thanking him for his expertise in selecting cattle for slaughter at the proper degree of finish and enabling his officers to gain invaluable experience through their association with him in this work. The letter concluded by stating "The Ministry and the livestock industry is greatly indebted to you for your co-operation in this work".
For a number of reasons, the family business closed in late 1971. Robert's father, John Macbeth Cumins, died in 1966 age 88 and his mother Matilda Jane died in 1978 age 93. Robert's older brother who managed the family shop, John Shaw Cumins, died in 1995 age 82. Robert's son Edgar now runs the family beef farm at Carnbane House.
19/02/2007