Huge turnout for funeral of popular former Mayoress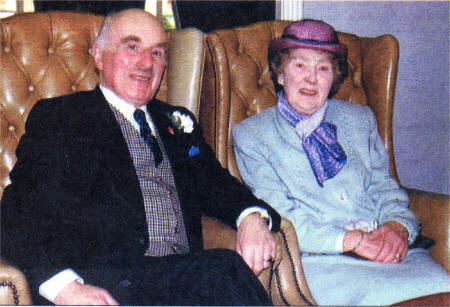 Former Mayoress Mrs. Edith Semple and her husband Doctor Samuel Semple on the occasion of their Diamond Wedding Anniversary.
THE large turnout at Christ Church for the recent funeral of Mrs. Edith Semple was a fitting testimony to the high esteem in which this former Mayoress of Lisburn was held.
Among the scores of people attending the 'Service of Thanksgiving for the life, work and witness' of this highly regarded lady, who was 94 when she passed away, were many of the borough's former First Citizens.
Lagan Valley MP Jeffrey Donaldson was also present as was the province's Minister of Arts, Culture and Leisure Edwin Poots.
The mourners were led by Mrs. Semple's devastated husband, former Mayor Dr. Samuel Semple, who said the presence of so many people from all walks of life and representing many shades of political opinion had proved a comfort at a time of great sorrow for him and his family.
He said the address delivered during the service by Canon Sam McComb, former Rector of Christ Church, perfectly summed up the life of the modest but very capable woman who was his rock during 64 years of happy marriage.
In his address Mr. McComb emphasised the support Mrs. Semple offered her husband as he fulfilled his duties in the spheres of local government and education.
"Edith was a most loving and devoted wife and mother. A helpmate in every sense of the word. She was a homemaker, a home builder and a home preserver," he said.
"She was by her husband's side all the way through their married life. In the good times and the difficult times she was there to support, encourage and to comfort when needed."
Mr. McComb described the couple's married life as 'hectically busy'.
"During Dr. Semple's term as Mayor Edith graced the office of Mayoress with gracious natural composure and quiet humble dignity so appropriate and enhancing to this high profile public position."
Mrs. Semple was born in a suburb of Pittsburgh but returned to Northern Ireland at the age of three.
Her family settled in the Sprucefield area and when her working life began she trained in the business world.
A great deal of Mrs. Semple's experience, which was to prove invaluable in later life, was gained in the employment of J.C. Patterson where Mr. Semple also worked.
The two young people fell in love and they were married on August 9, 1944 in Railway Street Presbyterian Church by the Rev. Dr. J.K. Elliott.
Their honeymoon was spent by Killarney's Lakes and on the first Sunday of their married life they travelled to church in one of the jaunting cars which are still so much a part of life in the popular Co. Kerry tourist destination. The newly weds lived initially with Mrs. Semple's parents at Bellevue Park. Their first home was at Church View before they moved to Belsize Road where Mr. Semple still resides today.
Mr. and Mrs. Semple had two sons - Paul and Kenneth.
Paul lives in the Hampstead area of London and works at one of the city's universities. Kenneth and his wife Barbara run a horticultural and landscaping business at Six Road Ends just outside Bangor.
Mrs. Semple also found great joy in her three grandchildren -Adam, a Senior Manager with Price waterhouse cooper; Louise, a teacher at a Church of England School in Gateshead and Stephen, an employee of the Northern Ireland Water Service.
Ulster Star
30/05/2008
Huge turnout for funeral
of popular former Mayoress