Motorcycling was Robert's signature, his gift
NORTH WEST 200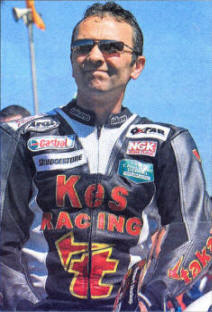 LAST Friday evening Irish Independent correspondent Vincent Hogan was asked to join a radio programme and give his thoughts on the tragic death of Robert Dunlop who was killed the evening before in a practice session for the North West 200.
Given his interest in motorsport and having been a rally co-driver for 12 years it was suggested that he might offer a relevant perspective on the stark dangers of motorcycle road racing.
He declined saying he had no perspective to offer, no understanding and no shallow pretence or empathy.
After the loss of Joey in Estonia he had interviewed Robert and his questions centred almost entirely into road racing's relationship with death.
Robert was courteous with his responses and agreed that the sport could be cruel and there were days when it brutalised you emotionally.
But road racing, he stressed, was what had given the Dunlop family their identity. They understood the dangers.
"You either accept them or you don't," he said. "We accept them." He spoke of his then day time job as a scaffolder, a job that compelled him to work at dizzy heights. "That's dangerous too." he said. "But it doesn't stop me doing it."
Back in 1994 Robert almost died in an accident at the Isle of Man TT when the back wheel of his machine collapsed over the jump at Ballaugh Bridge, breaking both legs and a wrist and leaving one leg two inches shorter than the other.
He recalled the impact with an eerie clarity, right down to the noise of pebbles spitting up off the road into his helmet as he hurtled towards a wall.
Vincent had also encountered death in his sport with the loss of a dear friend but says you can never escape the implicit hazards of a sport that demands you display your blood group details next to your name on both sides of the car.
| | |
| --- | --- |
| | |
| Ivan Shanle from Hillsborough in the first 600cc Supersport race on Saturday, approaching university corner. | Martin Lyons from Hillsborough in the 400cc race on Saturday, app, University corner. |
Still, he adds, there is not a rally driver or circuit racer alive who can honestly view on-bike footage from the Isle of Man, North West 200 or Ulster Grand Prix and not feel utterly awestruck.
In most forms of motorsport today you can crash and walk away unscathed. In road racing you end up in one of two places -hospital or the morgue.
Robert's death came 12 days after Martin Finnegan's at Tandragee and so relit the fires of outrage and rekindled calls for road racing to be banned.
As Vincent states what would it say about the Dunlop brothers, Finnegan, Dynes, Herron and the many other gifted riders who have lost their lives to the sport they loved.
That they were foolhardy or needed protecting from themselves?
What would it say to Robert's son Michael, who stormed to such an emotional victory in memory of his father on Saturday? That he should have stayed at home?
Robert Dunlop knew precisely the dangers he faced at Portrush last Thursday but also knew that his rapport with a motorcycle set him apart from other men. It was his signature, his gift.
How could he have underestimated the perilous nature of his sport having known the agony of carrying his own brother's coffin? Road racers make their choice which most cannot fathom but they do so with eyes wide open. We should respect that otherwise what seperates them from the rest of us will be our ignorance, not theirs.
Ulster Star
23/05/2008