Tributes paid to veteran councillor
who stood up for justice and for his community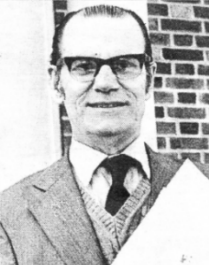 COUNCILLOR Peter O'Hagan paid a glowing tribute to his long time friend and SDLP colleague Billy McDonnell who died suddenly at his home last Friday morning.
Mr McDonnell (85) from Colinbrook Park in Poleglass had served on Lisburn Council for 27 years as a representative for Dunmurry Cross. He stood down in 2005 after the death of his wife Muriel and son Brendan.
Mr O'Hagan remembered Billy as a 'quiet yet determined' man who stood up for social justice and his community .
"He served his people during some very difficult times," he said. "He fought well for his community in Twinbrook and the development of Poleglass. He committed himself to supporting the development of Poleglass and houses for people who required them.
"Despite all his years with the council he was never given a chairmanship or vice chairmanship. I proposed Billy to serve as vice chairperson for the Planning Committee in the 1990s but it was rejected."
Mr McDonnell worked as head porter at the Royal Victoria Hospital until his retirement some years ago. He first got involved in the political sphere as a prominent member of the Twinbrook Residents' Association in the 1970's when he campaigned for a library in the area.
Despite the Troubles he remained committed and determined to improve life for people in the area. "Throughout all of this time he was the same quiet Billy," said Mr O'Hagan. "He was a big hearted man who did his best. He always stood by his word, working quietly and efficiently and always responded to the needs of the community." Mr O'Hagan described him as a good and loyal friend who had helped him when he was first elected.
"When I joined the council he had been there nine years and showed me the ropes. I learned the practices and protocols through him," Mr O'Hagan said.
Ulster Unionist Alderman Ivan Davis also paid tribute to Mr McDonnell, whom he described as a 'fair' and 'positive' man.
"He represented his constituents during his time on Lisburn Council 100 per cent, often through very difficult times," said Mr Davis.
"Billy was interested in what matters to people: raising living standards, health care and other public services."
He went on: "Billy did a lot of groundwork in the area he represented and, as they are aware, his constituents and his party owe a sincere debt of gratitude. To his daughter and family circle I would like to express my condolences." The Mayor of Lisburn, Cllr Ronnie Crawford, said he was saddened to hear of the death of Mr McDonnell. Mr Crawford said Mr McDonnell was held in great affection and high respect by those who served with him on the Council and knew him well.
A statement from the council recalled Mr McDonnell was 'actively and prominently' involved for 28 years as a Councillor and Alderman, from his election to Lisburn Borough Council in 1977, until 2005 when he stood down. Requiem Mass was celebrated at the Church of the Nativity in Poleglass on Monday. Mr McDonnell is survived by his daughter Carol.
03/04/2009