A long and fulfilled life reflected at service
Maurice Walker.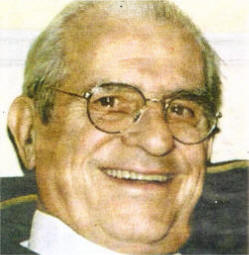 MAURICE Walker, well known local sporting personality and successful businessman, passed away peacefully in his 90th year at Lisburn Interim Care Home on Wednesday, March 4. He was buried in Lisburn New Cemetery at Blaris after a service in First Lisburn Presbyterian Church on March 6. The service was attended by a large gathering from his sporting and business background and was introduced by a selection of his favourite songs, with Rev John Brackenridge and Deaconess Evelyn Whyte paying tributes to his long and fulfilled life. Organist was Tom Whyte and the soloist was Jill Patterson.
Maurice, from the well known Walker sporting family, was born in 1919 at Hillhall and educated at Nicholson Memorial and Market Square CUB Primary School where he was a member of the Scouts. After a short period at Lisburn Tech, he left school, aged 14, having passed the Elementary School Certification Exams with honours in all subjects.
In 1933 he joined his brother Joe in employment with the GNR, initially at the Lisburn Goods Depot. Over the next 25 years he served in stations as far afield as Bundoran, Pettigo and Drogheda, often in the capacity of Station Manager. It was while in Drogheda he met his first wife Lily Huber and they married in December 1942. For the next 41 years mainly living in Lisburn, Lily provided great support to Maurice until her untimely death in July 1983. They had one son, Fred, who was born in March 1954.
On leaving the GNR, Maurice joined Antrim Feeds and his skills in book keeping and transport management soon saw him progress to director in the newly formed Ulster Farm Feeds. In partnership with Jack Allen and Ted Wilson, Maurice established a very successful network of feed and fertiliser depots throughout Ulster. Although retiring at the age of 70, he continued to work part-time for Downtown Developments Ltd in Antrim up to the age of 82.
His early sporting interest was table tennis, playing with his brothers in the emerging Institute Club. He was secretary at the Lisburn and District Association between 1948 and 1959 and he did much to promote the game in Ulster and at an international event.
Maurice joined Lisburn Golf Club in 1953 along with good friend Jack Keery. He was an active member of the Golf Club Council for many years was captain in 1978 and president in 1986/87. In 1967 he was co-founder of the Whitehorse Winter League of which he was captain in 1969 and 1989.
At the time of his death, Maurice was president of the league which he and his golfing partner, Jack Keery, had won a number of occasions. Maurice was an unbeaten member of Lisburn Golf Club's team that won the Ulster Cup in 1968.
Maurice re-married in 1984 to Evelyn Burton. They enjoyed almost 25 years together.
Son of Urban Councillor, Fred and Tillie Walker, predeceased by Lily, brothers Victor and Joe and survived by wife Evelyn, son Fred, daughter-in-law Wendy, grandchildren Gareth and Katharine, brothers Ronnie, Ernie, Cecil and Percy.
Ulster Star
13/03/2009