One of the last aircraft fitters at Langford Lodge passes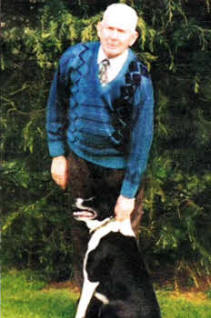 A FORMER aircraft worker from Killead, believed to be one of the last known survivors of a team of aircraft engineers who worked during the Second World War to get damaged and shot up bombers back into the sky in the shortest time possible, died recently aged 92.
Andrew 'Andy' McMaster from Drennans Road worked as part of a team of mechanics, fitters and engineers at Langford Lodge, an American Air Forces repair depot in Crumlin
He helped repair bombers like the B17 Flying Fortresses or Lockheed Lightnings to get back into the sky and was also part of the service squad modifying B26 Marauders for the European campaign.
Vital
'Andy' originally from Ballycran in Co Down, also worked at another wartime base at Nutt's Corner and during the 1960s he worked abroad in Aden and the Maldives.
Married to Dorothy for 69 years Andy had two children - Ian and Wilma. His funeral at Killead Presbyterian Church was led by former minister Rev Derek Weir.
His son Ian said: "My father didn't talk a lot about his labours at Langford in those black out years. I only know it was a hectic time in his life.
"There were a lot of fnters, mechanics and engineers who worked there with him and he could indeed be the last of a great bunch of men who did important repair and operational work on that base on the edge of Lough Neagh."
Ernie Cromie, aviation historian of the Ulster Aviation Society, said: "Men like Andrew McMaster were vital to the war effort with their expertise and know how about aircraft.
"Today they are a dying breed as time has caught up with them."
Ulster Star
20/08/2010