Baillies Mills Band for London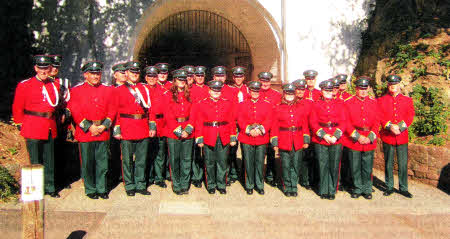 Members of Baillies Mills Accordion Band at the War Tunnels
on their recent visit to Jersey.
THE members of Baillies Mills Accordion Band are preparing for one of the most prestigious events in the 72 year history of the band.
They have been invited to participate in the Lord Mayor's Parade in London in November next year. The parade passes London landmarks such as St Paul's Cathedral and the Mansion House, and is televised worldwide by the BBC.
The band has just returned from a successful visit to Jersey where it was invited to take part in the Battle of Flowers parade in St Helier, an annual carnival held each August. The festival consists of music, funfairs and invited marching bands, with the major attraction being a parade of floral floats, most of which are designed and produced by the parishes of the island of Jersey.
The festival was first celebrated in 1902 to mark the Coronation of Edward VII, and since 1989 the floats have been retained for a torchlight procession the following evening, ending with a large fireworks display over the bay.
As well as participating in these two parades the Band played outside the Jersey War Tunnels, a permanent reminder of the German Occupation of Jersey, and on a huge bandstand in Howard Davis Park, named after a young man killed at the Battle of the Somme in 1916 and later given to the State of Jersey by his family.
The visit to Jersey was the highlight of a busy summer season for the Band with engagements from Newcastle to Ballymoney and including three Sunday concerts at the new bandstand in Lisburn's Wallace Park, the last of which will be held this Sunday September 4.
A full autumn schedule lies ahead, including concerts in Hillsborough, Ballynahinch and Portadown. DVDs have been produced of the trip to Jersey, as well as the visit to Norway last year, and further details are available on the Band's website baillies-mills-accordion-band.html.
Ulster Star
02/09/2011