MILL IN BLAZE INFERNO Crews battle biggest fire in Lisburn for 20 years
SIXTY firefighters fought a weekend blaze - described as the biggest in Lisburn since the Sprucefield fire over 20 years ago - to try and save one of the area's most historic buildings, Hilden Mill.
They spent over 10 hours on Saturday battling the blaze in the five storey building which has been earmarked for a £120m development with homes, cinemas and restaurants.
Police are still trying to establish the cause but believe it was deliberately started in an area of the Victorian buildings which was once used to split and dye thread.
Fourteen appliances and 60 firefighters from Lisburn and Belfast were called to the scene to tackle the fire and it was 10.45pm before the last crew left.
During the day warnings were given for people living nearby to stay indoors and close windows and doors because of the danger of toxic smoke.
By the time the alarm was raised at around 12.30pm three floors of the building were already well ablaze. Six pumping appliances from various parts of Belfast, aerial appliances, a hazardous material unit and a Command Support Unit also attended the fire.
Ironically Martin McDonald, District Commander for north and west Belfast who was one of the firefighters at the scene, had worked at Hilden Mill over 30 years ago.
The last major incident as big as this that I have seen in Lisburn was at Sprucefield in the 1980s," he said.
Warning building 80 per cent unsafe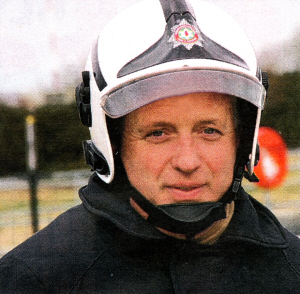 Our main concern was the large plume of smoke going towards Lambeg and Dunmurry and the dangers of asbestos and we had to give out warnings and asked occupants to stay indoors and keep doors and windows closed."
Saturday's heavy rain helped to dilute the smoke making it less dangerous.
"Because the fire was so intense and the building so unsafe we could not put crews inside," said Mr. McDonald.
Since the fire was brought under control crews have attended the scene on three separate times to deal with small pockets of fire which began in the debris.
It will be some days before forensics will be allowed to go into the building to firmly establish the cause of the fire.
Mr. McDonald warned the building was 80 per cent unsafe.
As resources were stretched appliances from Ballynahinch were called to cover Lisburn.
They had to attend a small fire at a flat at Seymour Court in which a man was led to safety.
'Mill a gem in the industrial crown of Lisburn'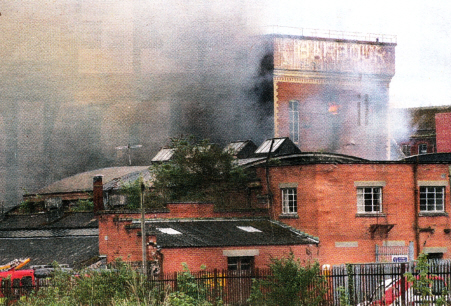 The fire at Hilden Mill. Pics sent by Star reader Paul Burns and M McDonald.
LAGAN Valley MLA Jonathan Craig described Hilden Mill as 'a gem in the industrial crown of Lisburn' and said the factory - which employed around 3,500 people at its peak - was close to the hearts of many with family links.
Mr Craig said: "The local community has close ties to it as many people who live there used to work there or had relatives who worked there. Many people have fond memories."
Environment Minister Alex Attwood visited the scene and praised the NI Fire and Rescue Service for their 'valiant efforts.'
Mr Attwood said: "Their prompt response has ensured that the Hilden Mill complex - although damaged significantly - has not been destroyed. They have my admiration and sincere thanks.
"Hilden Mill comprises a significant group of listed Victorian buildings and proposals have been approved by my department for their conservation.
"Hopefully those proposals will still remain on the table and not be affected by this fire." Lagan Valley MP Jeffrey Donaldson said he was concerned about the affect that the fire would have on a building which was steeped in history. He said he hoped the regeneration plans would continue.
"What is important is that this site should be used to provide housing for the Lisburn area," he said.
"We will not allow the fire to set us back." Community worker Barry Donaghy said Saturday was a sad day for many locals who remember working at the mill and he feared a lot of history had been lost in the fire.
He said the fire also illustrated the importance of occupying empty properties. The community group have been campaigning for some time to try and have the former Hilden primary School used as a community facility.
"What I would not like to see is the same thing happening with the school" he said.
mary.magee@ulsterstar.co.uk
Ulster Star
27/05/2011