Kayleigh's once in a lifetime adventure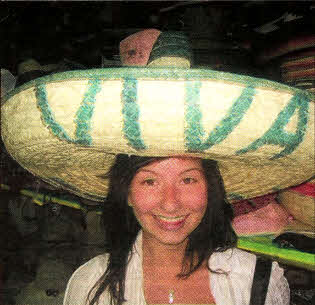 Getting into the spirit of things in Mexico With friends at Coyoacan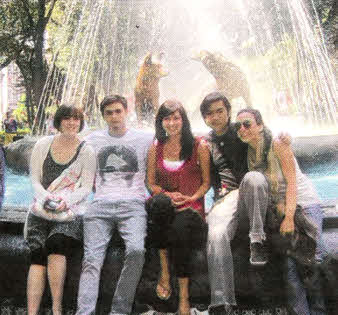 With friends at Coyoacan
LISBURN student Kayleigh McSweeney has just returned from a once in a lifetime adventure in South America. Kayleigh, who is about to embark on her fourth year studying languages at Heriot-Watt University, has spent the last year working and studying in Austria, France and finally in Mexico, before she took off to travel around South America on her own. This is her story...
"After a 24 hour delay and an emergency landing in Prestwick Airport, I finally made it to Mexico City on February 8 2011. It's fair to say the city surpassed any previous expectations and blew me away.
Most of my friends and family were rather surprised by my choice of placement, regarding the city as one of the most dangerous in the world. Truth be told, I never felt uneasy or threatened or had a bad experience. Of course it's a country with many problems, and like all big cites, has negative aspects, but it's more the north of Mexico that is suffering from the war against drugs imposed by Calderón from 2006.
I found myself in a metropolitan jungle, surrounded by new things, a different language, millions of people and quite a lot of smog in the air, but it certainly didn't take long before I fell in love with the place. Every area of town has a different flavour to it; Coyoacan - the arty, market area of town, La Condesa and Polanco - the upper class area filled with swanky bars, clubs and restaurants, Chapuiteepec - the huge forest in the city centre which even holds a free zoo with Giant Pandas.
The Zocalo - the modern town centre with a slight European influence and enormous main square, and Xochimilco - the mini Venice of Mexico City with a network of rivers and canals, and a backdrop of snow peaked mountains.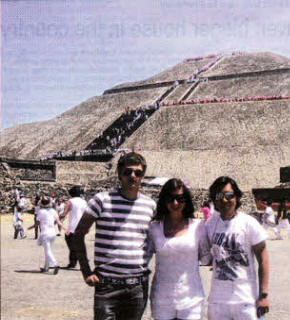 Kayleigh with friends at the Piramide del Sol.
'Along with studying at a private institute for translating and interpreting, and focusing on my dissertation, I got involved with a small group of people in quite a poor area in the suburbs of the city. I began giving voluntary English lessons to a group of kids aged from 10 to 12 years who studied and a Montessori school, and also to a group of artisans, who handmade handbags from wrappers of sweets and crisps, every Friday for 3 hours. It was a really rewarding experience, especially at the end of my time there, hearing them say things to me in English, considering they didn't speak a word of it before my classes.
Some of the highlights of my trip to Mexico would include the day I went to a nearby state called Michoacan, towards the beginning of March, where the Monarch butterflies migrate each year from Canada. There were thousands of them, covering so many trees and making them appear red from the colour of their wings. When they all ascended into flight it sounded like little raindrops because of their wings fluttering.
"My trip to nearby Teotihuacan was also impressive. I went for the spring solstice in March as Mayan tradition believes that if you go on that particular day, wearing all white and stand on top of the Pyramid of the Sun, you soak up the energy from the sun. It was supposed to be especially powerful this year as it's said to be the last year of the Mayan calendar.
As well as the vibrant, aroma filled streets, the constant sunshine, the hustle and bustle and the flavour filled food, one of the most amazing things about Mexico for me was the people. I was fortunate enough to make some lifelong friends, with whom I travelled from coast to coast during our Easter holidays. I visited a state called Veracruz on the Gulf of Mexico coast, which is well known for its coffee and sea food. It certainly lived up to the rumours. We then travelled over to a state called Oaxaca where we saw more ruins and headed to the Pacific coast, surfer's paradise, and the Bays of Huatulco, where we camped at Mazunte, a Sea Turtle Reserve Beach which was stunning.
"I filled the rest of my time in with lots of trips to nearby towns and cities, especially when my older brother came over to visit. In my last month, I did a road trip to the Caribbean coast. Instead of staying in tourist filled Cancun, we travelled a couple of hours more south to a paradise called Tulum. It's not built up with fast food chains and high rise buildings, instead it consists of one strip of traditional restaurants and beautiful cabins on the beach where you can open your door and walk 10 metres onto the white sand and into the Caribbean Sea.
'After a tearful goodbye on June 22 in Mexico City, I jetted off to Bogota, Colombia, to begin my South American dream adventure.
It was only a stopover flight en route to Lima, but I extended it to four nights. I was completely on my own now, a single traveller. However, within 5 minutes of settling into the hostel, I got chatting to some people, and we had a group of friends made in no time. During my short stay there, I visited a lot of the sights, such as La Candeleria (the historic district), the Gold Museum, the Police Museum, Plaza Bolivar (the main square), the Botanic Gardens and an underground Saite Cathedral. It's true what they say about the amazing night life in Bogota, and the coffee in Colombia.
Part two of Kayleigh's travel log in next week's paper. Please click here
Ulster Star
09/09/2011