Queens Birthday Honours
Crumlin woman awarded MBE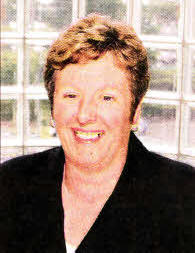 Helen Kirkpatrick
HELEN Kirkpatrick, former director and chairman of Crumlin Together, spoke of her delight she is now the proud recipient of an MBE for services to the community in Northern Ireland.
Helen (52) from Long Rig Road, who has a long list of achievements, said she would not have received the award without the hard working team behind her - other board members Stuart Graham, Jan Smit, Phillip O'Neill, Adrian McMullan and John Farr.
She has been a member of Crumlin Together board since 2006, and has helped the group transform the village. With closer links with the council they have helped secure grants for summer schemes and various environment projects. "
Crumlin has now become one of the fastest growing villages in Northern Ireland with young people under 16 making up 28 per cent of the population," she said.
"Environmentally, Crumlin has a beautiful glen. I live close by and I did not realise there was such a beautiful place which was used unfortunately as a place where young people were drinking, often out of boredom. "Our aim was to keep the glen the way it should be, just a real asset for Crumlin and for all to enjoy." Helen said there is still a lot of work to be done in Crumlin for a village that is quickly growing in population and popularity.
"Many people on the board of Crumlin' Together keep a house, have full time pressurised jobs and still they make time to attend meetings and do the things that need to be done for which I am truly thankful" she said.
Helen is a chartered accountant for Invest Northern Ireland in the Corporate Finance Division and is an interim chairman and Non-Executive Director, with UTV Media plc.
Her achievements include being Director, of Kingspan Group PLC, Director, of Crumlin Together Limited (2005-2008), Chairman, CAUSE (NI) Ltd (2007), Board member, International Fund for Ireland (2000-2006), Director, Enterprise Equity Venture Capital Group (2000-2006) and Director, NICO (Northern Ireland Public Sector Enterprises Ltd) (20002006).Helen is also a Fellow of the Institute of Chartered Accountants in Ireland and a member of the Chartered Institute of Marketing.
---
Ballinderry woman honoured by award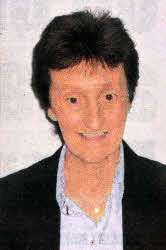 Margaret McMullen
BALLINDERRY woman Margaret McMullen spoke of her delight at being awarded the MBE for services to the Electoral System. And she paid tribute to the 'loyal and dedicated staff' who has worked for her and said without their help and support she would not have received the award.
Margaret, from Ballyvannon Road, is Head of Corporate Services and was first notified at the end of April that she would receive the MBE as part of the Queen's Birthday Honours list.
"It came as a great surprise to me and it was difficult to keep the secret," said Margaret who has worked for the electoral office for 35 years. Margaret has worked under five Chief Electoral Officers - the late Roy Kerr, Patrick A Bradley, Denis Stanley and Douglas Bain.
The current Chief Electoral Officer, Graham Shields, described Margaret's award as a 'fantastic achievement and very well deserved.'
Margaret was told there would be no more correspondence after the initial letter so it wasn't the early hours of Saturday morning, when Margaret checked the internet, that she spotted her name.
"I could not believe that my name was included alongside such outstanding people, said Margaret. "I feel very privileged and humbled. It is a huge honour for doing a job I enjoy and working with loyal and dedicated staff of the Electoral Office for Northern who work over and above the call of duty during Elections."
Since then she has has been receiving text messages, phone calls and visits from family, work colleagues and friends offering their congratulations. Margaret joined the Electoral Office for Northern Ireland on January 4, 1977 after working for ten years at the Legal Aid department of the Law Society for Northern Ireland.
She is married to Raymond and has one son, Robert Errol (27), who is an Actuator Development Engineer in Cambridge.
She said: "I plan to retire next year and it is a nice way to end your career. I will cherish this award which will be a constant reminder of the many people I have had the pleasure to work with during the past 35 years."
---
Patrick humbled by recognition for services to business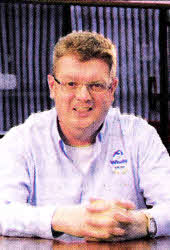 Patrick Hurst
HILLSBOROUGH man Patrick Hurst has said it was 'humbling' to have been awarded an MBE for services to the Business Community in Northern Ireland.
Patrick, 44, is currently involved in a number of business activities including the role of Managing Director for Whale (Munster Simms Engineering Ltd) as well as working on behalf of Invest NI, and helping a number of privately owned manufacturing companies as an Independent Business Advisor.
As a co-owner of Whale (Munster Simms Engineering Ltd) Patrick's innovative vision has resulted in increasing turnover by 48% between 2009 and 2011 as well as increased workforce by over 50% since 2008. His drive for innovation has inspired his design team and today 70% of products that are new or significantly re-engineered in the last three years.
Faith in Patrick's leadership was confirmed by the company being listed in the Sunday Times Best Company to Work For survey for the last three years running. Whale was particularly commended for looking after the wellbeing of its staff, an overall ranking of 8th.
Patrick said: "It is very humbling to receive such a tremendous honour, and it is made all the more special given that it is the Queens Jubilee year I have been so lucky to have worked with many great people in Northern Ireland and to have such a supportive workforce. It is a real privilege to have been recognised for contributing to the business community"
Whale Chairman, Mike Mills, OBE added: 'Everyone in the company is delighted to see Patrick's huge dedication to Whale, and to our people, recognised with this honour. He is a consummate leader and this award is also, we are sure, a tribute to all that Patrick does outside the company to try to improve economic conditions for our whole community."
---
Cycling legend Isobel receives the BEM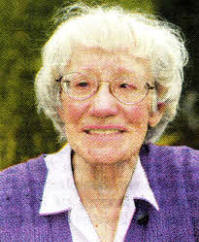 Isabel Woods
CYCLING legend Isabel Woods from Lisburn received the BEM.
Isabel, right, from Lisnoe Road, is now in her 80's but has a series of unbroken cycling records to her credit and has taken the award in her stride.
I can't get too excited about it when my name is among others who have raised money for charity or have accomplished many things," she said. "People have done a lot more to merit their award and I feel that I don't deserve it."
Isabel recently wrote her autobiography Wheels of Change and helped compile another book, Recycling Memories.
Many of the records that .Isabel (nee Clements) set have never been broken.
In 2007 a Zimbabwean cyclist broke one of her eight records from Mizen Head to Fair Head, albeit a shorter route than the local cyclist followed. Isabel, in true sporting spirit, went to greet her at the finish line.
In recognition of her feats the Ulster Transport Museum in Cultra set up an exhibition showing off her bike and her list of records.
Among them are Belfast to Dublin in 1953 (103 miles) in four hours 56 minutes; in 1954 Belfast to Dublin and back (206 miles) in 11 hours 47 minutes; and Dublin to Derry in 1956 in seven hours 24 minutes (147.5miles).
Isabel began cycling as it was the only real means of transport when she started working for JP Corry's in the 1950s. As a child she had longed for a bicycle and when 18 had saved up enough money for a Raleigh bike that she eyed in a shop in York Street.
Isabel and her sister would often go hostelling and it was while on a return trip from France that friends persuaded her to take part in place to place records. It wasn't long before she broke the Enniskillen to Belfast record covering 86 miles in four hours 2 minutes and before the end of the year she also did the Dublin to Belfast in four hours 56 minutes.
For years people tried to persuade her to turn professional but she refused, believing that by doing so would lose her love for the sport. At the ripe young age of 83, Isabel still keeps herself fit by taking part in traditional set dancing at the Crescent Arts Centre.
---
Wendy proud and delighted to receive MBE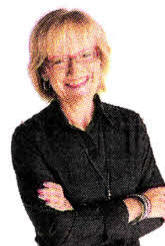 Wendy Austin
VETERAN broadcaster, and Dromore area resident, Wendy Austin (60) (below) spoke of her delight and pride at being awarded an MBE.
The well-known BBC radio personality received the gong in recognition of her services to broadcasting and the community.
The respected journalist expressed her real surprise" and delight at her award.
"It was absolutely unexpected and came completely out of the blue," she said. "It is very nice to be recognised and rewarded for doing something that you enjoy."
The mother-of-three has been a journalist for almost 40 years, beginning her career as a reporter with the East Antrim Times. Following a spell with the Belfast Telegraph, she took up a position with Downtown Radio before joining the BBC in 1976.
Outside of her employment Wendy has engaged in much charity work. She is currently life president of the Spirit of Enniskillen Trust youth charity.
Ulster Star
22/06/2012