Small village which has flourished
This week Jakki Black looks at the history of Ballymacash 06/04/01
Dear Ballymacash, my native place
In thee I spent my early days
Though many years have passed since then
It gives me joy to sing your praise,
Your fine green fields hills and meadows broad,
Your groves and walks and rivers clear,
Where many happy hours I played
With those to whom my heart were dear.
George Camlin (left Ballymacash, on Saturday 21 July,1860)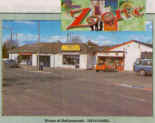 BALLYMACASH is on the northern side of Lisburn, and although it may not be strictly defined as a village, it has many aspects of village life.
Today it is a highly populated area with much of the growth occurring from the early 1970s onwards, but up until then it was mainly a sparsely populated rural community which has developed into a burgeoning suburb of Lisburn.
Like all rural areas in the past the church has played a central role in community life.
In 1828 a Sunday school was held in the day school at Ballymacash with six teachers teaching 80 school scholars, fifty four Protestants, eight Presbyterians, Eight Roman Catholic and ten other denominations. Sixty of these scholars only came to Sunday school and that was the only source of education many of them received. They read books including the Bible, Testament and Sunday School spelling books.
The Sunday school was open from 2pm until 5pm, but not in Winter. It was not connected with any society and books were brought by pupils. The school opened and clued with singing and prayer at all times.
St. Mark's Church of Ireland was born out of the ancient parish of Derriaghy, founded on a site which dates back to 1444. The old church was dedicated in 1892, serving a few well scattered houses with a community of around 100 worshippers.
Phillip Johnson was a very significant figure in church and civic affairs in Ballymacash. He was born in 1748, and was instituted as Vicar in the parish of Derriaghy on 10 June, 1772, and remained until his death on 6 February, 1833, aged 85 years.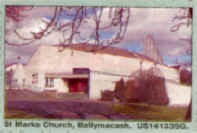 As well as being a vicar for 61 years he was also a Justice of the Peace and a Deputy Governor for County Antrim.
He was a noted Orangeman, being Grand Master for Co. Antrim, and Captain of the two corps Yeomanry of Ballymacash Light Infantry, and this, together with his role in the community, before and during the Rebellion, was responsible for a number of attempts on his life.
A letter from Dennis Magreevey to the Rev. Johnson, dated 7 April 1814 would suggest another side to the man who was very involved in Protestantism. It said:
"You and the Protestants of your Parish, in general particularly during the unfortunate troubles which took place in this kingdom, showed themselves in the most friendly manner to the Catholics of the place and rendered them every protection ...as good neighbours and friends." Phillip Johnson resided at the historic Ballymacash House, which now belongs to the Drayne family. It was originally built in the 1680s by Phillip's grandfather, Ralph Smyth Esquire, and was then rebuilt by Phillip Johnson in 1790.

Ballymacash was the venue for many Parish gatherings over the years with Sunday School picnics taking place in the grounds. Ballymacash LOL 317 held Lodge meetings in the house and the Ballymacash Branch of the Derriaghy Unionist Club held a demonstration on the grounds on 31 August 1 1912.

Ballymacash House remained in the hands of the Johnson family up to the 1940s when it was purchased by Mr. Ernest Green, owner of Green's grocery shop in Bow Street, Lisburn. Presently it is the home of the Drayne family and the headquarters of Drayne's Dairy.

Drayne's Dairy is situated on the Glenavy Road, employing 28 people, and is very much a family run business. Recently during the bad weather their faithful milkmen continued to make their rounds to customers using a four wheel drive to tow the milk float ensuring that their customers got their daily 'pinta'.
Michael and Peter Drayne run the family business, producing up to three million litres of milk a year, produced from their 200 strong herd of Holstein pedigree cattle.
Their mother Eileen Drayne received an MBE for services to the community and is well known for her work with many organisations including Combat Cancer, Save the Children and Meals on Wheels to mention only a few.
Another source of employment in the area was Belshaws Quarry. Mr. Belshaw had up to 60 men working for him in the early 1940s.
Lime was bagged from the quarry and a huge tarmac industry also ran from the premises. With tarmac being a fairly new commodity in Northern Ireland there was a great demand for it, giving Ballymacash a thriving industry.
The Quarry is now a Nature Reserve owned by the Department of the Environment.
It is a place of great geographical interest and is visited by many schools and colleges in the pursuit of project work.
The summer sees the quarry come alive with wildlife and a splendid splash of colour from rare species of flora, birds and butterflies along with a vast array of pondlife.
Ballymacash now has many shops, but one of the oldest in the area is now run by Anne North, It is a little place but you can be guaranteed to get pretty much any grocery provision you might require.
Mrs Anderson, who is now 94 years of age, lives next door to Anne's shop and was the owner of the quaint little premises from 1935, when, as she said, "the shop sold everything from an needle to an anchor.
"At the time when my husband and myself ran the shop there were not many houses in the area and you knew everybody who came into the shop.
I wouldn't know them now. People come up to me and say `do you not know who I am?' When they came into my shop years ago they were only children, getting a penny's worth of sweets and now they are grown men or women with families of their own, but it is nice that they make themselves known to me.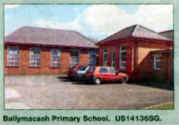 "During the war we had rationing of course with things like sweets and you were only allowed two eggs a week and a quarter pound of butter, but there was always bread to be had.
"The Americans were stationed down the Glenavy Road and they used to come in and out of the shop- .I remember they were always chewing gum and had very nice teeth. They also had great manners always calling you 'ma'am' and their uniforms were beautiful.
"I had two children who both went to Ballymacash school, a boy and a girl. I used to tell people that I was richer than the King because he had two girls, I was fortunate to have one of each.
"Ballymacash has been my life, is a great wee place.
Ballymacash school has been a main focus of life in this area. The school was originally built by in 1790 and was rebuilt in 1828 by his son Phillip Johnson's son at a cost of £100.
This building still stands at the junction of the Nettlehill Road and the Ballymacash Road and is now used as business premises.
There were 67 pupils on the roll in 1835 when the master was Mr. Edward McBride.
In 1931 the new Ballymacash school was presented to the Parish to be used as a Parochial Hall. The old building was refurbished and extended in 1949. In 1982 the present Ballymacash Primary school was opened.
All in all Ballymacash is a fascinating place, drenched in history, and the Rev. George Irwin of St. Marks has been very involved in retaining its history, Keeping many old documents to inform locals and newcomers to the area of its past, as the old poem states:
"Old, old memories, what a store
They jest, they dare, they re-explore."