Moira - full of character and colour
This week Jakki Black looks at the history of the Moira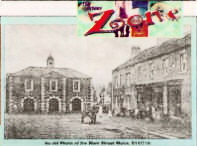 MOIRA is a Georgian village situated eight miles Outside Lisburn.
It is renowned today, for its fine floral displays and, it has to be said, its fine sausages from McCartneys, butchers.
The current Mayor of Lisburn, Councillor Jim Dillon, is from Moira and said: "Even when I have to go on trips to England or elsewhere I get requests to bring over some of those famous sausages with me:"
Jim has been a councillor for 24 years now and succeeded the late George McCartney, whom he says created a good framework to work on.
As you approach Moira village you can't help but notice the church spire of St Johns, pointing heavenwards and a constant reminder of past and present generations who have worshipped in this beautiful building.
The name Moira is an Anglicisation of the Celtic Magth Rath or Moirath, meaning the plain of the fort. In 637 AD the battle of Moira was fought between Donal the High King of Ireland and Congal Claen, a powerful Ulster King, Donal was the victor and Congal was slain.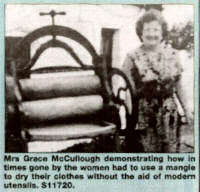 In medieval times the district was largely owned by the O'Lavery family and their descendants and here are still Laverys' as they became known living in the locality. A well known member of this family was the distinguished painter Sir John Lavery, (1856-1941).
In 1744 Moira was described as a 'Well laid out and thriving village, consisting of one broad street, inhabited by many traders, many of whom carry on the linen trade to good advantage."
But linen wasn't the only industry. There was also a brewery and bottling businesses near Palmers' comer.
Moira is also reputed to have been the first village in which the famous Lambeg drums were made.
Moira was also as important centre for limestone quarrying and evidence of this is still to be seen in the lime kilns on the Clarehill Road. That same lime made Moira a good area for farming in that it gave good drainage and kept the soil alkali.
Indeed in Moira the farms tended to be quite large in comparison with other areas.
This also meant there was a great capacity for feeding animals and also a considerable production of grass seed, some of which could actually be used far the making of gin,
The world's first passenger train service between Manchester and Liverpool opened in 1830. Plans, for an Ulster Railway were announced five years later, and in 1841 the Lisburn to Lurgan line was completed. Moira Station is the oldest surviving building from that venture.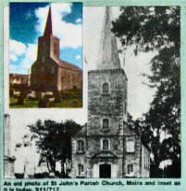 By 1945 it took some 18 people to staff Moira Station, including a stationmaster, clerks, pointers and signalmen.
The line remains the most important in Northern Ireland today but Moira station i s a much quieter place than in earlier years.
In 1960 the MI Motorway was constructed, and by the year 1966 a roundabout junction at Moira facilitated commuting to Lisburn and Belfast.
Moira is now regarded as one of the fastest growing small towns in the Province.
During the last War the Ulster Military Hospital was at Waringfield Moira,
Many wounded soldiers from all parts of the world were encamped in the Castle Demesne
When the Ulster Military Hospital was transferred to Musgrave Park Hospital about 30 years ago, the Royal Army Medical Corps presented their flag to Moira Parish.
It is now displayed on the front of the gallery beside the insignia of the Queens Forces.
The flag on the other side of the gallery is that of Cuba before Fidel Castro's revolution. It was presented to Dean Hughes at a Scout Jamboree and is probably unique in any local church.
Jim Dillon remembers the Moira of his childhood as very different from today.
"It was a small village very different from the place we know today. As a village it has had tremendous success in 'Britain in Bloom' and in European competitions" he said.
"However Moira's love of flowers is not just a recent thing, the gardens of Moira were the foremost centre in Europe for the propagating of tropical plants from the other side of the world.
"Also the main street of Moira used to be lined down both sides with lime trees. According to old photographs these lime trees existed until the early part of this century.
There were also four lime trees in the middle of the Main Street which were a landmark and well known all over Northern Ireland, but these became unsafe and were removed about thirty years ago.
"In the old days I knew everybody in Moira but with so many new housing developments and businesses in the area this is not the case any more. But that isn't a bad thing as it suggests growth and development.
"Long gone are the days when as a child I dreaded a Saturday evening as this was my mother's shopping night in the village at Tommy Ruddle's shop.
"It took about two hours to get the groceries for the week as Tommy would serve you with a tin of beans and then have a five minute chat before serving you with maybe some butter and then another five minute chat.
"Nobody was in any hurry, it seemed, except me. I found the whale shopping business a real chore, but of course this was a social highlight of the week for my mother."
Mrs. Grace McCullough from Moira told me a little about her experiences and memories living in Moira as a farmer's wife.
Unfortunately her husband Holt died a few years ago, but he was a great historian with a vast font of knowledge of the local area and influenced his wife to have the same enthusiasm.
"I have an old roll book from the school when it would have been a National School" she said. It was the school where my husband was educated but this roll book is from 1906, and it is recorded that at that time there were 108 pupils.
"The Master, Mr. Bunting was known as a very strict Principal, but he turned out children with such a very high standard of education that you didn't need any higher education.
People used to come to the door looking for work at a particular season. Nowadays of course with all the new machinery and developments in farming a lot of community spirit has gone and many farmers' wives now have separate jobs from the farms, which isn't really a bad thing I suppose.
People had it tight in those days, clothes were handed down to one another and if someone on another farm was ill, we would all rally around to offer support, and I do feel that it is sad to have lost this sort of neighbourly contact.
My late husband was a great reader all his life and took great pride with the young people of the area.
"I remember his father had a home bakery with a two horse drawn bread cart. It went around all the local houses in the area delivering bread. Only recently I was stopped in Moira by a woman who had remembered this and she told me this bakery had made the best bread she had ever tasted. I still have one of the lamps from the cart, so that is a little bit of history preserved."
It has been said: 'One is nearer God's heart in a garden, than anywhere else on earth', and indeed Moira with its history, wealth of flowers, Georgian buildings and selection of churches creates its own special garden.