`If the mothers could have seen their sons lying stretched out'
`It was just one of those things, you join up and you do it'
Rev. Canon Alex Cheevers, who will be accompanying a group of local veterans back to Normandy to mark the 65th Anniversary and last official commemoration of the D Day Landings, talks to a Lisburn man who was there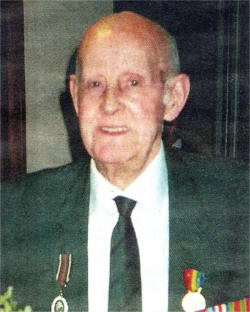 BILLY Moore was born in Lisburn. Today he and his wife still live in Lisburn but in the years in between he has known all kinds of war-time experiences.
He joined the Army in June 1942 at Clifton Street, Belfast. "I was given the King's Shilling for joining up," he explained. "I went to Omagh for basic Army training and then I was sent to Essex. I was put into the 2nd Battalion of the Royal Ulster Rifles. We went to a camp at Droitwich for a long time, and then we were moved down on to the boats at Portsmouth for the D Day invasion. But we couldn't land in France because it was too rough so we kept going round and round out at sea. I was sick - there's no use telling lies.
"And we had bicycles", Billy remembers. 'All of us on the boat had bicycles. We threw them in the sea - because the planners got it badly wrong for the Rifles. They thought we would just ride from the landing beach in to Cambes. They thought it would be easy. But it wasn't.
"When we got to Cambes Wood (a few miles inland) we got a hammering from the Germans. They hit us with tanks and machine guns - they hit us with everything. We had to draw back and reform. If the mothers had seen their sons lying stretched out, nice in their uniforms, stretched out as if they were sleeping -but they were dead.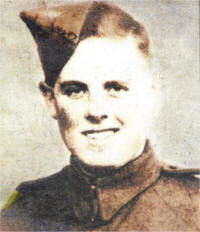 "I buried my mate at Cambes Wood. We were having a wee smoke and a wee pow-wow on the edge of the trench when we heard a shell coming over and jumped. He wasn't quick enough and got it in the back. A lot of good mates were killed at Cambes Wood.'
Nearly 200 men of the 2nd Battalion were killed, wounded or missing after the fighting at Cambes Wood, and after the taking of Cambes-en-Plein village. The Rifles eventually moved forward again and were the first British troops in to the city of Caen when it was captured. Even today there is still a special bond between the Rifles and the people of Caen.
In 1994 Billy returned Caen at the 50th Anniversary of the liberation of the city. "They took us by the hand and looked after us," he remembers. "There was a parade and all kinds of celebrations."
Later, when the Battalion had fought its way up north, the war took another turn for Billy. "I got hit in the leg and the hip in a wee place in Belgium. We were attacking one night. My mate from Hollywood Arches was killed. When I got hit they came and picked me up and took me down to the big tent for an operation. I was flown home to Birmingham and then spent seven or eight months in a hospital in Wales."
After the war Billy got married to a Lisburn girl, Edna, who served in the WRAF during the war. They have one son. After the war Billy worked for many years in Thiepval Barracks. Today he still suffers from his wounds.
Thinking of his war years Billy said: "It was just one of those things. You join up. And you do it."
What an understatement from a modest man who has been through so much. All of us owe an enormous amount to Billy and those other ordinary men who did such extraordinary things when they were called upon.
* Canon Cheevers continues his series next week by talking to an RAF man who was on board the bombers used during the D Day landings.
Ulster Star
05/06/2009