The free world's debt to the modest men who were at Normandy
Rev. Canon Alex Cheevers, who will be accompanying a group of local veterans back to Normandy next month to mark the 65th Anniversary, and last official commemoration, of the D Day Landings talks to one local man who was there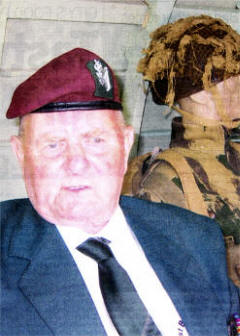 TODAY Tommy Williamson lives in Lisburn, with his family nearby. But he was born and grew up in Belfast. and it was in Belfast that he went to the Army Recruiting Office in Clifton Street to join-up on the 3rd December 1942.
With his one shilling 'joining up fee' he went off to Omagh to start his Army training.
At that time he had no way of knowing that less than a year and a half later he would be making history as one of the first troops to land in Normandy as part of the operation to defeat Hitler and Nazism in Europe.
In fact Tommy was soon moved to England, training for the D-Day landings. He passed through different camps and when the invasion came near he and his battalion were penned-in to a closed camp to preserve total secrecy.
Tommy was in the 1st Battalion of the Royal Ulster Rifles, part of the 6th Airborne Division.
They were going to war in Horsa gliders towed by tug aircraft. He remembers it well: "We were loaded up in to the glider in England.
As well as the men, we had twelve motor bikes and we took off.
"Going across the English Channel one of the two tow-ropes between us and the plane got shot away" he recalls.
It's no wonder some of the soldiers called the gliders 'flying coffins' but Tommy and his mates in dozens of gliders landed in a field beside Pegasus Bridge.
A few hours earlier other troops had captured the bridge from the Germans. It was the job of Tommy and his Battalion to re-enforce these earlier troops, because the Bridge was now under counter-attack from the Germans.
They did this successfully and then went on to liberate nearby Longueval before going on to fight at Ste. Honorine nearby. The Battalion lost a lot of men as they fought their way through Normandy until the end of August.
Even then the war still wasn't over for them - but that's a story for another day. Tommy Williamson has been back to Normandy since those days, back to the fields and hedgerows where he fought 65 years ago, back to the land of so many memories and back to visit his friend of the same name, Tommy Williamson - his wife's brother.
'That' Tommy also had landed on D Day, but on 4th August he was killed by a land mine.
Tommy has visited his grave in Banneville-la-Campagne Commonwealth War Graves Commission Cemetery in Normandy and has so many clear memories of Normandy and of friends he lost.
When he talks about it all you know that he is seeing again the things and the people he is talking about - and so much more.
He has many good memories of his time in the Army and loved the sport, the football and the boxing, and says: "It was a good life". Nevertheless, the other memories are there as well.
In 1948 Tommy was demobbed and on 7th May 1949 he got married. He and his wife Reta continued to live in Lisburn and had six children.
A few years ago Tommy was honoured by being made an Honorary President of the Royal Irish Rangers Association in Lisburn, something that gives him great pleasure. Referring to D Day and the war, he just says today "It was one of those things that had to be".
He puts it very modestly.
But I say that the free world owes so much to Tommy and so many others like him. They deserve to be honoured.
NEXT WEEK: Canon Cheevers speaks to Lisburn man Robert Carlisle, who served on board H.M.S. Delhi, a Royal Navy destroyer especially armed to provide anti-aircraft protection for troops invading hostile beaches, during the D Day invasion.
Ulster Star
22/05/2009