Chapter 1
Introduction to the District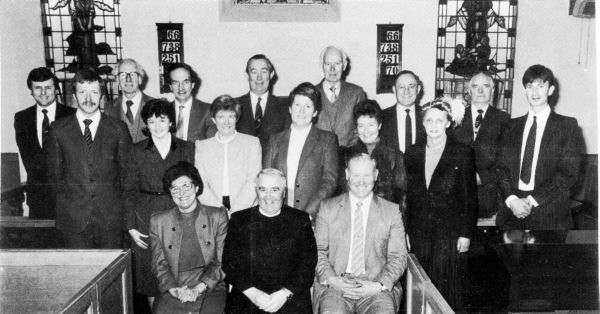 Priesthill Leaders' Board in 1986: Front: Minister, Rev. David Mullan; Dr. Helen Fullerton and Mr. Joseph Kennedy (Society Stewards).
Centre (from left): Mr. George Megarry, Miss Patricia Campbell, Miss Margaret Megarry, Mrs. Gwen Millen, Mrs. Helen McKendry, Mrs. Eileen Graham. Back (from left): Mr. Ronald Campbell, Mr. Sydney McCready, Mr. Jack Collins, Mr. William Fullerton, Mr. Donald McCready, Mr. Will Stafford, Mr. Robert Wilson, Mr. Michael McCarthy. (Mr. Eric Martin was unable to be present)
In the days of my childhood I often heard my parents and others speak of going to Zion. They were, of course, referring to Priesthill (Zion) Methodist Church. This lovely name is not used frequently nowadays but it was given to the church when it was opened in 1838. The minutes of a circuit meeting of 14th January 1839 state that the meeting was held at Zion.
The church is situated on the Kesh Road in the rural district of Maze. In one of Sir William Petty's maps the Maze is marked as 'Bally-maes', meaning 'the place of the plain', and it is indeed an accurate description. A former resident of Kilwarlin, writing anonymously in 1866 about the Maze stated: "There is a long straight road, extending from Reilly's Trench to the Racecourse, known as the Long Cash, that is 'the long pathway'; and this is precisely what it was till 1775, when the present road was constructed." Part of this Long Cash is the Kesh Road.
"But why Priesthill?" some visiting preachers and other friends have asked. The answer lies in the fact that the name is carried forward from the first preaching-house at Priesthill on Aghnatrisk Road. An Ordnance Survey Map of 1835 indicates this last-named building; it has been incorrectly designated 'Meeting House' by the person(s) who prepared the map. Not far away there is a spot marked Priesthill' and it is approached from Trench Road. Local tradition has been that a priest lived there, and in Volume II of his work 'An Historical Account of the Diocese of Down and Connor', Rev. James O'Laverty tells of a resident priest at nearby Reilly's Trench, Most Rev. Dr. Francis Stuart, a Franciscan friar, who was consecrated Bishop of Down and Connor in 1740. Due to being an adherent of the Pretender to the British Throne he was forced to leave in 1742 and went to live near Lisburn. Between 1742 and 1745 the chapel at Reilly's Trench (described by Rev. O'Laverty as being of "considerable antiquity") was burnt down by Royalists. After this the members are said to have worshipped under a tree near the site.
It is interesting to note that when the first Priesthill preaching-house was erected in 1786 there were very few places of worship in the vicinity.1 The parish church at Hillsborough had recently been restored by the Earl of Hillsborough in 1772, and there were parish churches at Moira and Magheragall; there was a Society of Friends Meeting House in Hillsborough; the first Moravian Church had been built at Kilwarlin in 1755; and local Presbyterians would have to travel to Anahilt or Lisburn. In 1838 when Zion chapel was built there were two additions to the foregoing: the Roman Catholic chapel had been rebuilt at Reilly's Trench in 1805, and a Presbyterian Church had been erected at Hillsborough in 1833.
For some years prior to 1786 the effect of what has been termed 'the Methodist Revival' was being experienced locally, and meetings were held regularly in homes and barns in the neighbourhood and surrounding area. For a fuller understanding of Methodism perhaps we might pause and reflect on how this evangelical revival started.
*The parish churches at St. James's, St. John's, Kilwarlin, and Broomhedge were opened in 1841, 1840 and 1848 respectively. The Presbyterian Church at Maze was opened in 1859.