Chapter 8
1888-1938
A time for Reunion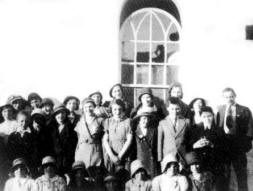 A Children's Day choir, around mid-1930s. Note the window with obscure glass in lower portion.
A jubilee is a season of festivity and great public joy, and such was the pervading spirit at Priesthill on Saturday afternoon, 20th October 1888, when the congregation and their friends met to celebrate the fiftieth anniversary of the opening of Zion, and also to offer thanksgiving to God for the harvest.
The Christian Advocate reported that the function was "attended by four hundred people, one hundred of whom came by wagonettes from Belfast. A fruit tea was served in one of Mr. Samuel Wilson's tents, specially pitched for the occasion.
"The weather was delightfully fine, and the company enjoyed the reunion to the fullest extent. At 6.30 p.m. a public meeting was held in the church, which was charmingly decorated by the young ladies of the neighbourhood.
"A large and representative choir from Belfast attended, and, under the able conductorship of Mr. James Todd, discoursed some very choice selections, accompanied by a string band, and interspersed with solos and duets. . . . The whole proceedings were of a most enthusiastic character, and the ladies and stewards vied with each other in showing attention to their Belfast visitors, who were welcomed on arrival with ringing cheers."
In his opening remarks the Chairman, Mr. Francis Megarry, J.P., said: "It generally happens when an audience is so crowded as this, that the platform has immunity from the crowd, but we are crowded in all directions, and it will require some consideration on the part of each of us to endure the pressure as well as we can. . . . We mark an epoch in the history of Priesthill. I know country congregations too well not to know that the work that is done in a quiet country church of this kind very often is not seen. The seed is sown here and the harvest is reaped sometimes in distant lands, and it so happens that many of our large town churches really have their best recruiting ground in the quiet country chapel. Eternity alone will tell the extent of the good work done here. The contingent that came from Belfast is a testimony that the work is now bearing fruit in that town. . . . I am here to rejoice in your Jubilee, and to sympathise in the effort which you are about to make to put your funds on a firm footing. . . . I am also here as belonging to another branch of the Methodist Church, and to show by example as well as by precept that God is our Father, and Christ our Saviour, and the Holy Ghost our Comforter, while we all are brethren."
An interesting report outlining the history of Priesthill was read by Mr. Thomas Tate, during which he told the congregation: "No less than twelve ministers have been at one time or another connected with this place, several of whom, even today, are still engaged in preaching the gospel at home and in foreign lands."
Two portions of Scripture were read by Mr. S. Watson, and there were challenging and inspiring speeches by Rev. Edward Thomas, Rev. Wesley Guard, Rev. W. H. Quarry, Rev. T. G. Seymour, and Rev. James Thornton.
A Jubilee Fund was launched, and the members of the Jubilee Committee were:
Rev. James J. Thornton
Arthur W. H. Stanfield
Richard Henry Hinds
David Bradshaw
John Brady
John Briggs
John McPherson
John Phenix
Joseph McKeown
Samson McPherson (Jun.)
William J. Thornton
John Baird
William Martin
Basil McPherson
John Bradshaw
with the ladies of the congregation
A Sacred Concert was held on Saturday evening, 19th January, 1889. The occasion was the 'Opening of New Organ'. About 180 attended, and the minutes record that it was a very enjoyable evening.


Rev. James Thornton was requested to write to Sir Robert Hart for a subscription towards the Jubilee Fund. The following is a copy of Sir Robert's reply:
"Peking, 21st July, 1889
Dear Mr. Thornton,
I am glad you thought of writing to me in connection with the Zion Jubilee, for, long as it is since 1 left that part of the world, I still have an affectionate recollection of the place and people; of course, like many a child, I hated to be forced to attend service there when not in the humour, "but now time has mellowed me, and the memory is simply a delight. As 1 write, how well some faces and sounds come up. I can see some one going round to snuff the candles after the sermon. I can hear the women on one side, after the men finish on the other, singing that very pathetic tune —
'I'll creep before Him as a worm,
And see Him die for me.'
I can follow the steady, solemn voice of dear James Carlisle, as he delivers an affectionate Watch-night address. I can see down the hill, and over the bridge, and away along the broad straight road, with high trees on each side, having on one hand Carlisle's house, and on the other the lane that led up to Sam Jones's, and which, after passing the Phenix's and Bradbury's, touches the Maze and turns off by Knox's; indeed, as I write, it is astonishing how forty years ago comes back again! I suppose it is the same with all who go far from home and work in foreign lands; we never forget, and a sound, or a smell, or a sight brings up cradle-days, and all the dear surroundings of Home sweet Home. I have had to stop here for a moment; the tears fill into my eyes — fancy weeping in '89 in Peking, over recollections of Priesthill in '49, but so it is, and it's good to have one's memory roused and one's heart touched and wakened from the loneliness and worldliness of age. Yes —
'We may build more lofty habitations
Fill our halls with paintings and with sculptures,
But we cannot buy with gold
The old associations.'
Looking over the list of subscribers, I do not see many of the old names. . . . I recognise the names of Phenix, Shields, Hinds, and, of course, David Carlisle. Although no longer one of your neighbours, I am glad to have the opportunity of once more showing the old friends that I have not forgotten the old place, and so I inclose a cheque for £100; you can give £60 or £70 to the chapel fund, and the rest you can divide among the poorer members of your congregation. A pound here and a pound there may be of service, especially coming when not looked for, and James Carlisle can help you in choosing the recipients. It is not a charity this, mind you! but simply a loving gift, from an old friend who has done well, to others who can be helped by help, and who worship in the old place.
"My return to Europe is again delayed; I am a slave to work here, and, till it is done with, I do not consider myself free to move. But if ever I do see the north of Ireland again, I shall certainly have a stroll along the banks of the canal, look at the kids among the whins, and spend an evening in Zion chapel. Give my love to Carlisle, and with kind regards to all who knew my father or remember my name.
Very truly yours,
Robert Hart."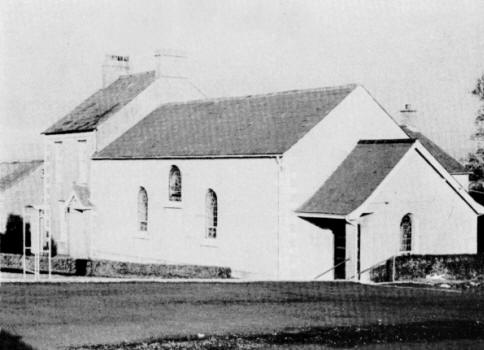 Church and manse. The porch was dedicated at Harvest Sunday morning service, 1956.
Rev. John Fee was minister at Priesthill from 1970-76, and he previously had spent some years in China as a missionary. He often stood beside the statue of Sir Robert Hart on the Shanghai Bund, and on more than one occasion had chained his bicycle to the railings alongside it. At that time he was not aware of Sir Robert's connection with Priesthill, or that he would have another link-up by being appointed to minister there. Incidentally, Hart Terrace, Culcavey, received its name in honour of the distinguished Sir Robert as the result of a proposal by the late Mr. D. Campbell Fullerton, J.P., who for many years was a local councillor and also society steward at Priesthill.
On 28th September, 1889 James Carlisle's earthly life ended; he was aged 74. The Lisburn Standard of 5th October, 1889 reported that "his funeral cortege was extended, and looked as if a nobleman was being conveyed to the tomb. . . . The coffin was carried into Zion Church ... a sympathetic congregation filled the sanctuary . . . The solemn procession re-formed and proceeded to Hillsborough; hymns of praise were sung as the cortege proceeded, giving the impression that the body of a conqueror was being borne along." Rev. Edward Thomas gave an address at the graveside. A few weeks before his death, Mr. Carlisle said to Rev. Thomas: "This is the text for my funeral sermon: 'For me to live is Christ, and to die is gain'."


Mention has been made of twelve young men from Priesthill who entered the ministry. Below are tributes from two of these men to their former Sunday School teacher:
(from Rev. Samuel Hinds, who entered the Congregational ministry in 1870s):
"To James Carlisle I owe so much. The character of the man powerfully impressed me. He lives in my heart now. He was so consecrated to God in life, so devoted to Christian work, so wise in winning souls for God, so pleased with every evidence of goodness in his scholars, so righteously angry at any breach of the Sabbath, so regular in his attendance at God's house, so fervent in prayer, so sympathetic with young converts, so helpful to the young people under him in the School, that he, more than any other man, made his impression on the characters of scores of young men brought up at Priesthill, and taught in the Bible class of Zion Sunday School."
(from Rev. J. M. Watson, who entered the Christian ministry around 1860, to Mr. David Carlisle):
"... The class he held during the winter months, when the general school was closed, was to me the most useful. It was not large, but those who attended it had great reverence and love for their teacher, and listened to him as one who had a message from God — which he certainly had. 1 can, even as I write, think I see the kind, genial face beaming with Christian tenderness and love, as he pleaded with us personally to shun every evil course, and to yield ourselves, whilst young, a living sacrifice to Him whe gave Himself for us. The influence of that class was most blessed, and, at times, I seem to feel that influence still."
Other young men amongst the twelve were:
James Bradshaw, who entered the Primitive Wesleyan ministry in 1863, and served for 64 years, over 40 of which were spent in the Enniskillen district. He was father of David B. Bradshaw, who bequeathed such a fine collection of Wesleyana to the Irish Wesley Historical Society.
John Hinds, who entered the Methodist New Connexion ministry in 1878, in which he served for 45 years. Apart from his first year on an English circuit, he was a missionary to China where, as well as being a faithful pastor, he gave outstanding service in the field of education.
Thomas Moore was converted when a boy during the 1851 revival. He entered the ministry of the Established Church in England, and was still engaged in the work in 1889.
Thomas Carlisle came to a knowledge of his Saviour during the 1851 revival. He and other boys began a prayer meeting in Mrs. Samuel McLatchy's home, and Thomas was known for miles around as 'the boy preacher'. He was engaged as a 'supply' by the Methodist New Connexion in 1857, and was received into full connexion in 1862. His ministry, like his Uncle George's, was bright but brief. He died in England in 1870, aged 31.
Statistics show that in 1890 there were in the Sunday School 70 scholars and 16 teachers. From minutes of teachers' meetings we learn that Richard Henry Hinds and David Bradshaw were appointed joint superintendents for the morning and afternoon Sunday Schools for the years April 1888-90. For the same period Joseph McKeown and John Baird were joint secretaries. In 1888 the treasurer was James Carlisle, and in 1889 William J. Thornton. Following 1890 we have no record, until the appointment of John Baird as superintendent in December 1905.
On 9th October, 1899 the leaders resolved:
"that an effort be made to sell superfluous timber in front of church — proceeds to go towards building a stable at rear of church."
A number of the ministers engaged in the work of the Methodist New Connexion's Irish Mission were natives of Ireland, and a few were from the Lisburn locality. Perhaps the list below is incomplete; it indicates some of the Irishmen who served at Priesthill during the nineteenth century:


| | | |
| --- | --- | --- |
| John McClure | James Argue | Samuel Nicholson |
| Joseph Livingston | James Seymour | Edward Thomas |
| Alexander Donaldson | William McClure | John Baird |
| Alexander McCombe | John Dougherty | James J. Thornton |
| Thomas Seymour | George Carlisle | Henry Price |
The faithful ministry of some of the preachers from England who laboured in this district has already been noted - men like Rev. John Shuttleworth, who was at Priesthill during the revival; and Rev. Enoch Franks who liaised with the Relief Committee in their efforts to provide sustenance to the starving weavers. The minutes disclose that he was equally zealous in his concern for the spiritual needs of the congregation. Another who merits special notice is Rev. Benjamin Child, who was appointed three times to the Priesthill circuit (1871-74; 1882-87; and 1893 - 99), serving a total of fourteen years. The minute book records a vote of thanks which the leaders passed on 18th January, 1897:
"That this meeting, in view of the much good which has been done throughout the neighbourhood by the ministrations of the Rev. B. Child, pastor, and of the many improvements made to the place, of which may be mentioned the renovating of the church, including painting, carpeting, etc., the cost of which by the strenuous efforts of Mr. Child has been paid, tender him their sincere thanks, more especially so on account of his indefatigable labours during the different periods in which it has fallen his lot to be the minister ... also for the interest and patience he has taken in the training of the choir, which is second to none in the neighbourhood: that it affords this meeting great pleasure in view of what Mr. Child has done, to ask him to remain pastor another year, praying that the Almighty may prosper his work, and that he may long have the power and strength to edify and exhort those over whom he may be called to preside."
Mr. Child did stay at Priesthill the following year, and on 10th January, 1898 we find the leaders once more wishing him to continue:
" . . and although the term of five years expires in June we cordially and unanimously invite him to remain with us another year, hoping that Conference will see its way to ratify it."
Conference complied with this request. A young man who was greatly helped by the ministry of Rev. Child during his last term (1893-99) was Alfred Davidson. In a letter he tells a friend:
"I attended a mission in Culcavey Schoolroom and at these meetings I passed through an experience which changed my whole life. At the same Mission, quite a number of my friends and companions passed through the same kind of change, and in their case as in mine the whole course of their mental and spiritual life took a new direction. We sought a spiritual home, a place where we would get the help to live the life we had decided on; this home for our spirits we found in Zion, and for years twelve or fourteen of us young men attended the evening service under the ministry of Mr. Child. We were never disappointed and always received a message which helped and encouraged us in our search for a fuller life.
"One of the outstanding qualities in Zion to us young men was the friendly atmosphere and the welcome we received both from the minister and the congregation. We soon felt at home in such an atmosphere, and Zion had an affectionate place in all our hearts and for years we attended regularly. As one looks back over the years it is impossible to sum up the lifelong influence Mr. Child had on our young lives. We were keen to live lives of usefulness and do something to make this world a better place for both the poor and the rich. The vision and teaching of Mr. Child inspired in us the desire to live amongst men of all classes, all races and colours, and be to them a brother in the love of God as revealed in Jesus. Mr. Child had a wonderfully sympathetic attitude to his brother man, of all classes, and he managed to convey to us a measure of this sympathy.
"... The spirit of a good man never dies, but lives on in the hearts of those who loved him."
-Writing from England in 1951, Rev. Child's son, Arthur, recalled the period 1882-87 thus:


"I was only a boy of 9-14 years of age, yet my recollections of the dear old friends of those days are wonderfully vivid. Almost all of them are now gone to their reward. . . . When I lie awake at night, as is often the case, I find great pleasure in putting these dear old friends in their respective pews. If I speak of those friends by their Christian names, it is with no feeling of disrespect: nearly everyone in those far-off days was affectionately and intimately addressed so. I can see dear old Robert Brady, James Carlisle, Joseph McKeown, William Martin, Samson McPherson, Philip Thornton, and a host of others — but I fear to weary you. Richard Henry Hinds, Robert Long, and John McKeown were among the stalwarts who led the singing."
The Irish Wesleyan Methodist Conference of 1903 considered a resolution from Bangor Circuit Quarterly Meeting, urging the desirability of amalgamation between its work and that of the Methodist New Connexion in Bangor. Consequently a meeting was held on 17th December 1903 in the Library of Methodist College, Belfast, attended by five representatives from England, appointed by the New Connexion Missionary Committee (one of whom was the President of Conference), and thirteen representatives from the Irish Wesleyan Conference. The subject was Methodist union in Ireland. A long and friendly conversation took place regarding the advantages which might be expected from there being one Methodist Church in Ireland. Afterwards a letter was sent by the Secretary of the Irish Wesleyan Conference to the New Connexion Secretary in England, setting out the reasons for the desired amalgamation, and proposing terms of transfer. The proposal was accepted at the New Connexion Conference in 1904 held at Dudley, and in 1905 the re-union in Ireland took place.
At this date New Connexion mission stations existed at Salem, York Street, Belfast; Clementine Street, Belfast; Bangor (Queen's Parade); Ballyclare; Newtownards; Lisburn; Ballinderry; Megaberry; Broomhedge; and Priesthill. Perhaps it is worth recording that Rev. William McClure, in an address delivered in 1844 concerning the work in Ireland, stated: "Missionaries are in number 16. Their fields of labour will be found in the counties of Antrim, Down, Armagh, Monaghan, Cavan, Donegal, Dublin, Wicklow, Waterford, Cork, Limerick, Galway, and the Isle of Arran." Due to emigration from the rural areas where most of the mission stations were situated, plus the fact that the Methodist New Connexion had opened a Canadian Mission which attracted a large number of the preachers, the missionary enterprise in Ireland declined to a large extent.
Rev. Jonathan Wright was the last Methodist New Connexion minister at Priesthill. He evidently was a young man, about to enter College. The leaders expressed their "high appreciation of his services as a preacher, and evangelical zeal as pastor."
In 1905 Priesthill and Broomhedge became part of the Wesleyan Methodist circuit of Lisburn, and Rev. Henry Kevin was appointed as their minister. He resided at Broomhedge manse.
In 1907 the Priesthill membership figures were 85 members, and 13 on trial.
The times of services were altered in March 1914 to 11.30 a.m. and 6.30 p.m.
In June 1914 Mr. John Baird tendered his resignation to the leaders' board as he was leaving the district to take up another teaching appointment elsewhere. The leaders expressed their thanks to him "for his eminent services during so many years as secretary of the Quarterly Meeting, organist, and Sunday School superintendent."
Mr. and Mrs. David B. McCready were received as members of Priesthill in March 1915, and at the leaders' meeting on 9th March 1916 Mr. McCready was appointed superintendent of the Sunday School, a position which he filled for almost fifty years.
In March 1917 there is an innovation: two ladies, Miss Jeannie McClelland and Miss Margaret A. Baird, have joined the leaders' board. Perhaps leaders' meetings were never quite the same again. At the end of the June meeting these ladies "very kindly provided tea". At some subsequent meetings, tea was being served before the business got under way.
At the meeting of 11th December 1919, Mr. McCready undertook to arrange a Christmas tree for the children.


Rev. Irvine Kirkpatrick was minister during the period 1918-23. Two stories from former members convey the atmosphere of those more tranquil, unhurried days. It was the custom of Rev. Mr. Kirkpatrick to walk from Broomhedge manse to take the service at Priesthill. Mr. Edwin Brady, now in the States, recollects how on Sunday evenings when Mr. Kirkpatrick would have charge of the service at Priesthill, he would walk part of the way with him and his parents, and have tea at their home before proceeding to Broomhedge. Another former member can recall a special service at Zion. The visiting preacher was staying with Rev. Mr. Kirkpatrick, and together they walked from Broomhedge to Priesthill, the visitor wearing a frock coat and silk hat.
In June 1926 arrangements were being made to whitewash the church and manse, and repair the roof of the stable. At the same meeting some complaints were made about the church stove. It was considered advisable to remove the pipe immediately, and make enquiries about an alternative form of heating. At the September meeting a decision was reached to proceed with arrangements to heat the church with hot water pipes.
The Weekly Freewill Offering system was introduced in January 1928.
In December 1931 it was decided to purchase some Aladdin lamps.
The Sunday School anniversary services in 1933 were held on the first Sunday and Monday in June, and the leaders decided to ask Miss Edith Stewart to take care of the musical arrangements. So began the work with the children's choir, so dear to Miss Stewart's heart, which she was to continue for over forty years.
Under the leadership of Rev. F. E. Morrow a monthly service was held in the Maze Orange Hall on Wednesday evenings, the remaining Wednesdays taking the form of a Bible study group in the schoolhouse at Priesthill. These services began in 1934.
Of the venues of the earliest Sunday School outings we have no information. Sometime during the 1920s the children travelled by shooting-brake to the Maze racecourse for a picnic. For three years, 1929-31, the outing was to Portrush, and on two subsequent occasions Priesthill joined with Seymour Street in an excursion to Bangor.
In September 1936 a Christian Endeavour society existed at Priesthill. The years that follow witness a growth of organisations for the youth of the church.