PAST TIMES
Looking back at news from Lisburn's past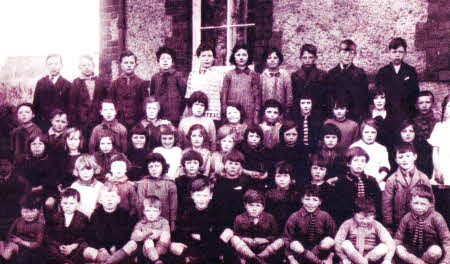 This old photograph is one of two was left in to The Star by reader Peter Johnston. He does not know anyone in picture but it is Ballylesson Public Elementary School in Drumbo either 1928 or 1932. The other one will be printed next week.
Cost to run the leisure centres to
increase
IN 1985 Lisburn Borough Council had been told the cost of running leisure facilities was expected to increase by £158,750. Finance Committee Chairman Bill Watson told members this represented 6.19p in £.
The councillor was proposing the adoption of a .64p increase in the rates, stuck at 46.24p in the £.Councillor Watson also disclosed that recreation has overtaken refuse collection and street cleansing as the borough's largest spender. Recreation accounted for 34.519 per cent of the estimate.
The Committee chairman pointed out that the council had proceeded with several new projects. He listed the refurbishment of the swimming pool, the new leisure centre and the Aberdelghy Golf Course. "We developed Duncan's Park , we improved the Museum and put a new roof on the Ulster Buildings. Last year saw the Wallace Fountain in it's new home in Market Square and we now have a Dog Pound." He hoped the Barbour Pavillion would be started as soon as the grant was approved.
Spruce up plans for Lisburn are drawn up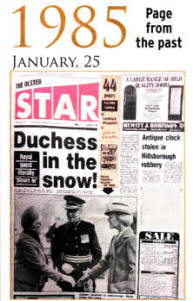 UNSIGHTLY areas in the central part of Lisburn and Dunmurry were to be given a 'facelift' under a public works scheme drawn up by area officer Mr Brian Henning in 1985.
News of the scheme had been given to members of the Borough Council's works and public health committee by Mr Henning who had sought assistance in specifying potential areas. It was said there would be a £1,000 limit in respect of each scheme which included cleaning up rubbish, tree and shrub planting and work at roundabouts.
The work was to be mainly on private land but also public land where possible.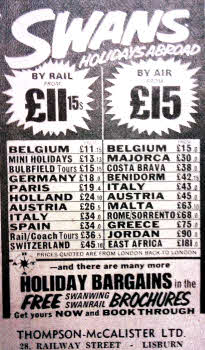 Any Housing Executive property was not to be involved as the Housing Executive had its own resources. The schemes were hoped to be implemented through direct labour or employing contractors. An initial list of schemes had been drawn up and were hoped to be underway by April 1.
Councillor Jim Dillon welcomed the scheme, however he expressed his disappointment at how limited it was, but had hopes for it to be extended to villages.
Councillor William Bleakes felt the council was treated in a contemptible way by Government officials, only gaining a few crumbs from the civil servants' table. He also felt that it was ratepayers who were paying for the schemes. Councillor Alec Boyd said he was simply grateful for small mercies. Mr Lewis McAvoy questioned the maintenance of the scheme.
Mr Henning said that it had been environmental improvement money, and stated that he had not received an exact figure. Deputy Mayor Walter Lilburn also welcomed the scheme and believed it should be fully taken advantage of.
New build concerns are raised
IN 1985 Lisburn Councillor and Assemblyman Alderman Ivan Davis expressed fears for the future because of a decline in a new build programme carried out by the Housing Executive.
Alderman Davis had disclosed that new builds had been reduced from 5,250 to 3,500 starts per year effective to 1988. On reviewing the housing picture the Assemblyman said there were 23,482 applicants Province-wide on the A and B list and transfer requests amounted to 21,529. He also revealed that the Housing Executive was owed a total of £20.5m, with 75 per cent of the debt being accounted for by 11 per cent of tenants, yet in spite of that only 48 per cent of debtors were on compulsory recovery methods.
Alderman Davis also revealed that in 1984 the total paid out for improvements or repairs amounted to £40m, which resulted in imposed limitations on grants in the summer months and from mid May to August, when a restricted scheme operated so that only priority grants were given.
He queried the size and bureaucratic nature of the Housing Executive, which lead to expensive and frustrating de- lays for tenants and their representatives.
Good news for Estate
IN 1985 the Greenwood Estate was to have their lighting upgraded by the DoE. Assurance of this was given to Councillor Seamus Close, who had also complained about the state of the footpaths. The lighting upgrade was due to begin in April and once this was completed attention was to be turned to repairing the Greenwood footpathing.
Page 1 | page 2 | Page 3 | Page 4 | Page 5 | Page 6 | Page 7 | Page 8 | Page 9 | Page 10 | Page 11 | Page 12 | Page 13 | Page 14 | Page 15 | Page 16 | Page 17 | Page 18 | Page 19 | Page 20 | Page 21 | Page 22 | Page 23 | Page 24 | Page 25 | Page 26 | Page 27 | Page 28 | Page 29 | Page 30 | Page 31 | Page 32 | Page 33 | Page 34 | Page 35 | Page 36 | Page 37 | Page 38 | Page 39 | Page 40 | Page 41 | Page 42 | Page 43 | Page 44 | Page 45 | Page 46 | Page 47 | Page 48 | Page 49 | Page 50 | Page 51 | Page 52 | Page 53 | Page 54 | Page 55 | Page 56 | Page 57 |
Ulster Star
03/02/2012