Return to previous page
Orange Hall no to Paisley
LISBURN Orange Hall would not be the venue for a planned Paisley "Victory Rally", it was reported in the Star on October 1 1966.
The hall management committee had turned down application for its use for the event on October 21, and raised considerable local speculation on whether the action represented a ban on followers of the controversial clergyman.
The man behind the application called on Lisburn's Orangemen and loyalists for support.
He said that they would get somewhere to meet and would hold meetings, even if it meant standing on the street, ban or no ban.
Teacher tells of 'advanced education'
BALLYMACASH Parents' Association heard from a teacher who had just returned from a Churchill Fellowship about the advanced forms of education in Belgium, Holland and France, in September 1971.
Henry Phillips, who was head of English at St Aidan's Intermediate School in Glenavy, told them that 90% of children under five in those countries were already in nursery schools - a completely different picture to the situation here. During his trip Mr Phillips had interviewed 75 people and visited 30 schools and four universities.
PAST TIMES
Looking back at news from Lisburn's past
30 September 2011
Tea room picture set to stir memories
The Ulster Star celebrates its first birthday in style
THE Ulster Star was celebrating its first birthday in our October 4 1958 edition.
The issue marked the completion of our first year, with the paper having grown into a "mature and individually-styled newspaper."
Readers were being told to remember to put their clocks back "before retiring" as the official end of British Summer time arrived and winter was upon us.
It was reported that four youths between the ages of 17 and 19, and seven boys, aged 14 to 16, were all fined £6 each for stealing about 2/- worth of apples from an orchard and maliciously destroying, or damaging with intent to destroy, three chrysanthemums, as well as damaging a window. It was reported that there was "too much hooliganism" among young people.
Meanwhile, there was a Red Letter Day in the history of the parish of All Saints, Antrim, as the opening of their new Church Hall was marked. The large turnout of parishioners enjoyed a special celebratory ceremony.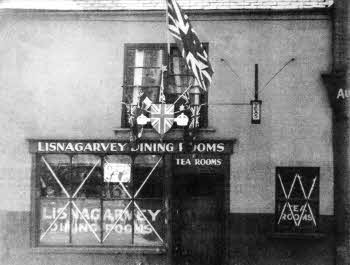 Lisnagarvey Dining Rooms which was decorated in 1953 for the Queen's Coronation
HERE'S a picture to stir memories for many of our readers.
It's of Lisnagarvey Dining Rooms at Market Street and was left in to us by Trevor Kerr who remembers calling into the tea room as a lad for a tea and scone.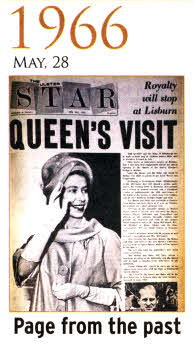 Trevor believes the picture was taken in April 1953 after the Dining Rooms been decorated in preparation for the Queen's Coronation.
Trevor, whose parents owned a confectionary shop nearby called 'Hugh Kerr' at Market Street, came across the picture while clearing out his mother's house at Pond Park.
His parents had lived at Woodland Park and owner of the Lisnagarvey Dining Room, Billy McClure was a frequent visitor to their home, often coming in to watch the boxing on their television.
Lisnagarvey Dining Room was based next door to the old JC Patterson store (where River Island now stands).
"People would have come in droves into the tea room, especially during Market Day which was always one of the busiest days of the week," he recalls.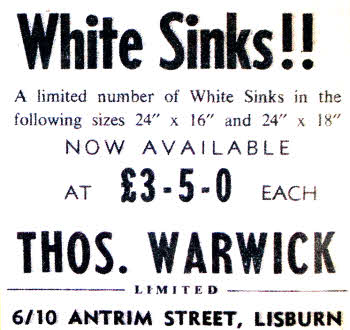 FANCY a new sink. You could have picked up a special offer from Thos. Warwick, Antrim Street for just over £3 back in 1958.
"When I was a boy I remember going into the tea room at the age of 13 or 14. I would have gone in when I was at our shop. My mother and father had a shop opposite and for some reason we have got the picture.
"I don't remember the Coronation but I do remember the tea room. Coffee was not a big thing back then so people who called in would have got tea, You could also get scones or biscuits but I am not sure if you could get sandwiches.
"There were old fashion tiles and floor and everything was spic and span, you could have eaten your dinner off his floor."
Sunday golf plan is bunkered
A PROPOSAL to open the new municipal golf course at Aberdelghy on Sunday ran into the rough during a I meeting of Lisburn Council's P Recreation Committee in September 1985.
A proposal for seven day opening was rejected by the committee - a decision the Star reported as likely to be the start of a 'protracted and perhaps acrimonious' debate.
The committee voted 5-3 for six day a week opening - despite a warning from Chief Recreation Officer Greg Ferris that it could cause managerial problems.
They also decided to seek a professional for the course again on a Monday to Saturday basis.
The decision was being closely examined because the committee would also be deciding the opening hours of the new recreation centre which was currently under construction at Warren Gardens. It was expected that it too would stay shut on Sundays.
The Mayor, Walter Lilburn, told his colleagues he didn't feel he had been elected to the council to be anyone's conscience. However, committee chairman Billy Bleakes said he was firmly in favour of keeping traditional Sabbath
*Do any other readers recall the Lisnagarvey Dining Rooms? Let us know at 12A Bow Street, Lisburn BT27 1BN or e-mail news@ulsterstar.co.uk
Page 1 | page 2 | Page 3 | Page 4 | Page 5 | Page 6 | Page 7 | Page 8 | Page 9 | Page 10 | Page 11 | Page 12 | Page 13 | Page 14 | Page 15 | Page 16 | Page 17 | Page 18 | Page 19 | Page 20 | Page 21 | Page 22 | Page 23 | Page 24 | Page 25 | Page 26 | Page 27 | Page 28 | Page 29 | Page 30 | Page 31 | Page 32 | Page 33 | Page 34 | Page 35 | Page 36 | Page 37 | Page 38 | Page 39 | Page 40 | Page 41 | Page 42 | Page 43 | Page 44 | Page 45 | Page 46 | Page 47 | Page 48 | Page 49 | Page 50 | Page 52 | Page 53 | Page 54 | Page 55 | Page 56 |
Ulster Star
30/09/2011