Footpath saga
continues
IN SEPTEMBER 1985 local councillors stressed the urgent need for footpaths on stretches of the Hillsborough Old Road and Blaris Road.
A section engineer told the councillors that stage one of the Hillsborough Old Road was item four on the minor works programme and that the design had been sorted out.
He also said the other section was currently being worked out.
Councillors said they would contact the divisional roads manager again in relation to both roads.
New hall opened at
Harmony Hill church
SEPTEMBER 1971 saw the official opening of a new hall at Harmony Hill Presbyterian Church.
A thanksgiving and dedication service was held to mark
the opening, which was said to be a opening, landmark in the short history of Harmony Hill Presbyterian Church."
The service was led by the minister of the church, the Rev DHA Watson and an address was given by the General Secretary of the Presbyterian Church in Ireland.
Following the service a week of meetings and events were held, including a flower show, youth night and bowling tournament.
PAST TIMES
Looking back at news from Lisburn's past
Youth organisations from the Church of the Nazarene in Lisburn following their annual display in July 1971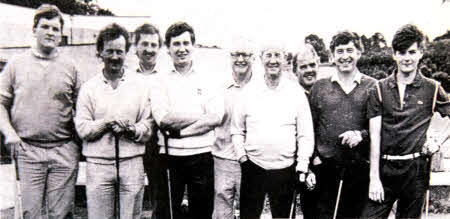 Members from Dunmurry, Malone, Lisburn and Balmoral Golf Clubs competing in the Bradbury Cup in August 1986.
Bomb blast rocks
Lisburn
IN September 1971, four explosions rocked the Lisburn area in just four days.
An explosion was caused by several bombs at the Colin Glen bacon factory in Dunmurry, which caused extensive damage to the refrigeration plant, the boiler house and an electricity transformer supplying power to the premises.
Following the explosion, the firm, which employed 350 staff, was forced to reduce its workforce to a skeleton staff.
On a Saturday a triple explosion in the Dunmurry area caused thousands of pounds worth or damage to the headquarters of two big industrial concerns.
The head office of Ready-Mix-Concrete was also wrecked in an explosion, as was Limmer and Trinidad Co Ltd.'s Trinidad House.
The following Monday fire swept through Barbour Threads and on the Tuesday Dunmurry Presbyterian Church's Trinity Hall was wrecked by an explosion.
On Wednesday night police sealed off Bow Street in Lisburn and diverted traffic while a search was carried out. However, nothing was found.
A further bomb hoax was reported at Barbour Threads on the Thursday morning.
Ambulance cover fears
Production resumed
Page 1 | page 2 | Page 3 | Page 4 | Page 5 | Page 6 | Page 7 | Page 8 | Page 9 | Page 10 | Page 11 | Page 12 | Page 13 | Page 14 | Page 15 | Page 16 | Page 17 | Page 18 | Page 19 | Page 20 | Page 21 | Page 22 | Page 23 | Page 24 | Page 25 | Page 26 | Page 27 | Page 28 | Page 29 | Page 30 | Page 31 | Page 32 | Page 33 | Page 34 | Page 35 | Page 36 | Page 37 | Page 38 | Page 39 | Page 40 | Page 41 | Page 42 | Page 43 | Page 44 | Page 45 | Page 46 | Page 47 | Page 48 | Page 49 |
Ulster Star
03/02/2012