Emotional tribute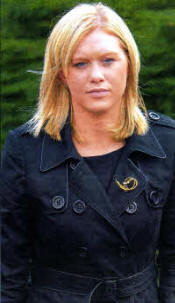 Surviving family member Emma Rice at Wednesday's funeral in Ballynahinch of father Noel and brothers Nevin and Graham Spence who died following a tragic farming accident at their Hillsborough home at the weekend. Picture Charles McQuillan/Pacemaker.
A WOMAN who bravely tried to rescue her father and two brothers from a slurry tank has paid an emotional tribute to the three men who were overcome by fumes at a Hillsborough farm.
Emma Rice twice climbed into a manhole and then down into a slurry tank on the family farm where her father Noel Spence, 58, and brothers, Graham, 30, and Ulster Rugby player Nevin, 22, all died at the weekend.
Mrs Rice told mourners at nearby Ballynahinch Baptist Church that "They were gentlemen,"
They were hard-working men. They were not perfect but they were genuine. They were best friends.
They were Godly men — they didn't talk about God, they just did God.
They were just ordinary but God made them extraordinary." It is believed the tragedy unfolded when Graham lowered a ladder into the manhole to retrieve a pet dog which disappeared into the slurry tank.
Graham's father then went in to try to save his son and he was followed by Nevin, when he realised the other two were in danger from a poisonous slurry fumes.
Mrs. Rice, an artist, then went down and managed to pull her father onto the ladder, where she was assisted by neighbours. They immediately tried to resuscitate Noel. Mrs. Rice then went back a second time and found Graham in the tank lying in 2-3ft of slurry.
But she was then overcome by the odourless fumes and had to be pulled free by neighbours who ran to the tank after hearing the calls for help.
During her address to mourners, Mrs. Rice spoke affectionately about each of her loved ones in turn.
Pastor Rodney Stout described the men as "three peas in a pod". "The two sons, while having their individual characters and giftedness, nevertheless were most certainly chips off the old block," he said.
The pastor said they had left behind as positive a legacy as any family could have.
He said the circumstances of their deaths — when they risked their lives to save each other — reflected how they lived life. "That expression of helping each other was not simply one that manifested itself in a moment of danger or in the heat of a moment," he said.
"It was resolutely their day-to-day motivation in life for every member of their family and indeed towards their neighbours, fellow brothers and sisters in Christ, colleagues, friends and strangers."
He said Noel Spence loved his children and grandchildren dearly.
He wasn't the sort of man to verbalise his affection but members of his family and those outside knew what it was to be loved by him and cared for by him," he said.
"Maybe some of you here today are still sporting bruises on your arm from one of his firm, affectionate jabs to your upper arm.
"People have told me it would be difficult to find a more hospitable neighbour or trustworthy businessman."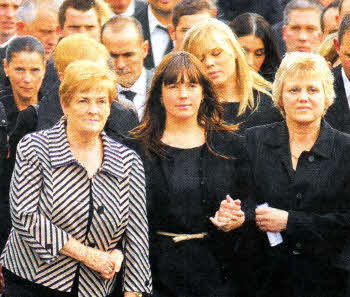 Family members at the head of the funeral cortege at Ballynahinch Baptist Church. Brian Little/Presseye.
Mr Stout added: "He was a very private and unobtrusive man and the thought of the attention he and his family are attracting just now would quite literally horrify him." The pastor said Graham, father to young children Nathan and Georgia, was committed to his family and the farm.
His motivation for his tireless effort and dedicated hard work was to provide for Andrea, Nathan and Georgia," he said. "Andrea knew him as her loving, devoted husband, her best friend and true soulmate. They often joked with each other that they existed within their own bubble and no one loved each other as much as they did. He doted on their two children Nathan and Georgia, and whenever they were around him his eyes lit up." He noted that Graham was also a keen rugby player.
"He could have pursued a career in rugby but chose instead to concentrate his efforts on farming," he said.
The pastor then turned to rising sporting star Nevin.
He said the young man tipped to represent Ireland at international level did not consider himself a famous rugby player.
The minister recalled an icebreaker game at a recent church event when Nevin, when asked for a word to describe himself, chose "normal".
"That is really how he viewed himself and he, like Noel and Graham, attributed his ability to keep his feet on the ground, his head out of the clouds and his life on an even keel as directly related to the relationship he had with God through Jesus Christ," he said.
A private family service was held at the Spences' house and farm on the Drumlough Road ahead of the funeral.
Members of the Ulster Rugby team carried Nevins coffin into and out of the church.
Irish rugby coach Declan Kidney and Tyrone gaelic football manager Mickey Harte were among other well-known sporting faces amid more than 2,000 people who attended. After the funeral, the three men were taken for burial at the nearby Lough Inch Cemetery. Health and safety experts are carrying out an investigation into the fatal incident.
Ulster Star
21/09/2012